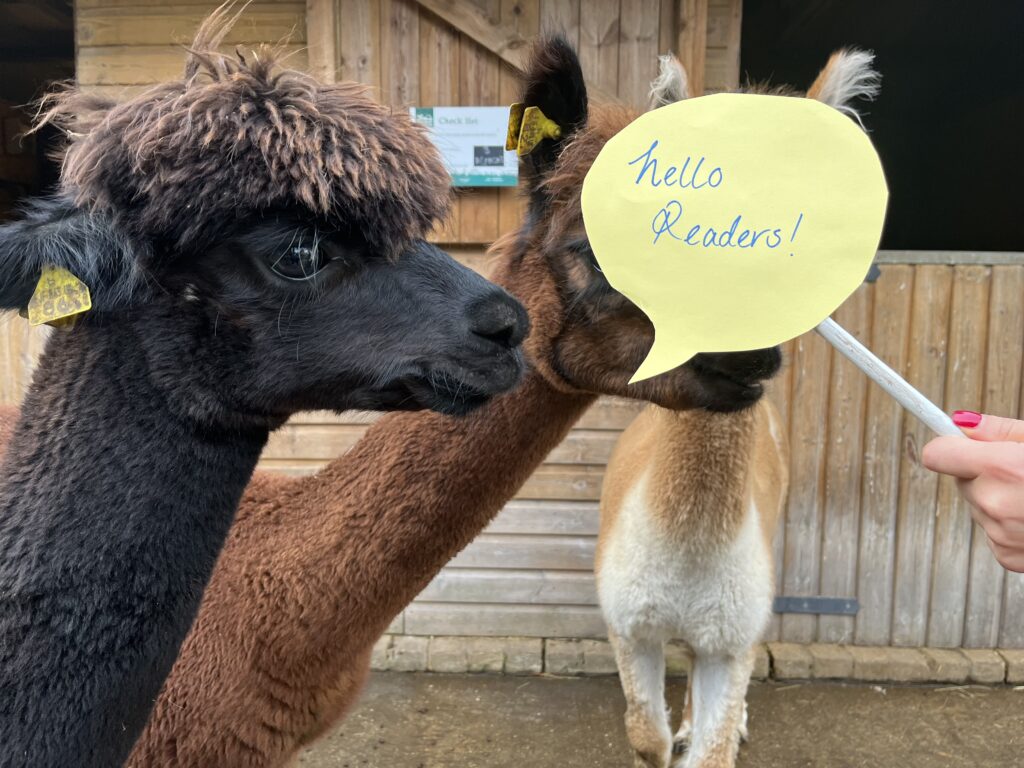 Did you know that alpaca wool doesn't absorb water? A fact that has served me and my pal-pacas, Toffee & Cookie, very well during this rainy start to the month. Luckily, I'm here to brighten up your November, with everything happening at Vauxhall City Farm over the coming weeks…
Firstly, a reminder that although you may be looking forward to fireworks this weekend, all those loud bangs and flashing lights can be much less enjoyable for us animals. Both farm animals and your pets at home can feel especially anxious around this time of year, so we've put together some tips to help them stay as calm and relaxed as possible.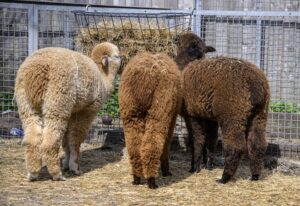 Click below to read on our website. Please also note, that due to expected (and unexpected!) fireworks displays over the weekend, horse riding lessons will not take place on Friday 4th and Saturday 5th November.
The VCF Riding School officially re-opened for lessons last week, and it's been a lot of fun seeing all the riders trotting around the arena while we alpacas are out in our paddock.
The office team are currently taking bookings for lessons up until the end of November for beginners (aged 8+) and advanced adult riders. All riders will need to fill out a Rider Registration form before we can book them in for lessons, and lessons cost £40 for 45 minutes. For full details and the current lesson schedule, please visit our website, or contact our Riding Team: riding@vauxhallcityfarm.org.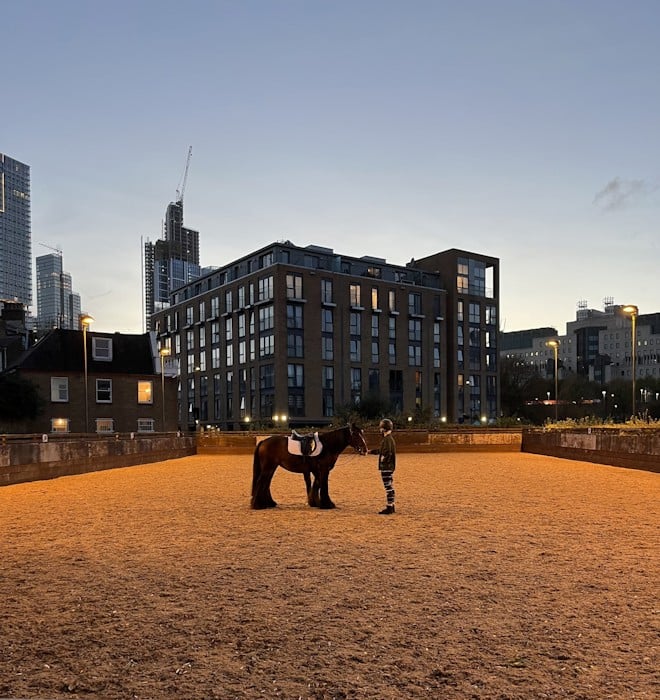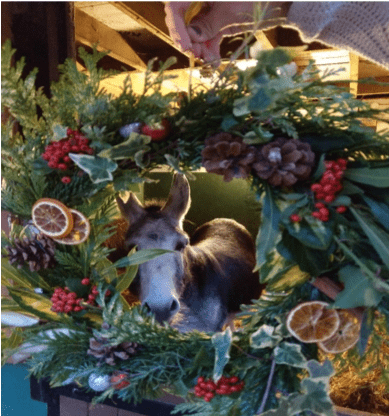 While I'm aware that it's barely November, us alpacas have already started the countdown to…CHRISTMAS! And we're not the only ones. Our office team have let me know that the famous Vauxhall City Farm Wreath Making classes are back for 2022! Head to the farm this December to make a little bit of Christmas magic for your home.
Using foliage from our Community Garden, we'll guide you through the creation of your very own festive wreath. Each session last 2.5 hours, costs £40 and includes a glass of mulled wine (or apple juice!) and that seasonal stalwart, a mince pie.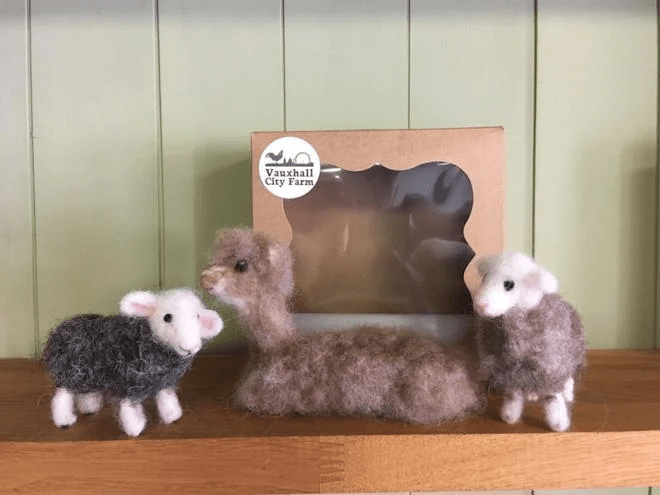 From t-shirts to mugs, we sell a range of Vauxhall City Farm merchandise in our gift shop, so there's sure to be something to help fill those stockings, including our beautiful, handcrafted animals, made by VCF Volunteer, Shelia, from the fleeces of the animals here at the farm (including us alpacas!).
Shelia will be in the Old Dairy Café on Thursday 10th November, between 11am and 1pm, for a relaxed demo of how these intricate creatures are created. This is a free event, with no need to book, so please do drop by for a coffee and see how these wonderful models are made.
Thank you to our Corporate Volunteers!
Last week I spent some time with our Operations Manager, Ashley, preparing a great write up on the hard work our Corporate Volunteers had done over the last month, and then one of our groups sent us this lovely picture, which rendered all our words useless! So, thank you to the gang from John Lewis, and to ALL of our groups so far this year. I'm told you make such a difference to the farm, our staff and our visitors – and us alpacas especially enjoy the part of the day when you come and feed us grass nuts.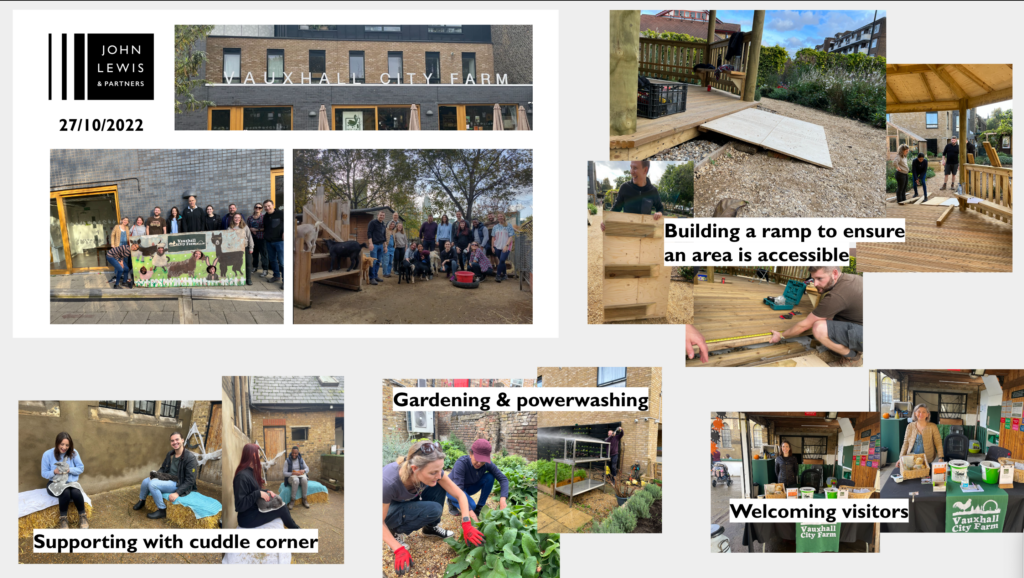 If you and your team are interested in joining us for one of our Corporate Volunteer days, please click here to visit our website, or contact our team: info@vauxhallcityfarm.org.
As well as an opportunity to get out of the office and a chance to give back to the local community, we also have meetings room available to hire, and we're fully licensed with an onsite bar, so you can enjoy some well-earned drinks at the end of your day! Faith's Place, the Farm Bar, is also available for hire, so if you have office Christmas drinks coming up, or want to celebrate a year of hard work, then please get in touch and see how we can help: info@vauxhallcityfarm.org.
Faith's Place, the Farm Bar
Sofar Sounds at Faith's Place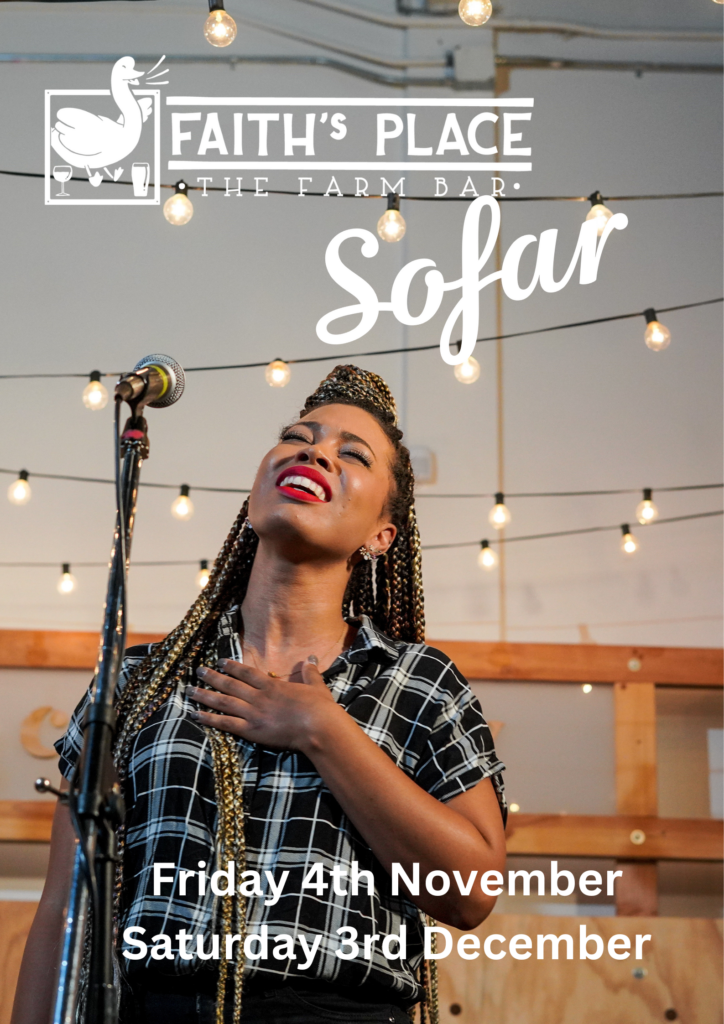 Last Friday, we welcome Sofar Sounds to the farm for a night of intimate, up and coming music. If you are unfamiliar with Sofar Sounds, they transform everyday spaces into captivating venues for secret, live music shows and you can expect three local and diverse artists, great vibes, and a whole lot of magic.
If you missed our last Sofar event, then you'll be glad to hear we have a second date lined up on Saturday 3rd December, and tickets are available to buy directly from the Sofar Sounds website by clicking here.
Faith's Place and Hooray Events present…MINGO!
On Thursday 24th November, Faith's Place brings you bingo with a musical groove, hosted by Hooray Cabaret's very own Victoria & Verity!
Celebrating the best and worst of music across the decades, with an eclectic mix of pop and rock classics, one-hit wonders and guilty pleasures, Victoria & Verity will be sure to get you up dancing!
And with prizes for lines or a full house, what's not to love?! Including…
A place on our Christmas wreath making session!
Animal Meet & Greet vouchers!
Vauxhall City Farm merch!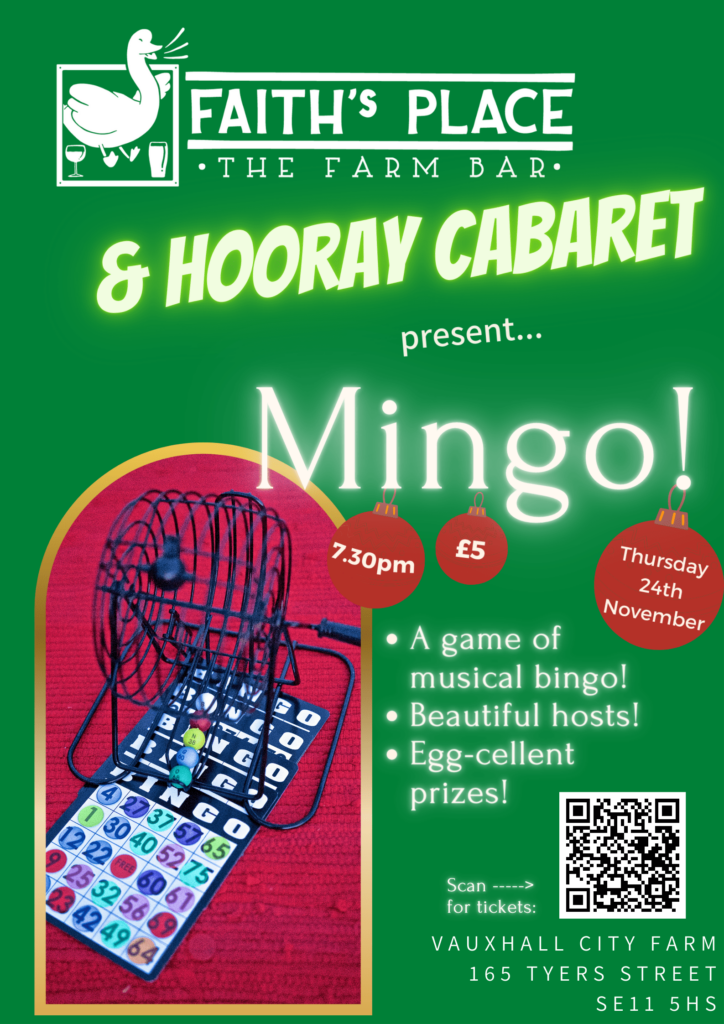 A Festive Evening with Mo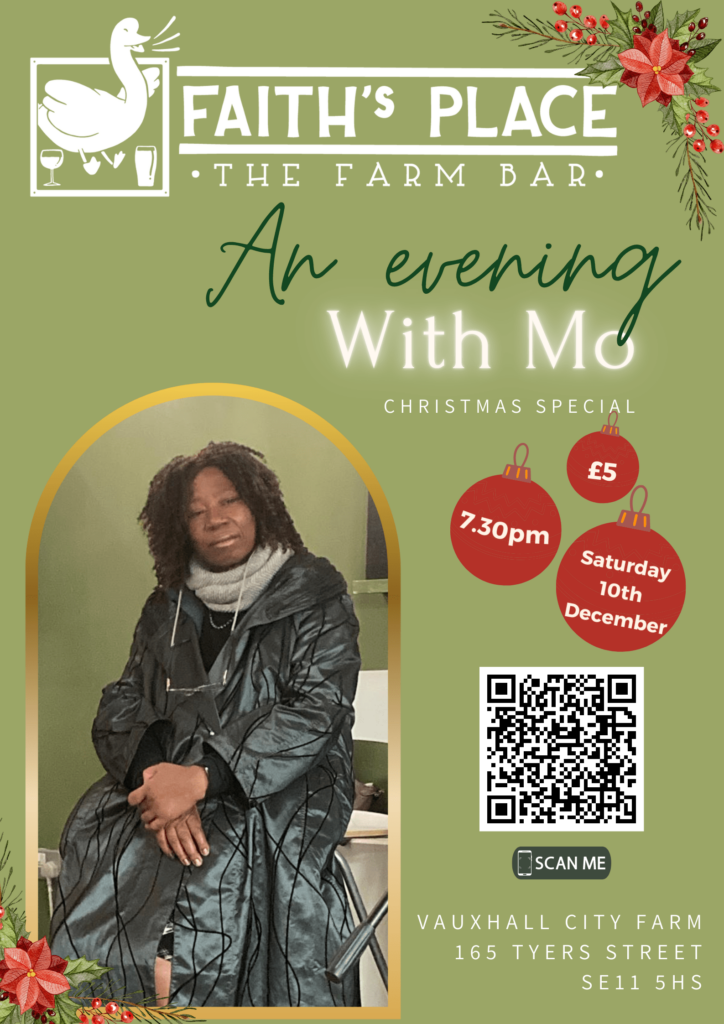 Following the success of our first "…Evening with…", Maureen Obi returns for a second night of acapella storytelling, this time with a festive twist, on Saturday 10th December. Across the evening, Mo will be taking us on a journey to love using the gift of her voice. Grab your friends, let us pour you some wine, sit back relax and enjoy. We cannot recommend this night enough – Maureen is a phenomenal talent, and we're so honoured to have her perform at Vauxhall City Farm.
Tickets are available now and are priced at £5 via the VCF Website, or Eventbrite. All money raised will be used to fund Vauxhall City Farm's programmes throughout the year.
Plant sales and Garden Ambassadors
We're also excited to announce that we are running regular plant sales down by the garden gates, so now you can take a piece of our garden home with you for £2 a pot. Our wonderful gardener, Kat, will be on hand to help you chose the plant for you, and give you tips on how to care for your gorgeous new greenery.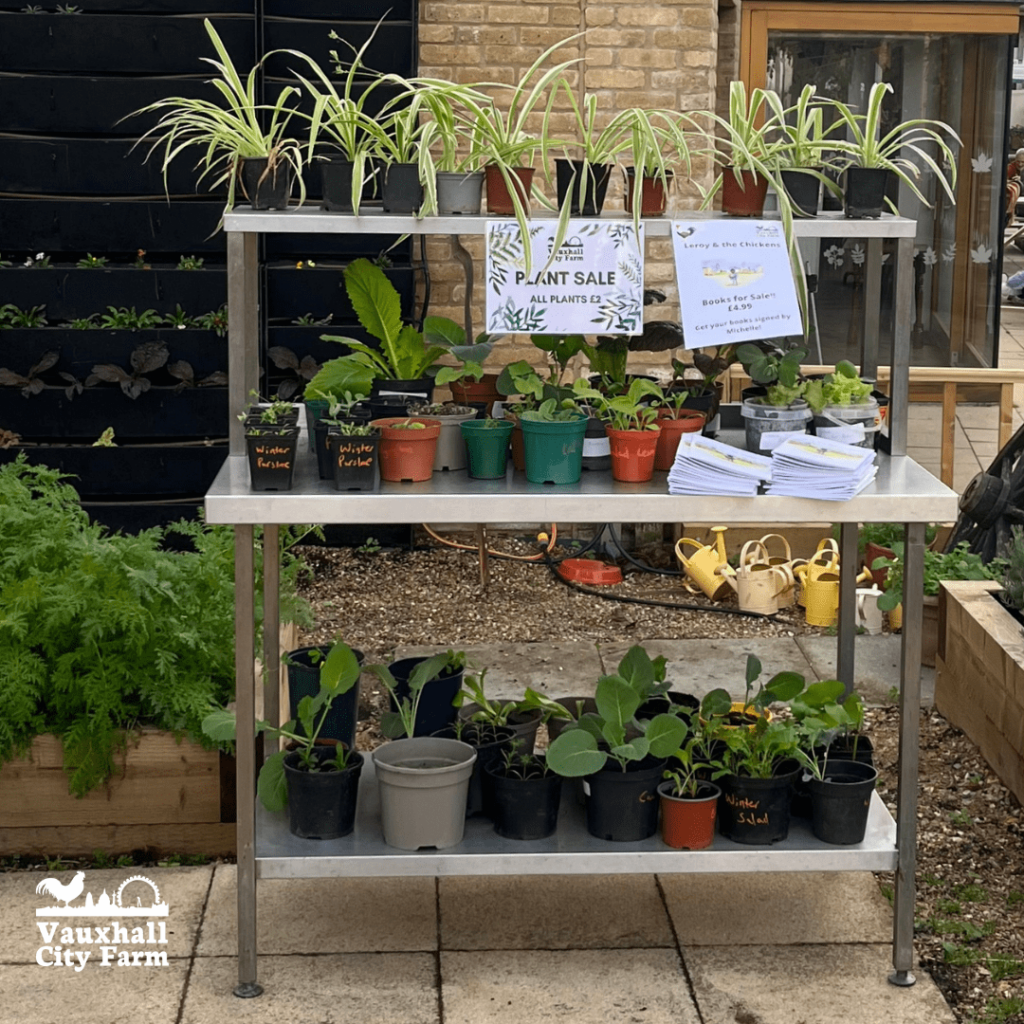 Support Vauxhall City Farm
We appreciate times are tough right now, which is why we work so hard to keep Vauxhall City farm free to enter year-round. You can also support us by following our social media pages at the links below.
All's wool that ends wool!
Don't forget we have two purpose-built meetings room adjacent to our café, which are perfect for meetings, parties, and events. Please see our website for full details or contact our office team with any questions: info@vauxhallcityfarm.org.