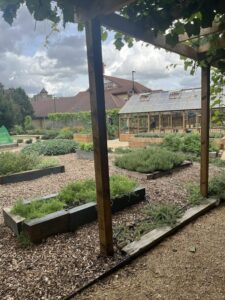 Our Community Garden is almost finished, and we can't wait for you to see it in all its glory. From our beautiful beds to pretty pergolas, gorgeous greenhouse, and outstanding outdoor classroom, this is a garden made to be enjoyed. But before we throw open the gates, we need a team of dedicated garden volunteers to monitor the space, ensure visitor safety and answer any questions they may have.
No gardening experience is needed, just a willingness to learn, and to spread your new found knowledge as we're keen for our Ambassadors to inform and interact with our visitors. We're hoping to build up a roster of enough to volunteers to ensure the garden is open to the public whenever it is not being used for educational activities or workshops, which means we need people Tuesday – Sunday, from 10.30am till 4pm.
You can commit to full days, half days, or even a few hours – every little helps! If you are interested in becoming a Garden Ambassador, please visit our volunteering page to download the application form, or contact our volunteering team directly: volunteering@vauxhallcityfarm.org.