Schools form one of our most important groups at Vauxhall City Farm. We are registered as an educational charity and ensuring that we have strong relationships with our local schools is at the heart of our mission.
Our Information for School flyer, showcases our most popular programmes, as well as listing the best way to get in touch with our education team.
We offer a wide range of curriculum-led activities, which can vary from our 'off-the-shelf' programmes to more bespoke offerings. If you are looking to develop a specific programme for your school, or wish to cherry pick our projects that suit your upcoming school term, then please get in touch with our Education team to discuss further.
If you are looking for something a little more recreational that doesn't involve travelling to the farm, than maybe our Mobile Farm Offer is what you're looking for? We are experts at taking our animals, both large and small, to schools & nurseries.
Employability and careers are also a central pillar to the programmes we look to offer schools. Our partner courses in animal care, as well as our involvement in the KickStart initiative are testament to that. Reach out to our Education team to see how we can best support your young people in researching, understanding and realising a career in farming, environment or animal care.
Alternatively you can find out all about visiting Vauxhall City Farm and booking a Self Guided Tour for you and your group, and we'll look forward to welcoming you at the farm, when you visit.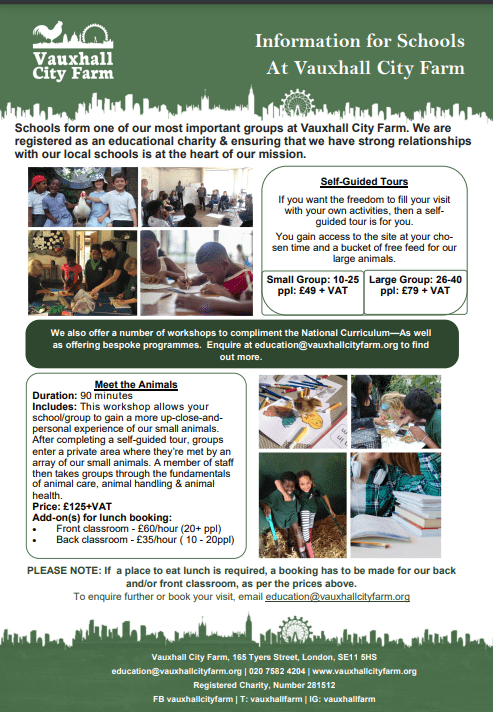 Your support makes a difference!
£10
Buys 2 bales of hay (Our animals need 150 bales every month)
£20
£50
£100
£500
Every donation made will help us to reach more people with our services…
You may also be interested in...
Faith's Place is a unique drinking experience on Thursday, Friday and Saturday evenings at Vauxhall City Farm.
Find out what Vauxhall City Farm has on offer for workplaces and their employees, including our onsite Café and volunteering opportunities.
With extensive experience of on-site & on-set filming, Vauxhall City Farm offers a great location and some highly-trained actors (animals) for projects of all shapes and sizes.