Performing Animals Licence: 19/015 || Name of Licence Applicant: Monica Tyler 
---
Animals On The Move
We are experts at taking our animals, both large and small, to schools, nurseries, birthday parties, fairs, events and anywhere else. We offer three main packages but we can tailor any visit to your particular requirements.
Download our Mobile Farm Flyer or read on below!
We will provide…
A range of friendly animals
All animal-related equipment incl. 2 bales of straw for small animal handling
Removal of all animal waste
Thorough disinfect of the animal area
A gazebo for shelter if necessary
DBS checked staff
Appropriate risk assessment
£5 million public liability insurance
"Booked the mobile farm for a school fundraising event. The staff were fab, the animals were friendly and looked very healthy and happy. The animal welfare was obviously paramount to the staff; and the children (and parents) thoroughly enjoyed the opportunity to see, touch and hold the animals. Highly recommend! Thank you!" — 5/5 Stars, J.P. Facebook review
Animals In The Classroom
Designed as a 'Show & Tell' but also great for small birthday parties. We will bring up to 3 different small animals in pet carriers and one member of staff will deliver classroom sessions on chosen topics and answer questions. A great way to strengthen knowledge taught in the curriculum, by discussing topics such as classfications, adaptations & habitats, life cycles, sexual dimorphism, food production and many more using the animals as a teaching aid. For birthday parties we will focus on the animal handling rather than the education element of this offer. 
£195 for 1 hour, £50 for each additional hour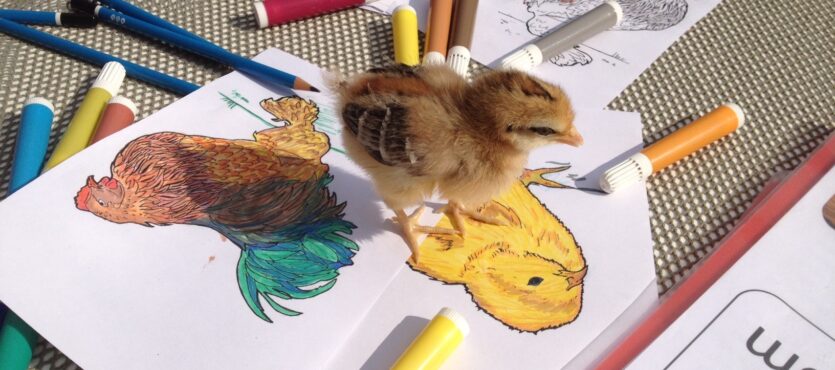 Small Animals Out
We will bring guinea-pigs, rabbits, chickens and ducks and whenever possible chicks and ducklings. Please enquire for other small animals. Staff and volunteers will be on hand to provide a chance to meet and pet the animals. This is ideal for large birthday parties, small events, school fairs and much more.
£450 for a minimum of 2 hours, £50 for each additional hour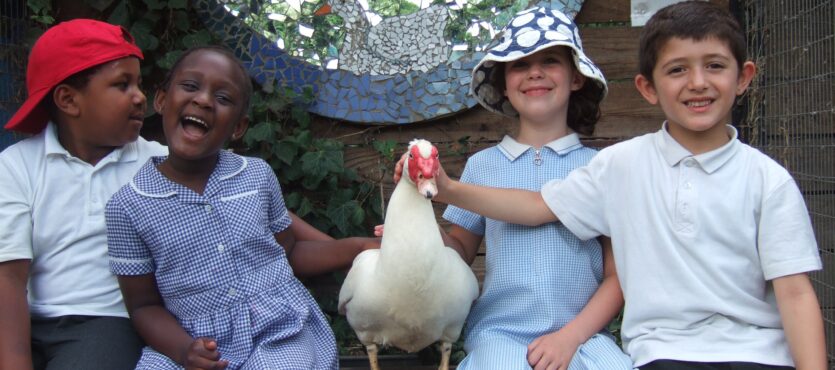 Large Animals Out
We will bring all animals from the Small Animals Out as well as sheep & goats and whenever possible lambs & kids. Please enquire about booking alpacas or ponies, as their travel needs are different and need to be discussed with the team. Staff and volunteers will be on hand to provide a chance to meet and pet the animals and answer questions. This is ideal for large events, school fairs, street parties, festivals and much more. (We do not offer pony rides.)
£950 for a minimum of 2 hours, £50 for each additional hour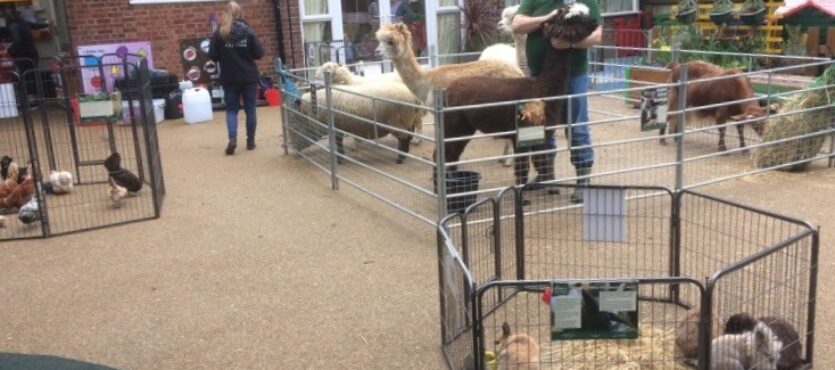 Bookings need to be within a 20 miles radius of the farm. 
Please note, bookings outside a 5 mile radius of the farm will incur a £30 extra charge, and for events outside of operational hours (9am – 5pm), the cost for each additional hour is doubled. We offer a 15% discount for returning customers.
"We are so grateful for the enthusiasm, hard work, energy and good spirits that you brought to Bermondsey Carnival that made the event such a success. The event broke all previous audience figures, with an estimated 12,000 people attending over the day, which is amazing! Thanks so much for your hard work." — H. C. Email feedback
All we need from you is…
Hand-washing facilities adjacent to our pitch (mobile sinks can be provided for an additional cost of £50)
A water supply (outside tap nearby or hose)
First Aiders & Fire Marshalls for your event
Parking space near where the animals will be
Adults and/or teachers to supervise children and manage behaviour
Confirmation of no other livestock present
We do not charge for the time spent setting up, clearing away, or travelling so that the time you pay for is direct animal contact time! We can tailor any visit to meet your group's needs.
Please contact us to discuss a booking.
Events with tailored elements
Whatever event you're running, Vauxhall City Farm can be a great addition. We offer more than just a petting zoo, we can provide a tailored experience focusing on education for all ages.
Each event is unique so please contact us to discuss your requirements, but here are some of the things we have offered in the past: 
Meet & feed the animals – Families love feeding our alpacas, goats and sheep. We can bring along feed for the animals either for a charge to the event organised to be given out for free, or to be sold by us. 
Family challenges – Families work together to complete a series of creative games, crafts and activities around the theme of animal care, collecting stamps and receiving a beautiful rosette to award their achievement.
Crafts – Face painting, colouring tables, story book corners, animal photo-ops and a range of other activities and crafts for visitors to have a go.
"I just wanted to drop you a quick note after visiting the Lambeth Country Fair today with my 19 month old daughter and 6 year old niece. It was a hot busy day and your staff and volunteers were all unfailingly calm, happy and helpful. It was a real pleasure to be in the farm area and our girls loved it. I particularly noticed how sensitive people were to children who had been queuing a while – and to my little one who loves the idea of animals but isn't quite ready to stroke them yet. Thank you for a lovely experience" — C.S. Email feedback
Your support makes a difference!
£10
Buys 2 bales of hay (Our animals need 150 bales every month)
£20
£50
£100
£500
Every donation made will help us to reach more people with our services…
You may also be interested in...
Submit an enquiry through this form and we will get back to you as soon as possible...