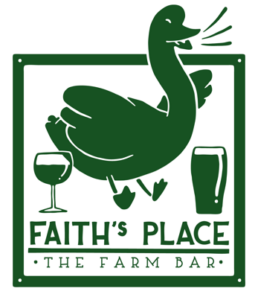 Welcome to Faith's Place, a brand new bar at Vauxhall City Farm!
Faith's Place is a unique drinking experience at London's most central City Farm. Enjoy the ambience of a farm at night with a glass of wine, or a craft beer in the delightful company of our ducks.
Faith's Place will be open every Thursday, Friday, and Saturday evening, from 5pm – 11pm. Please see in house menus and boards for available drinks and special offers.
We look forward to sharing the updates and events we have planned for Faith's Place in the coming weeks!
Please note, last orders are at strictly 10pm, thank you for your understanding.
If you have a booking enquiry, are interested in holding an event or night in Faith's Place, or have any other questions regarding London's ONLY farm bar, please contact us.
---
Your support makes a difference!
£10
Buys 2 bales of hay (Our animals need 150 bales every month)
£20
£50
£100
£500
Every donation made will help us to reach more people with our services…
You may also be interested in...
Find out what Vauxhall City Farm has on offer for workplaces and their employees, including our onsite Café and volunteering opportunities.
With extensive experience of on-site & on-set filming, Vauxhall City Farm offers a great location and some highly-trained actors (animals) for projects of all shapes and sizes.