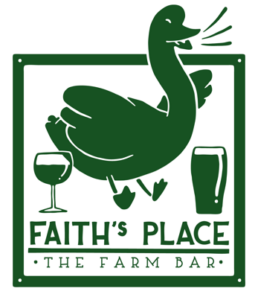 Step into a world of serenity and escape the hustle and bustle of the city at Vauxhall City Farm Bar.
Our unique setting, surrounded by the beauty of nature and the cheerful company, promises an unforgettable experience.
Welcome to Faith's Place, the bar at Vauxhall City Farm!
A hidden gem nestled within the heart of London! As part of the Vauxhall City Farm, our new bar brings together the perfect blend of nature, community, and relaxation.
Faith's Place Opening Times are: Every Thursday, Friday and Saturday (6pm to 11pm)
Faith's Place is a unique drinking experience at London's most central City Farm. Enjoy the ambience of a farm at night with a delightful selection of drinks in the company of our ducks. 
Please click here to see our current drinks menu.
Please note, last orders are at strictly 10pm, thank you for your understanding.
Join us take advantage of exciting offers and don't forget to invite your friends, family, and colleagues to join in the celebration! The more, the merrier. Let's create lasting memories together!
If you have a booking enquiry, are interested in holding an event or night in Faith's Place, or have any other questions regarding London's ONLY farm bar, please contact us. 
More from Faith's Place...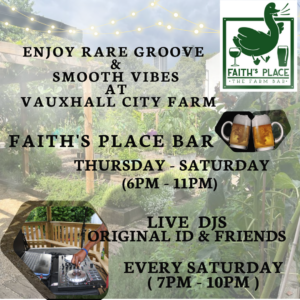 Looking for some light entertainment to brighten up your evenings? Look no further than Faith's Place as we are opening it again this year.
Read More »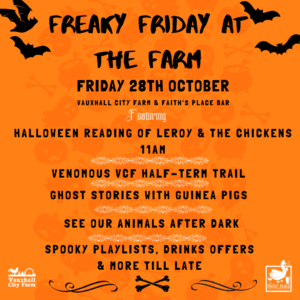 This Friday 28th October things are going to get FREAKY ON VAUXHALL CITY FARM!! Join us for a day of spooky goings on, kicking off at 10.30am, and lasting into the evening at Faith's Place Farm Bar.
Read More »
You may also be interested in...