Update January 2021: Regrettably, our Riding School is temporarily closed, and has to remain so whilst we carry out essential repairs and refurbishment. We are planning to restructure our offer, once all necessary repair works have been completed, and we look forward to sharing updates with you all, as the work progresses. 
---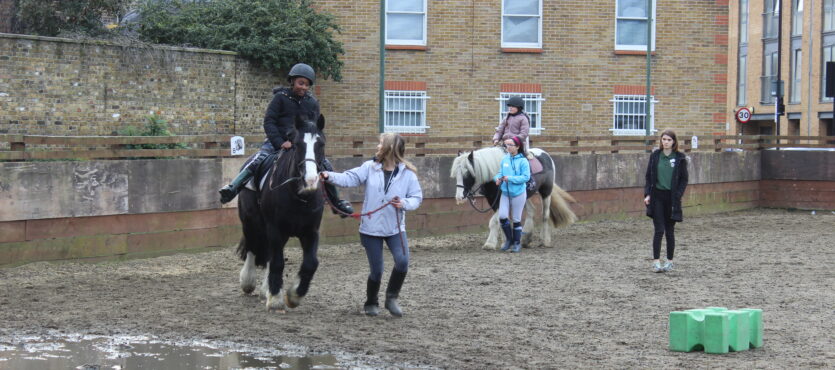 We have a range of horses and ponies at the farm that suit most needs and skill level. The horses/ponies on site take part in jumping, flat work, Riding for the Disabled lessons, or beginner adult and children lessons. We also offer weekly or one-off lessons to school groups, summer camps, and other similar groups.
All our lessons must be booked and paid for in advance.
You can book and pay for individual lessons, or you can book a block of 10 lessons, with a 5% discount. Refunds on block bookings are not possible. If for any reason we are unable to provide the lesson, we will carry them forward and book them in for future slots.
Birthday parties and other types of pony parties can be run at the farm, and we offer lessons for school groups from Tuesday to Friday prior to evening lessons.
Please contact us to discuss any of the above directly with the riding team.
Current Riding Lesson Timetable
Tuesdays 16:00 – 20:30
Wednesdays  16:00 – 18:30
Thursdays 16:00 – 18:30
Fridays 14:00 – 18:30
Saturdays 10:00 – 16:45
Sundays 9:00 – 17:00
Tuesday to Friday private lessons after 4pm 
Adult 30 Minute Private lessons – £40.00
(RDA) Children 30 Minute Private lessons – £30.00
Childrens 30 Minute Private lesson – £35.00
Semi private 30 minute lessons – adults & children – £25.00 per rider
Civil Service Riding Club – Tuesday evenings from 5.30pm
30 minute Private lessons £40.00
45 minute Group Lessons £35.00
Weekend lessons
30 Minute group lessons for children 7 years and up, £30.00 (per child)
Lessons from 10am – 4pm
There is also availability on Saturday and Sunday to book private lessons and birthday parties. This is from 2pm – 4.30pm. Please contact us for information.
Riding for the Disabled
Riding offers therapeutic benefits and the chance for riders to achieve their personal goals. As a registered RDA centre, we offer Riding for the Disabled lessons for school groups and individuals. All of our individual lessons, and a few of the weekday children's groups, are suitable for disabled riders.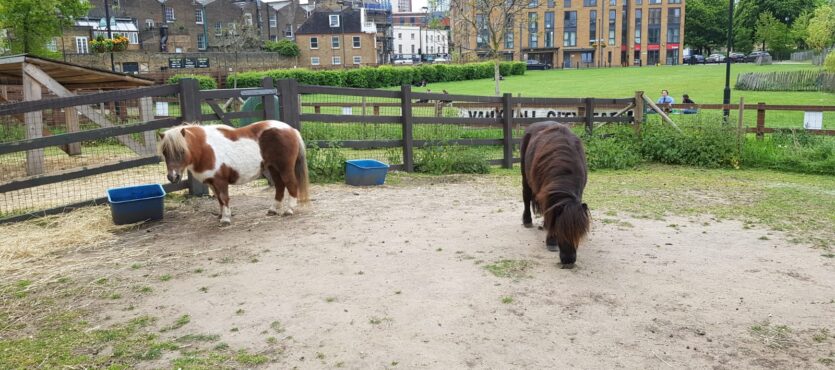 Own A Pony Days
The children spend the morning learning basic horse care skills such as mucking out, grooming, learning how to tack up and prepare feed for horses. Once they have learnt about what it takes to look after a horse, they get to spend the afternoon riding a horse.
Start: 10.30am
Finish: 3pm
Age: 8 – 14 years old
Cost: £80 per child
Footwear: Heeled boot or wellington boot (contact us if you are unsure about footwear)
Clothing: Full length leggings/jodhpurs and long sleeved top
Helmet: Will be provided by us
Lunch: Please bring a packed lunch with you – catering is not provided
We normally run Own A Pony Days during school holidays, if the horses aren't on their own holidays, Please keep an eye on our
events page
for upcoming Own A Pony Days or 
contact us
for more details.
Stable Management
While we understand that all riders want to spend as much time as possible on the back of a horse, stable management lessons are a great way to learn basic horse care, build your confidence on the ground with the horses at the farm and helping build your knowledge. Stable management lessons consist of grooming and bathing horses, learning to tack up and untack your horse, feeding and watering horses and as the title suggest, managing their stable.
Stable management lessons run throughout the week in the same slots as riding lessons. Please
contact us
 for more details.
Information for all riders 
We provide hats to all our riders. Hats must be fitted by a member of staff and returned once the lesson is finished
We do not provide riding boots. Shoes need to be closed toe to ride. (We do provide safety stirrups)
All riders must wear comfortable but fitted clothing. Clothing mustn't flap in the wind so as not to spook the horses
All riders need to be 4 years and up to ride at the farm
All weekend children's groups are for 7 years and up. Younger children can ride in the afternoon in the private lessons
We have ponies and horses that cater to all different heights and weights
Our Maximum weight for RDA/Novice riders is 12 stone/80kg
Our Maximum weight for Experienced Riders is 14 stone/88kg
Riding lessons go ahead even if the weather is bad, as long as horses and riders will be safe
If scheduled riding lessons are unable to go ahead due to severe weather, this will be substituted with a stable management lesson instead
We have a 48 hours cancellation/rescheduling policy. Any lesson cancelled / rescheduled with less than 48 hours notice will be charged to your account
We are unable to leave horses tacked up and waiting in the arena for longer than 15 minutes. If a client is more than 15 minutes late, their horse will be taken back to its stable and the lesson will be classed as a late cancellation and the account will be charged.
All new riders must complete a Rider Registration Form and email it to the riding team prior to their first lesson. 
All lessons are subject to availability. Please contact us for more information or to book. 

Vauhall City Farm is an Approved Centre, Centre Number 10001594. The British Horse Society.
Your support makes a difference!
£10
Buys 2 bales of hay (Our animals need 150 bales every month)
£20
£50
£100
£500
Every donation made will help us to reach more people with our services…
You may also be interested in...
Submit an enquiry through this form and we will get back to you as soon as possible...