Birthday Parties are run Tuesday – Sunday, 10:30am – 12:30pm OR 2pm – 4pm
What is included in the package?
A room decorated with bunting, ready for your arrival
Farm themed Party Invitations for you to customise and print
Your own party host
A VIP Meet the Animal's experience
Lunchboxes for all the children (see full flyer for options)
A drinks station of unlimited squash, tea and coffee
Party bags full of farm themed goodies
Siblings of birthday child are FREE (Under 2 years old)
£29.95 per child *with one adult accompanying free per child
Minimum booking charge x 10 children
Maximum room capacity 40 people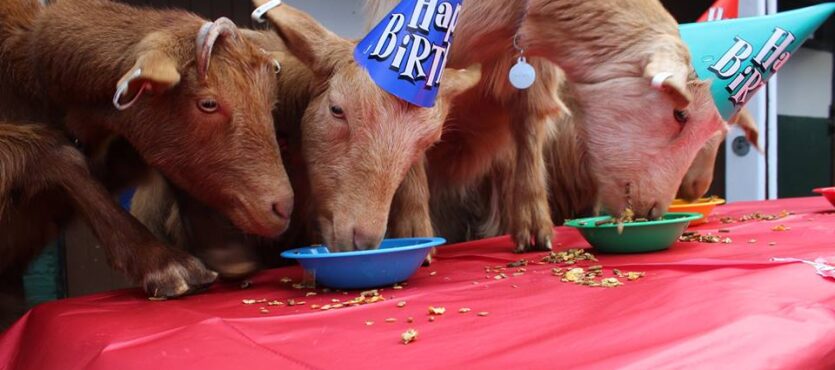 Extras
Additional Adults £8.95 each
Adult Catering £6.95 each (see booking form for options)
How to book: Please complete and return the booking form to education@vauxhallcityfarm.org upon acknowledgment of receipt by the office please call 020 7582 4204 to pay the deposit, this will secure the booking.
Please Note: Your final requirements and full payment must be received no later than 14 days prior to the event. Cancellations received in writing less than 14 days prior to your event will not be refunded. We do not allow external catering onsite.
Your support makes a difference!
£10
Buys 2 bales of hay (Our animals need 150 bales every month)
£20
Will cover the farm's electricity cost for one entire day
£50
Will pay for farrier costs & dental treatments for 1 horse, for 1 month
£100
Will provide food & bedding for all animals on the farm for three weeks…
£500
Will pay for farrier costs & dental treatments for 1 horse, for 1 month
Every donation made will help us to reach more people with our services…
You may also be interested in...
The Farm will re-open on Thursday 3rd December 2020. Read on for details, and info on Christmas and New Year closure.
Whether you're looking to book a workshop, sign up for one of our development programmes, want to become a volunteer, book a riding lesson or just want to say hello, we'd love to hear from you!