Meet & Greet vouchers are for a twenty minute 'Meet & Greet' experience for two people:
Age limits:
Small animal meet & greets 4+
Large animal meet and greets 7+
We can accommodate a maximum of 4 people on a Meet & Greet visit.
You can purchase vouchers for up to 2 additional people
You have a choice of animals you can meet, however you must specify which animal when you book.
Please note there may be restrictions placed on Meet & Greet Experiences with young animals or those that are new to the farm. This can be discussed when you call to book.
Visits must be booked in advance by calling the office and speaking to the farmyard team who will advise available dates & times. Please do not arrive at the farm without booking as a voucher does not guarantee availability.
Vouchers are valid for one year from date of purchase
Animals you can meet:
Large animals: Goats, Sheep, Alpacas, Pigs, Lambs & Kids (as and when we have them)
Small animals: Rabbits, Guinea Pigs, Rats, Chickens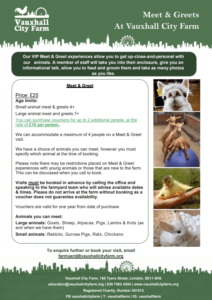 Your support makes a difference!
£10
Buys 2 bales of hay (Our animals need 150 bales every month)
£20
£50
£100
£500
Every donation made will help us to reach more people with our services…
You may also be interested in...
Submit an enquiry through this form and we will get back to you as soon as possible...