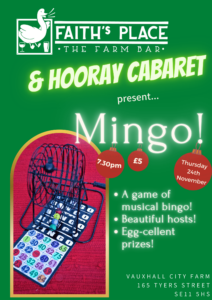 On Thursday 24th November, Faith's Place Farm Bar & Hooray Cabaret present MINGO! A night of musical bingo, fun and prizes at Vauxhall City Farm.
Our stunning hosts, Hooray Cabaret, will take you through the game, with plenty of Vauxhall City Farm prizes up for grabs, in our beautiful farm bar, Faith's Place.
Enjoy a selection of local drinks & snacks, or grab a bag of duck feed for Waffles and co, before getting those eyes down and pens ready for MINGO!
Entry is £5 per person/ sheet.
Door will open at 7pm, and MINGO will kick off at 7.45pm.
More event details and prizes coming soon…