One year, when us turkeys were being transported to the Lambeth Country Show, I slipped away from my handler and flew up onto the hayloft roof. From my perch I could see further than I had before in my life. I sat there on the tiles, watching the people in the Pleasure Gardens, contemplating the enormity of life outside of Vauxhall City Farm. 
Eventually, I came down and was whisked away to the show, where we were inundated with happy faces, some who hadn't known the farm existed until that weekend, and it was thrilling and wonderful, but when it was over, I was glad to come back to Vauxhall. I feel like a very blessed turkey to be able to call this place home, and I feel especially moved by the support I've seen from our visitors over the years I have been here.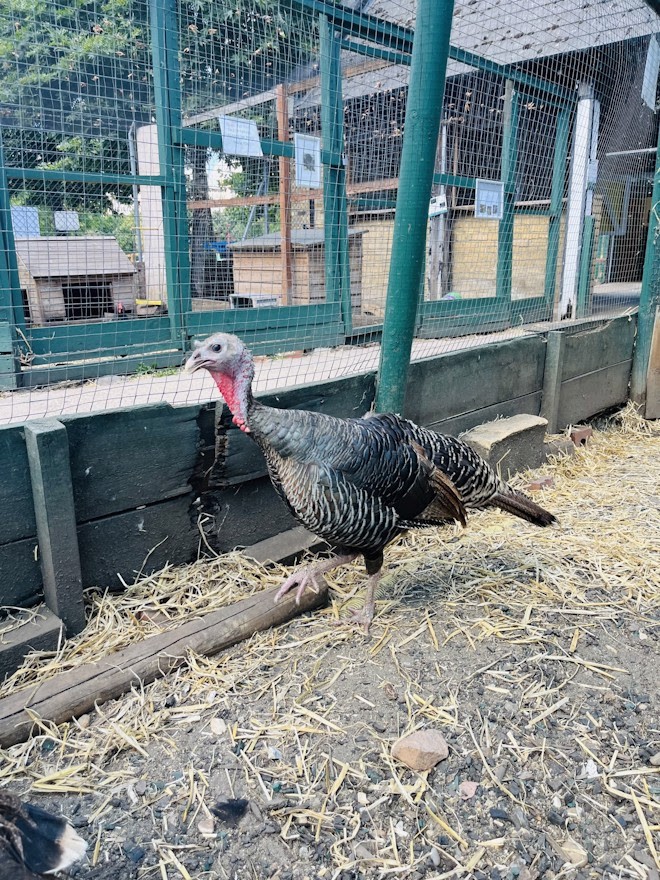 This year I was unable to attend the Lambeth Country Show with the rest of the animals, but luckily for us all, the VCF Team have just released a new video documented their triumphant return to the show, while highlighting the need for your continued support, and asking for donations to The Vauxhall City Farm Appeal.
These last two years have proved challenging for us all, with the country in lockdown us turkeys saw no one but a handful of volunteers for weeks on end. The farm was unable to run as normal, and visitors were only allowed onsite intermittently. All this proved devastating financially for the farm, but our supporters pulled us through. Now, we turn to you once more, and ask for your help by donating to The Vauxhall City Farm Appeal.
We desperately need to raise money to make sure we can keep providing the essential service that we do, and any contribution will help ensure that Vauxhall City Farm remains open as a much needed space for our community to re-connect, get outdoors and access therapeutic, educational and support programmes.
Please watch and share our video and its message – we need as many people as possible to see it! And, as always, thank you for your support, it really does mean the world to everyone here at Vauxhall City Farm.
Please click here to go directly to The Vauxhall City Farm Appeal on GoFundMe.
The video can also be viewed on YouTube.
And on our website, by clicking here.
If you have any questions, please click here to contact our Marketing Team.
The VCF Riding School returns...
When I was on that roof, I saw a world outside the farm, and though I am happy here in my home, I still gobble up stories about the things that happen beyond these gates. Which is why is been wonderful having our old neigh-bours, the horses, back at the farm. Ronnie and co. have been filling us turkeys in on their time away, telling tails of green fields and strange horses, and how excited they are to be back at Vauxhall City Farm. 
And it's not just the horses who we have been catching up with, we also have a brand-new Riding Team, and it is my pleasure to introduce them to you…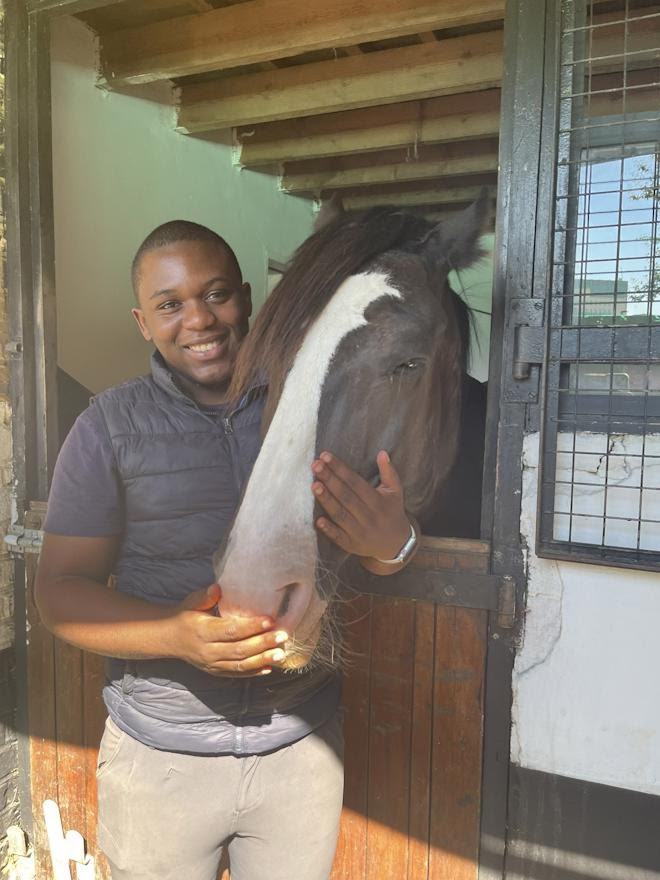 Reggie Quaye – Riding Manager
Some of you may recognise Reggie, as he learnt to ride right here at Vauxhall City Farm when he was nine! Since then, he has gained his BHS qualifications in Riding, Teaching and Equine care at Trent Park Equestrian Centre, worked at a 5* Event Yard, where he gained experience in training young horses and competing at an international level, before moving onto a Dressage Yard, where he improved his riding and stable management skills. 
For the last year he has worked in Luxury Real Estate, but when he saw that Vauxhall City Farm was working towards reopening the riding school where his career began, he couldn't resist returning, and has joined as our new Riding Manager!
Gareth Barker – Groom
Joining Reggie is Gareth, who learnt to ride on a farm close to where he grew up in the North of England. He moved to London ten years ago, and originally volunteered at the VCF Riding School in the 2014, before moving on to study and teach Ceramics. He re-joins us now as a full-time Groom, bringing his equine expertise back to VCF.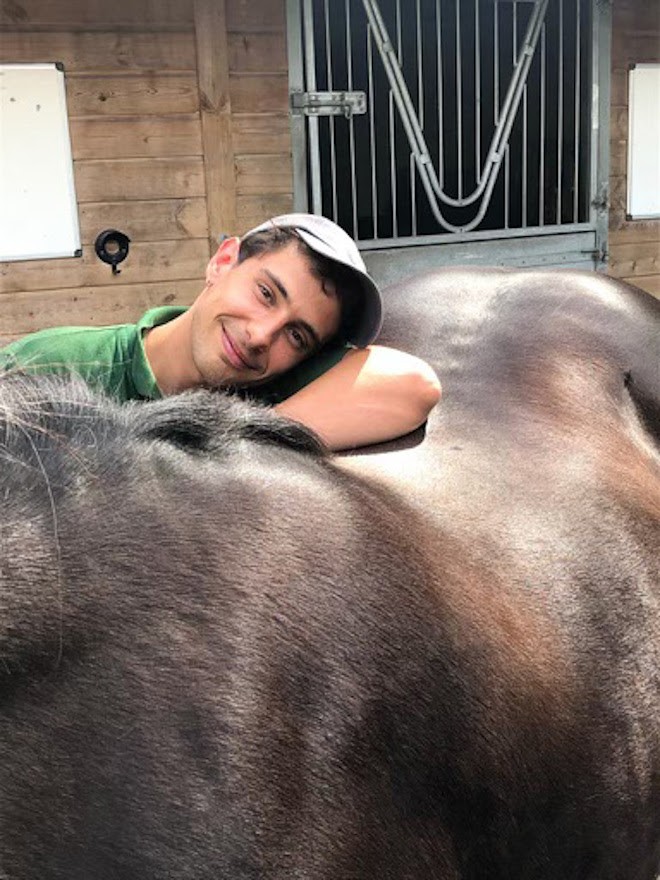 Bernie Byrnes – Groom
Rounding up the team is Bernie, an award-winning writer and director, who began volunteering at the VCF Riding School in 2015 as she missed rural life. During lockdown, Bernie decided to redirect all her energy into spending time with horses and is 'over-the-moon' to have joined the VCF Team as our part-time Groom.
Do you have experience with horses?
We now need volunteers to help in the Riding School. If you are interested, please see the Volunteering page on our website to download the application form, or contact our riding team directly: riding@vauxhallcityfarm.org
Please keep an eye on our website and social media for updates on how our Riding Team are getting on. There is still a lot of work to do – we now need to build and train a team of horses ready to deliver lessons when we reopen. We will post further news as soon as we have it to share!
One of my favourite things about summer is seeing all the children who come to visit the farm, and the joy they get from us animals. Though Trevor is often the star of turkey pen, us girls enjoy basking in his glory and helping to teach young people about the ways of the bird world. This years' Summer Club was generously funded by Lambeth Council's Holiday Activity Fund, ran over two separate weeks, and welcomed 38 children aged 8 – 14 years old.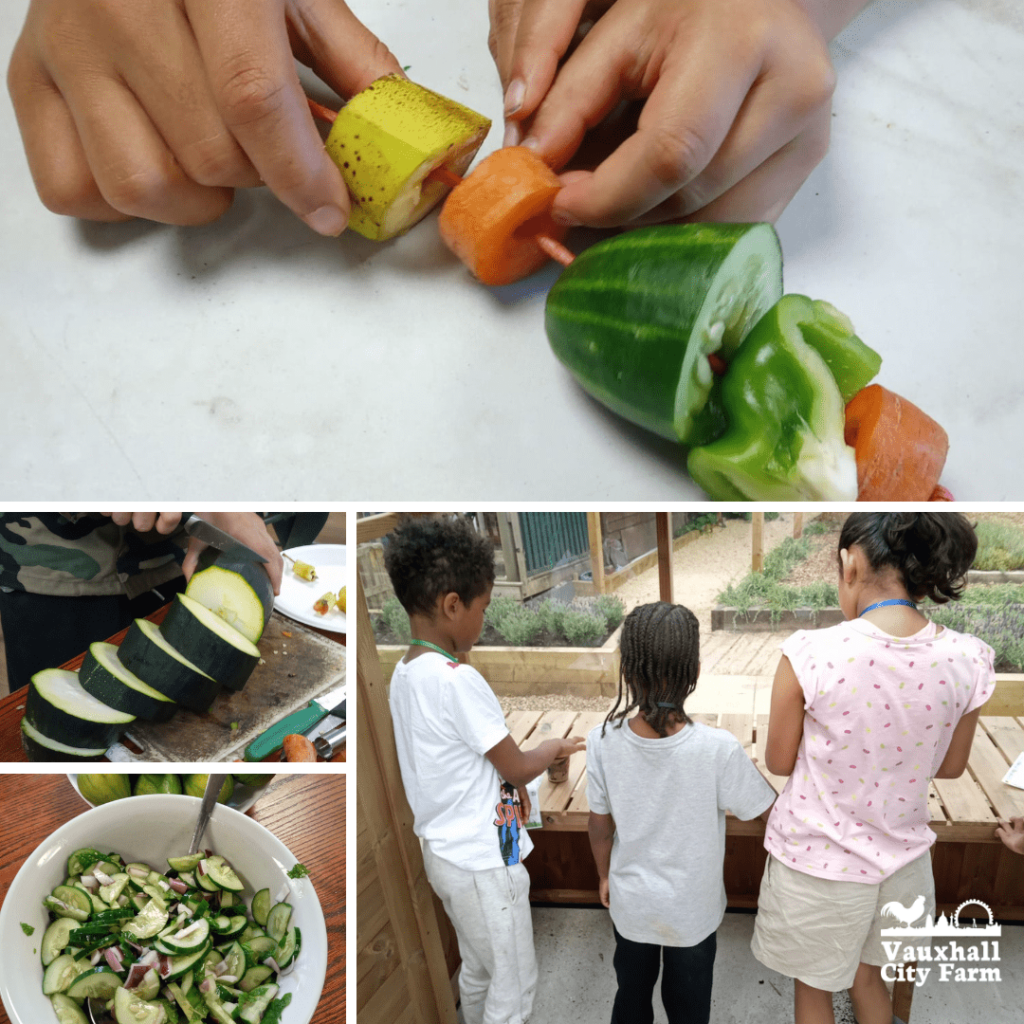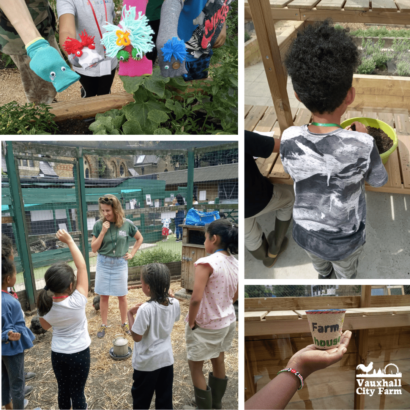 The children got stuck right in, mucking in with mucking out, learning about us animals, planting in the garden – including in our beautiful new greenhouse – and creating eco arts and crafts. They walked donkeys, identified poo, and made puppets from old socks. They even picked vegetables from our Community Garden and made delicious treats for us animals, as well as tasty salads for their group to enjoy.
After a busy two weeks, we received lots of wonderful feedback, which I will report in their own words:
"He is having such fun on the Farm; he has loved telling me about all the animals each day" – Caregiver of Summer Club Child
"Thank you for providing such a great experience" – Caregiver of Summer Club Child
"My favourite part of Summer Club was connecting and learning about nature" – Summer Club Child
"This is the best; I wish we could do it for more weeks" – Summer Club Child
"These cucumbers are amazing; they taste so good from the garden…loads better than ASDA ones" – Summer Club Child
We look forward to welcoming more clubs during half-term and holidays in the future, especially for the children and young people who need it most.
It's heating up at Faith's Place
While this hot weather can prove tough on the farm, one place it is always welcome is on the garden terrace of our Farm Bar, Faith's Place. It's hard work keeping our visitors refreshed, so you'll be glad to know that we've expanded our range and will now be selling alcoholic mixers and seltzers from the East London Liquor Company, beers from fellow Lambeth-ers Gipsy Hill Brewery (including a Gluten-Free option!), as well as a tasty mix of non-alcoholic cocktails and sodas from Square Root London. We're trying to keep our offer as local as possible to promote sustainability, support fellow local businesses, as well as keeping our guests as hydrated as possible.

If that isn't enough to entice you down to the farm for a drink with our ducks, we've also got some quacking offers this month, including 15% off for all local workers (yes, that includes those of you who WFH!), and 2 for £9 on cans of Pimm's, Seltzers and Mixers.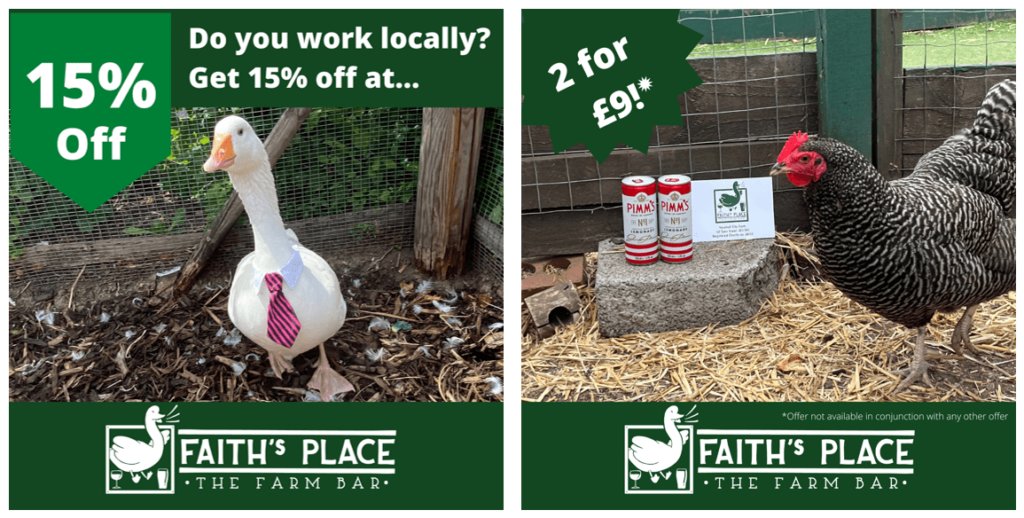 And we couldn't let summer pass us by without a banging VCF Barbeque, we're just putting the finishing touches to our plans, but full details, and how to buy tickets, will be posted on our website and social media soon, so keep an eye out, and pencil us in for an evening visit on Friday 26th August.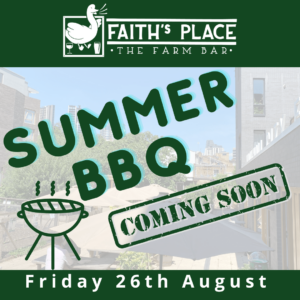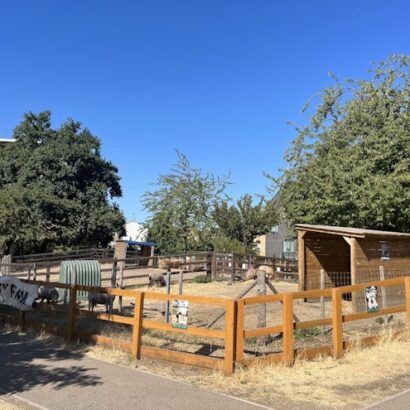 Most of us animals will be concentrating on keeping cool this month, though I'm sure our large animals will still be going wild for those grass nuts! You can buy bags of animal feed on our Welcome Desk when you visit the farm – remember the food is for the large animals inside the farm only, please do not feed animals that are outside in the paddocks, as they are often kept there because they are on special diets or have overindulged slightly and need a break from the public's generosity.
The Polish Chicken Chicks are growing fast and are now living in the main chicken enclosure. You can see them right opposite us turkeys during your visit, you can also book a VIP Meet & Greet with them, or adopt our adult chickens, which is great way to the support the farm and the work that we do. Unfortunately, Trevor is not the most amicable of birds, so we turkeys can only greet you from within our enclosure, but there are plenty of other friendly animals that you get up close and personal to, please see our website for a full list of the animals you can meet.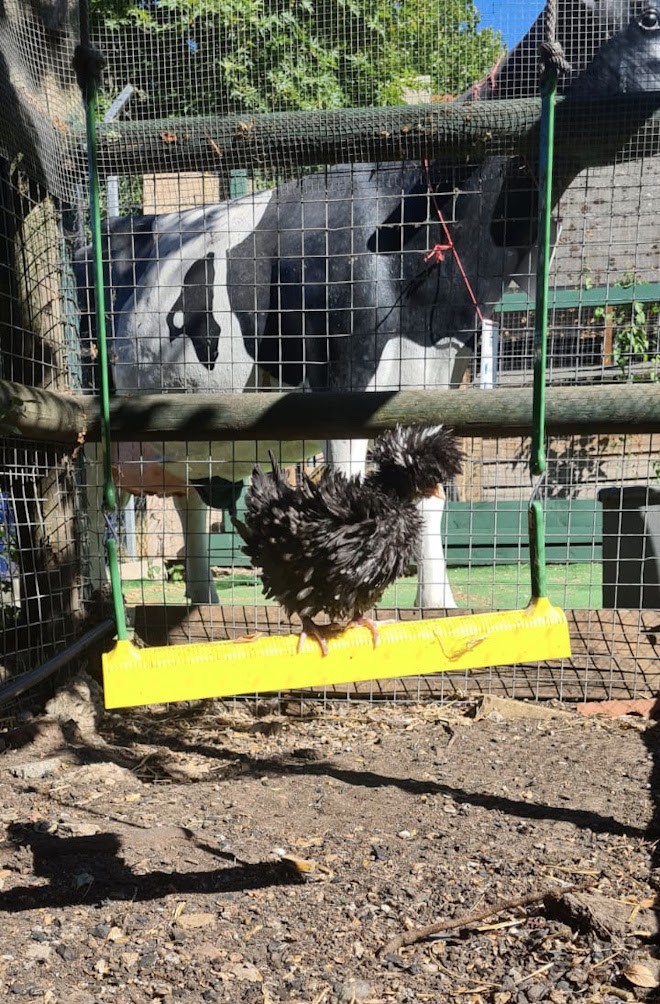 We have two job openings that we are currently recruiting for:
If you are a bright, proactive organiser, with a flair for storytelling, then chick out our new Office Assistant vacancy. The post holder will work with both our Administrator and our Marketing Manager to support them with incoming bookings and communications across the farm and online.
We are also on the hunt for a part-time Cleaner to keep our office, café and other public spaces spic and span. If you are interested, please see full details on our website. 
And if you work elsewhere…
A message from Vauxhall One
Before I sign off for the month, I've been asked to pass on a message from the lovely lot at Vauxhall One…
Join us for VICTORIAN VAUXHALL: A family-friendly funfair!
Roll up, roll up, this summer Vauxhall has quite the spectacle for the whole family! A Victorian funfair is happening just next door to the farm in Vauxhall Pleasure Gardens, this August Bank Holiday. Expand your Saturday farm visit into a full day out – for the whole family.
Be awed by circus acts, entertained by performers, delighted by food & drink, and get involved in dance classes to the backdrop of live music. Buckets of fun to be had for the whole family – little kids and 'big kids' alike – and it's free for all to attend.
RSVP for free tickets and you'll be entered into a competition to win a VIP tour of Vauxhall City Farm.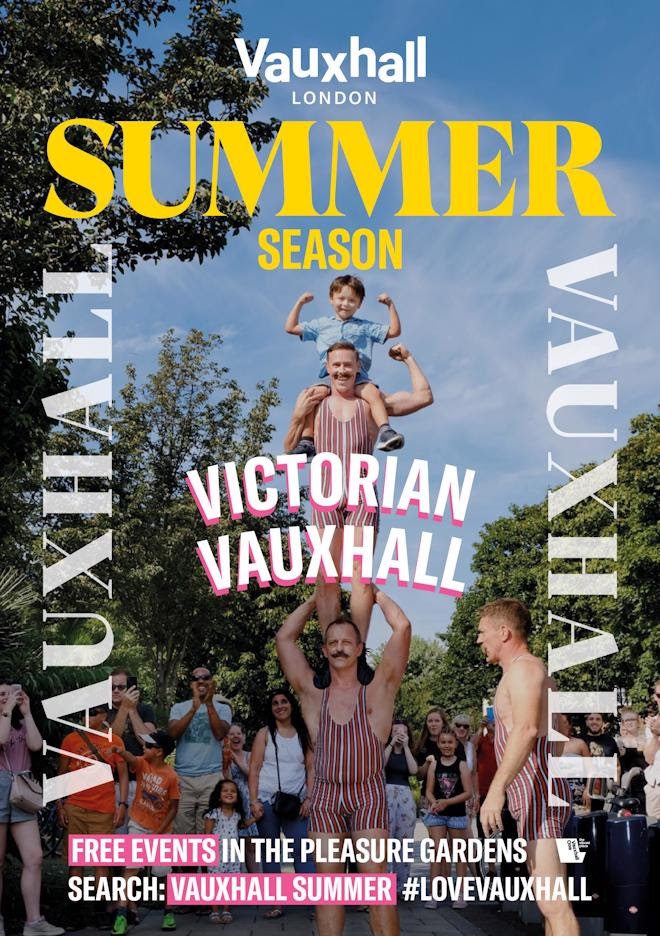 Goodbye from Sprout (& Co.)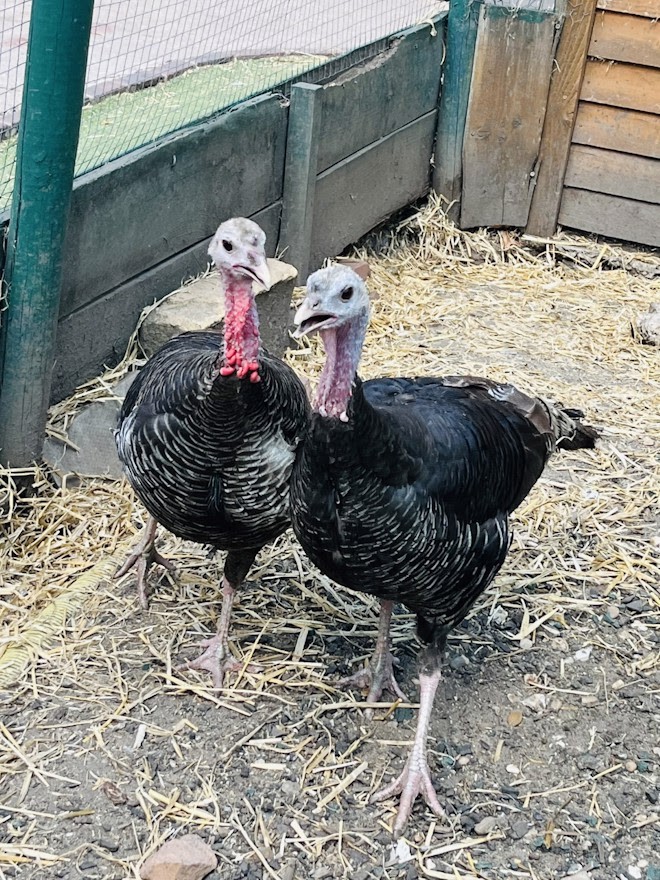 Finally, don't forget to follow us on social media, links below, and please share our video, we need as many people as possible to see it!
Now that I've told you all about what's happening at VCF this month, I hope to see at the farm soon and hear your stories of what you've been up to in the big wide world.
Enjoy the sun.
Sprout
X