July 2023 Newsletter from Vauxhall City Farm by Pride, our horse!
Snnoooorrrttttttttt!!!! What A Roller Coaster June Was!!!!
Delivering mobile farms at schools, the Lambeth Country Show, Pride at VCF and the opening of our new entrance made June a very busy month!
I absolutely loved it!!
All those events were incredible but my personal favourite was Pride at VCF which made me extremely excited Snooorrtttt and cheerful as it had my name in it which is why I was its official brand ambassador.
As we all know June is Pride month, this year we decided to celebrate at Vauxhall City Farm by organising a community event for people of all ages.
Visitors enjoyed a number of activities such as Drag Bingo and Drag Farm tours (Our new borns were bit shy at first but made lots of human friends at the end), our oral history (Trevor the turkey knew so much about Lambeth's history, being the oldest animal at the farm) and poetry workshops were also well attended (Do you know Bonnie has some hidden poetry talent).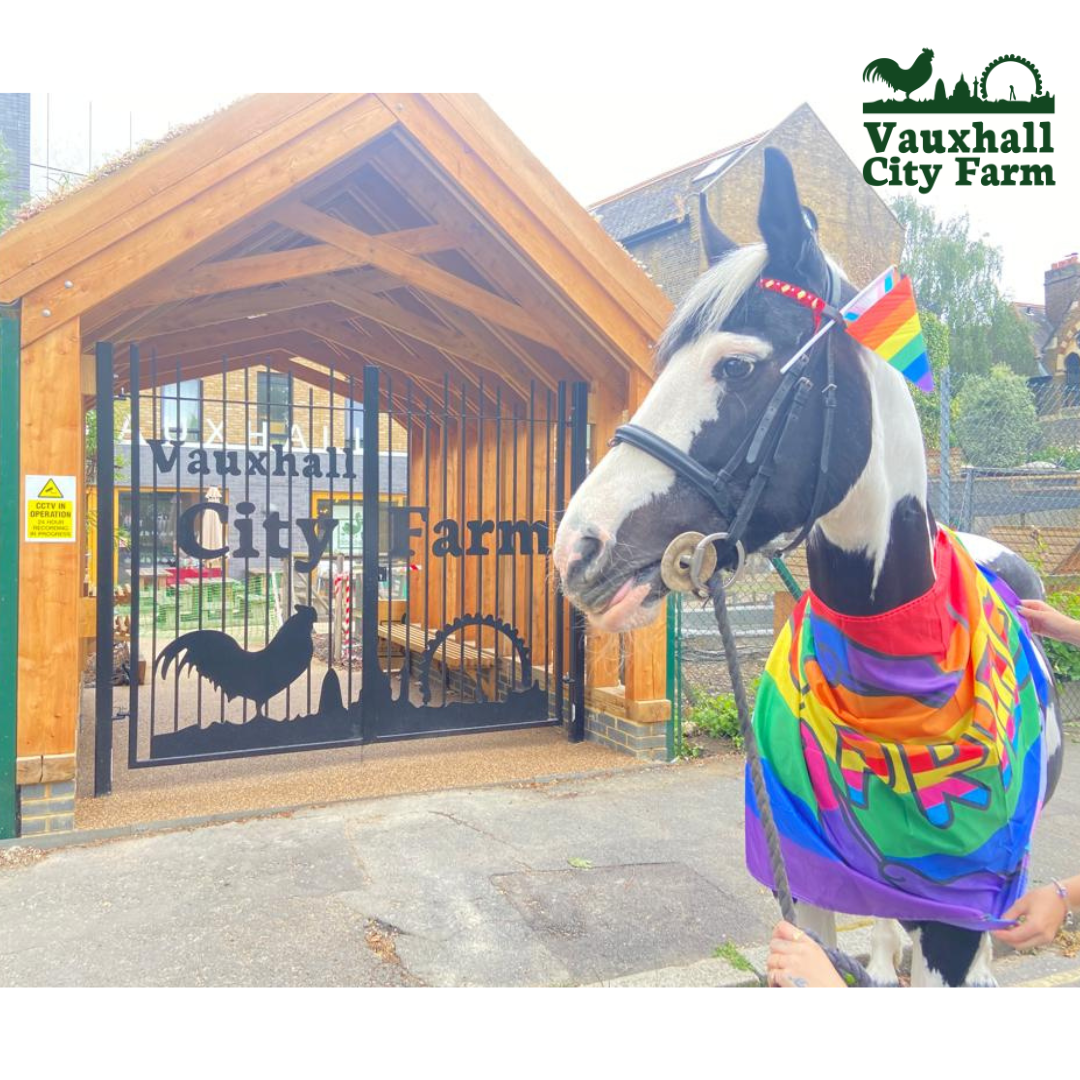 Finally, when the  live music  started in the garden I could not help tapping my hooves to the beat and swaying to the sound of the acoustics! And boy did we have a feast the BBQ! I even heard Bonnie and Clyde talking about eating all the salad!  Those greedy happy pigs!
All About Pride, Our Horse!
To introduce myself, I am a white colour female horse with black patches. I love eating apples, carrots and polos. All my equine friends as well as my equestrians, call me Pridieee. I love going out in the paddock for fresh air and exercise with my equestrian.
I am an herbivorous animal who can drink at least five gallons of water and produce approximately 10 gallons of saliva a day. Also, I am able to walk, trot, canter, gallop, stir, and jump. Just for your information, my reflexes are very fast and I can sleep while standing. However, I can only breathe through my nose not mouth.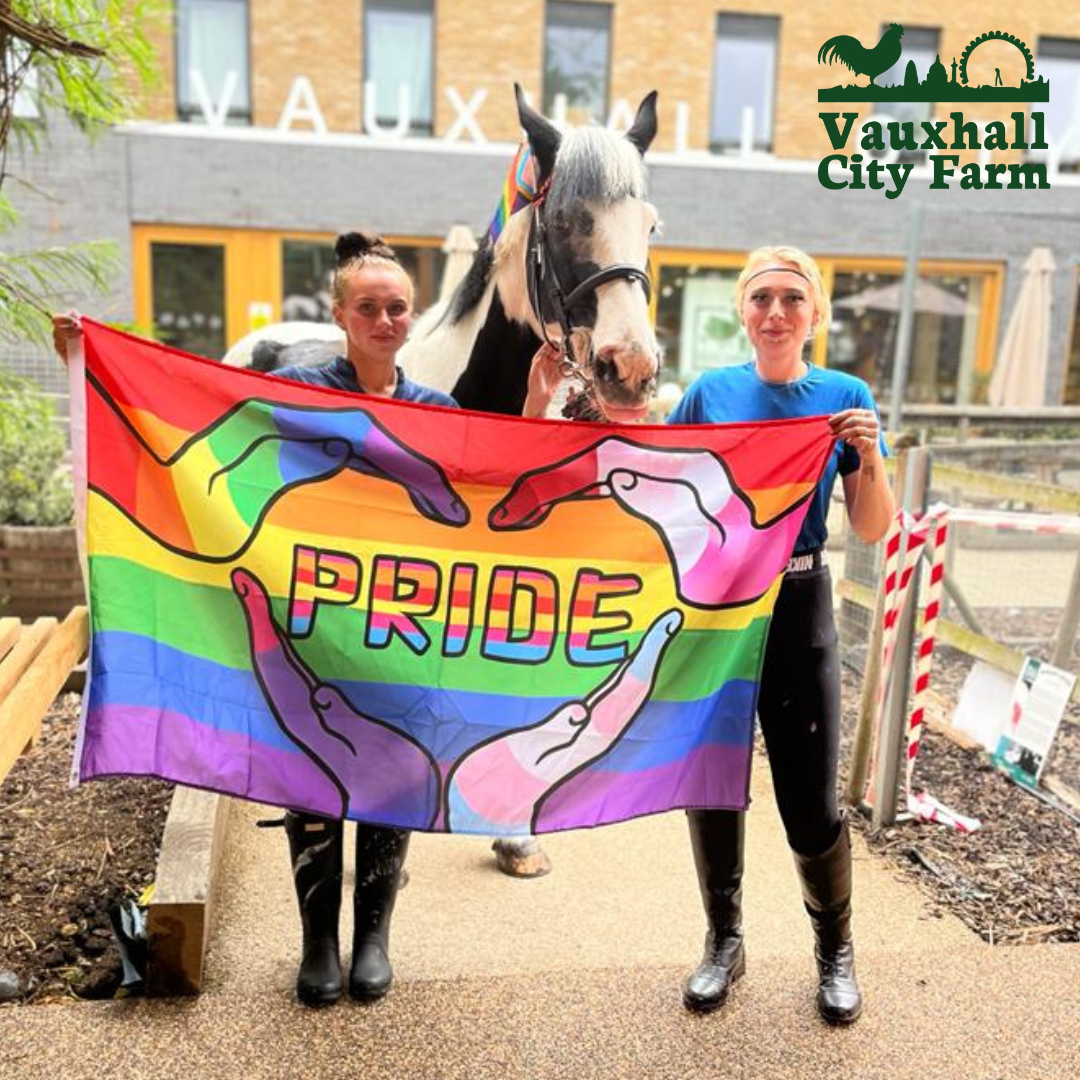 Snowy, the Pony, is my best friend at the farm and I love spending time with her. You will discover that when we communicate, we rely more on our eyes and ears but we are able to communicate with a mere look, a flick of the ears, or a turn of the head, eyes, tail.
As I am an attention seeker I whinny or neigh to acknowledge my presence to get my mates' attention/locate them and be welcoming when the visitors are around. Also, if I see you I can read your emotions through your facial expressions and recall your emotional state to modify my behaviour in accordance.
You must have heard me Squealing quite a lot as I'm playful most of the time but when I am hungry, I start nickering.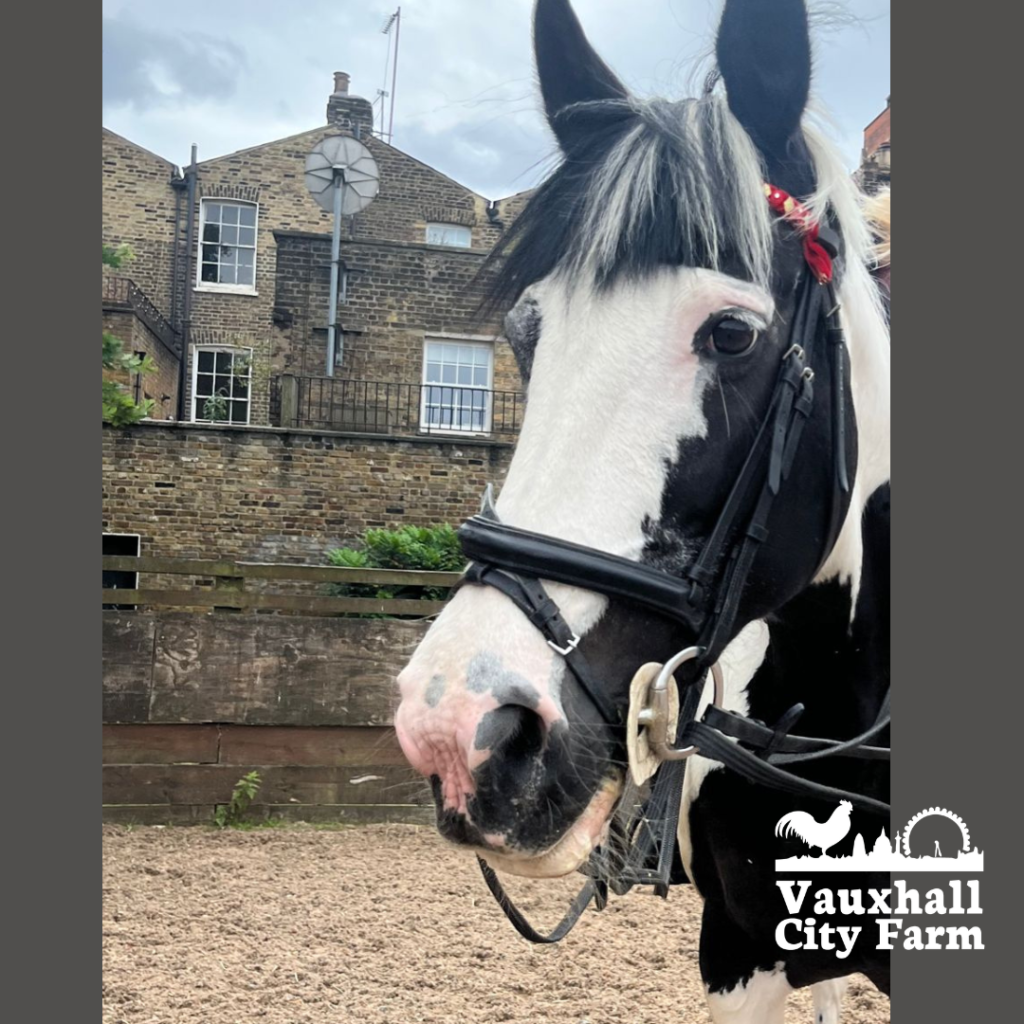 Ahh June was indeed a busy month and I reckon July will be even busier, as schools will be out soon so we will have lots more young people on the farm!
Good news my equine friend Betty is now super-duper fit and ready to participate in riding lessons again. We have simplified the process of booking riding lessons, through EC Pro booking system, which allows riders to book a riding lesson in 3 easy steps. Firstly, they have to get themselves registered in Ec Pro. Then, our team will grade them according to their riding experience. Afterwards, they can book their riding classes according to their allocated grade.
When visiting the farm you may have noticed that our alpacas, goats and sheeps have had a makeover. Having been shorn, their looks have been completely changed! Bonnie and `Clyde, our pigs did not even recognise them. Later on they too, wanted a haircut and makeover, those pigs are so conscious of their looks!
Our farmyard team has started giving halter training to our new born and they have started to meet and be around their fellow farm animals and in the outside paddocks.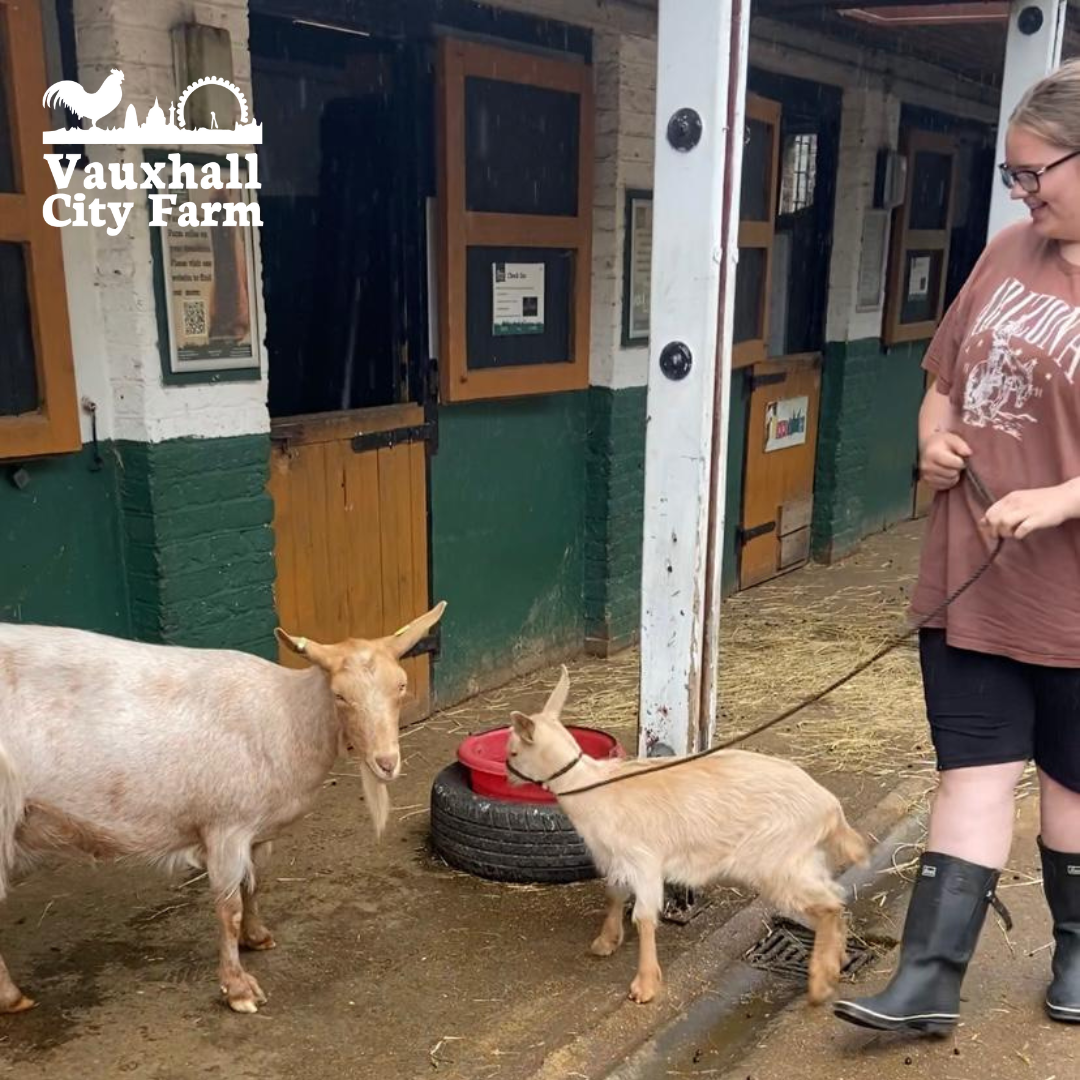 The relaunch of Young Farmers  saw many young people getting stuck into life at the Farm; mucking out, feeding the animals and working together to build crazy water walls in June. It is set to continue in July. Young Farmers will run termly throughout next school year, so look out for our next programme starting in September!
Charlotte and Jade our education team are looking very excited to be part of 'Lambeth's Summer of Food and Fun' and will be hosting a summer programme 'Vauxhall City Summer'. It will give young people a chance to get close to nature whilst remaining in the city! This year our focus is food; we will explore our community gardens, embrace our bio diversity,  grow our own produce and design and make recipes for healthy and delicious food.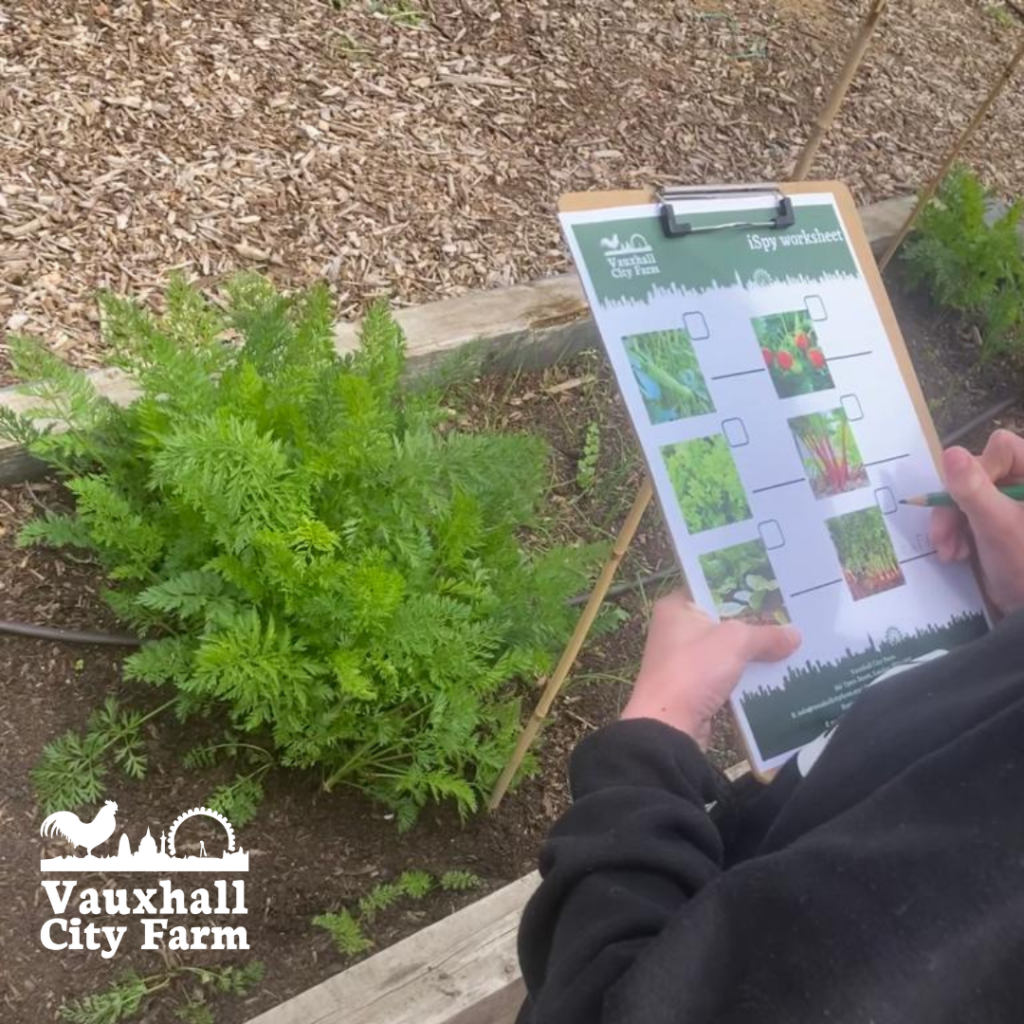 The programme aims to develop individual's confidence, self-esteem but above all be a summer to remember.
Keep your eyes peeled on our social media for any upcoming events on The Farm.
If you are heading towards Vauxhall City Farm and you are a group of 8 people or more you will need to book, just call our office on 0207 582 4204 and we will do the rest. You can buy food for big farm animals at the front desk by spending just £1.
Entry to the farm is free although we do appreciate any donations you can afford as it pays for the upkeep of our home, and helps us to buy food for me and all animals at the farm.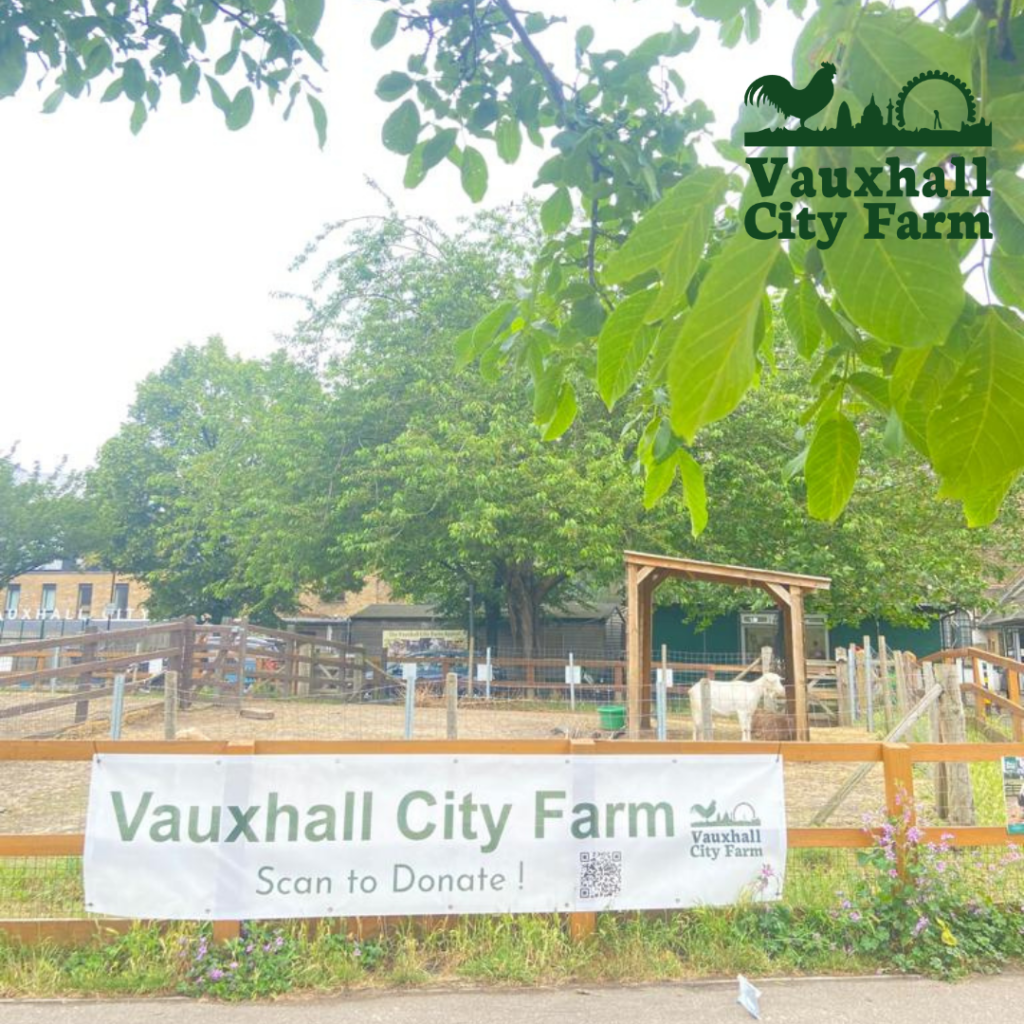 Personalised experiences at Vauxhall City Farm
You can book a Meet and greet with an animal of your choice and enjoy your own, private Cuddle Corner. Personally, I love spending time with the guinea pigs.
Why not adopt a farm animal of your choice or gift one to your loved ones. I won't be lying if I say your friends will be amazed to meet me, your sweet equine friend.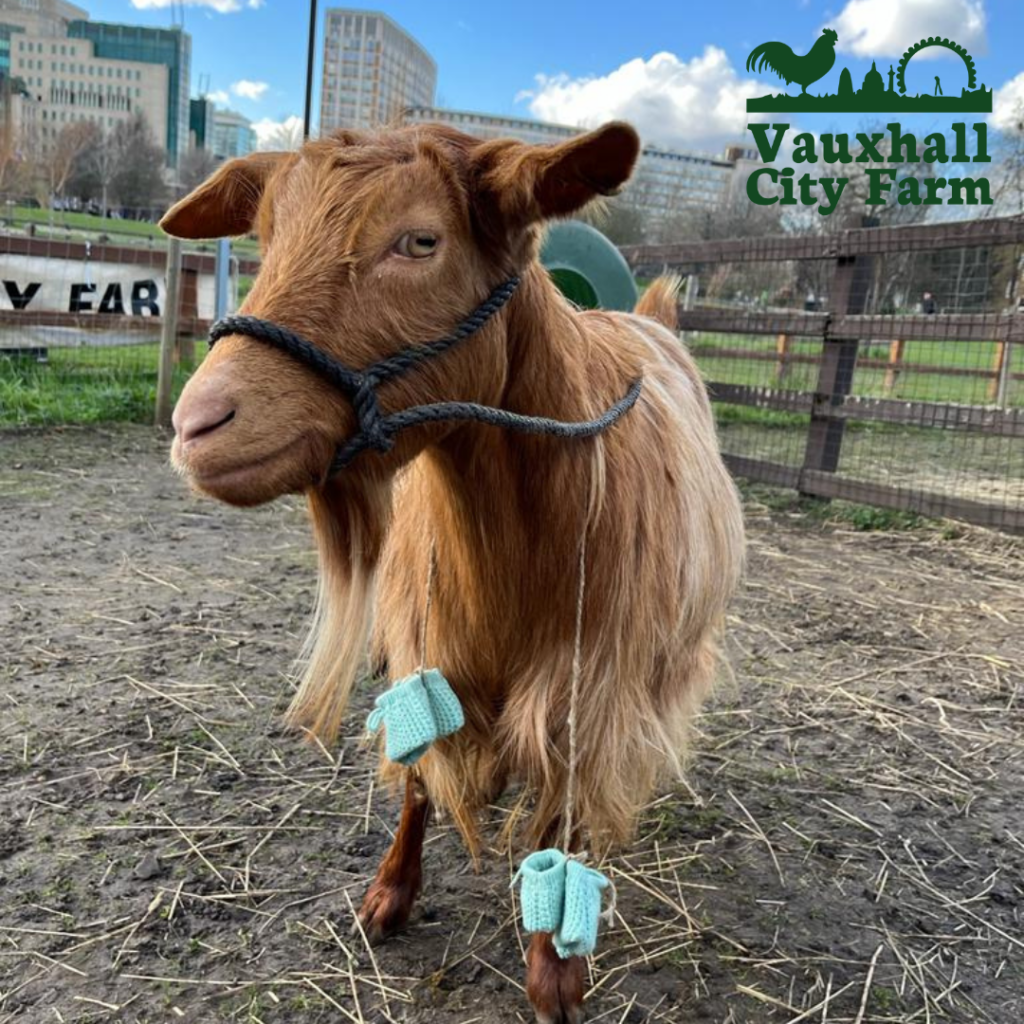 If possible please help feed me and my fellow animal friends by making a donation to our ongoing farm appeal.
Also, I will go now as writing all this has made me tired and I want to play now. Squeeeeal …….Pride, the horse
Don't forget we have two purpose-built meetings room adjacent to our café, which are perfect for meetings, parties, and events. Please see our website for full details, give us a call or contact our office team with any questions.