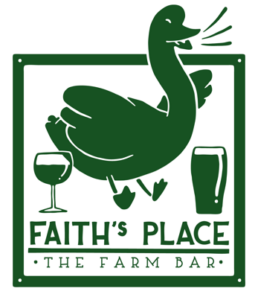 Welcome to Faith's Place, the bar at Vauxhall City Farm!
Faith's Place is a unique drinking experience at London's most central City Farm. Enjoy the ambience of a farm at night with a glass of wine, or a craft beer in the delightful company of our ducks. 
During the winter months, Faith's Place will be open for events only, please see the links below for more details on all of our events.
Please click here to see our current drinks menu.
Please note, last orders are at strictly 10pm, thank you for your understanding.
If you have a booking enquiry, are interested in holding an event or night in Faith's Place, or have any other questions regarding London's ONLY farm bar, please contact us. 
---
More from Faith's Place...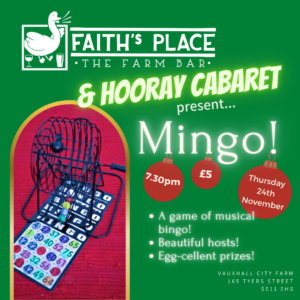 On Thursday 24th November, Faith's Place Farm Bar & Hooray Cabaret present MINGO! A night of musical bingo, fun and prizes at Vauxhall City Farm.
Read More »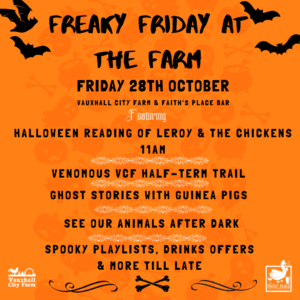 This Friday 28th October things are going to get FREAKY ON VAUXHALL CITY FARM!! Join us for a day of spooky goings on, kicking off at 10.30am, and lasting into the evening at Faith's Place Farm Bar.
Read More »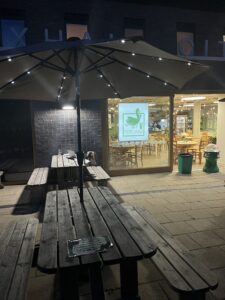 Faith's Place opening hours are changing for the winter months.
Read More »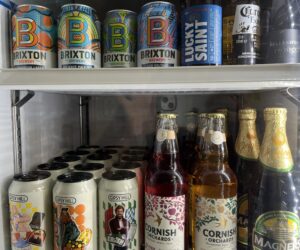 'Chick' out the drinks menu at Vauxhall City Farms bar, Faith's Place.
Read More »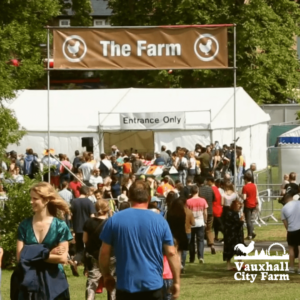 As we will be attending the Lambeth Country Show, the farm will be closed from the 19th to the 22nd July
Read More »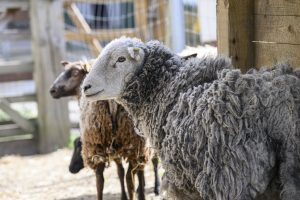 A live sheep shearing demo, followed by a drink in our new bar, Faith's Place.
Read More »
Your support makes a difference!
£10
Buys 2 bales of hay (Our animals need 150 bales every month)
£20
£50
£100
£500
Every donation made will help us to reach more people with our services…
You may also be interested in...
Help Vauxhall City Farm raise vital funds by donating to The Vauxhall City Farm Appeal.