Hey y'all, this is Pudding, ready to take you through my favourite month at Vauxhall City Farm. For me, October is the most magical time of year, with the leaves softly turning from green to brown, and the best holiday – Halloween – just around the corner.
Yes, spooky season is upon us, and there's nothing us Guineas like more than telling ghost stories late at night, then snuggling together in our hay-balls, jumping at all the sounds outside of our enclosure. Usually, it's just the Chinchillas that live above us, but every so often there's a noise that we can't quite explain…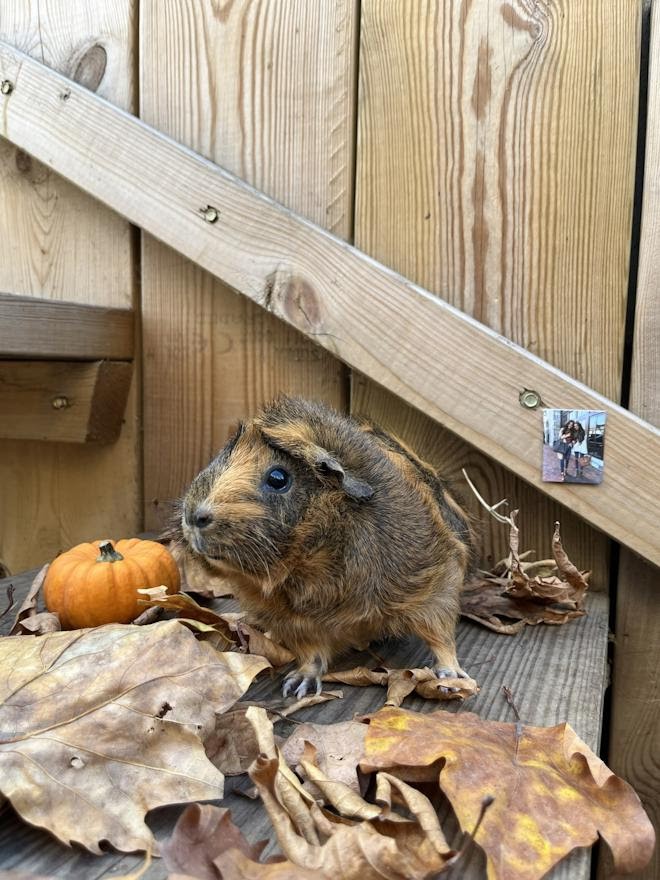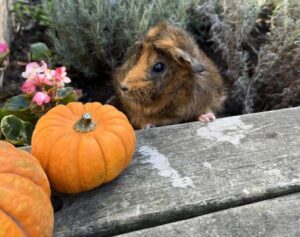 As an orange and black cavy, I am the perfect colour for this time of year, looking just at home by a pumpkin as by a pile of fallen, autumnal leaves. But you aren't just here for my photoshoot, so I've ventured out of my enclosure to gather all the news from Vauxhall City Farm this October.
Taking it from the Top (of the Farm)
This month we're starting at the top end of the farm, where I caught up with the writer of September's newsletter, Fiona the horse.
Fiona tells me things are busy in the Riding School, with the horses working hard to get into shape in time for the relaunch of Riding Lessons at VCF, which I can reveal will be starting from Tuesday 25th October.
During the day we will be working with local schools to offer subsidised lessons to children and young people from disadvantaged and low-income backgrounds. We will also be offering 45-minute group lessons for adults with some riding experience at evenings and weekends. These lessons will be priced at £40.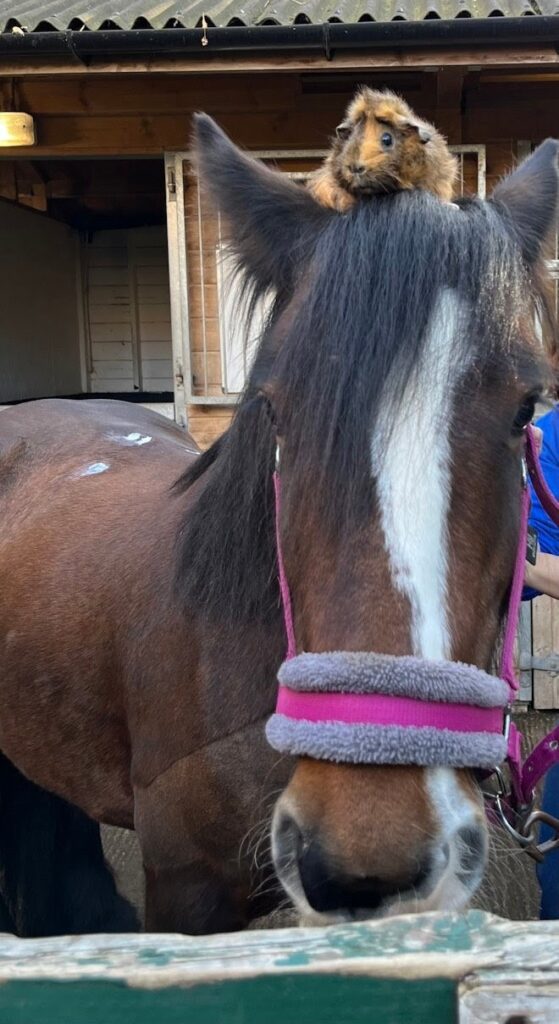 We will release booking details for lessons shortly, so please keep an eye on our social media and website, as we are still finalising a few things. Please bear with us while we get started. As we expand our team of horses and instructors, we will be able to offer a greater variety of lessons at all levels.
And it's goodbye from him...
After some deliberation, it has been decided riding school life is not for Ronnie, and he has gone to a private owner where he will spend lots of time in grassy fields and taking leisurely hacks. We wish Ronnie and his new owner all the best and hope to have some pictures of him in his new home to share very soon.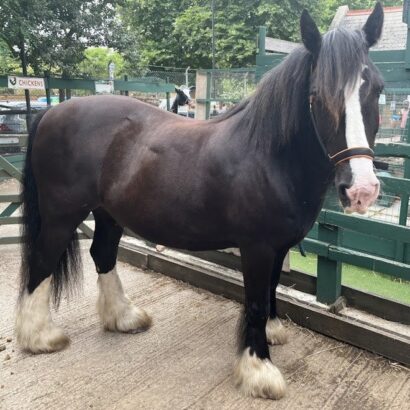 Amber has been doing really well since we lost Jinny, and the farmyard team have been keeping her spirits up with lots of ginger biscuits and jam sandwiches. She's also been making new friends, spending time with Annie the pony and our alpaca trio. Even better, she's now got some company on her regular Donkey Walks – Rolo, Toffee and Cookie! See if you can spot them as they stretch their legs around the Vauxhall streets, and don't forget to tag us if you do!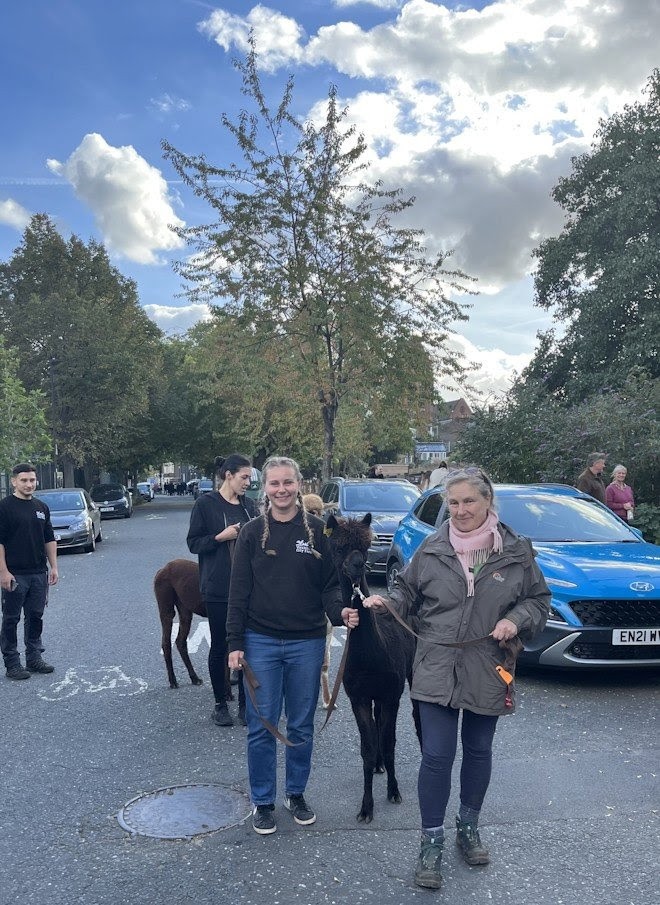 If you'd like to meet Amber, the alpacas, or perhaps someone a little smaller, like…me, you can do so by purchasing one of our VIP Meet & Greet Vouchers.
During your experience, one of our farmyard team will take you into the enclosure with the animal of your choice, where you'll get to feed them, learn all about them, and, of course, take some photographs. Buy your voucher by clicking on the button above, then call or email our office team to book in your session.
Another great way to support the farm is through one of our Animal Adoptions, click here to find out more. You can even buy one of our Digital Combos, which include a Meet & Greet with your adopted animal!
Please note that we do have some age restrictions on Meet & Greet experiences for safety reasons, so do make sure you read the guidance on our website before purchasing your voucher to avoid disappointment.
We're currently asking for small donations of dark green vegetables for Trevor the turkey, who has got a spot of wry neck. Wry neck is caused by a Vitamin E deficiency, so we're hopeful that with some small adjustments to his diet, our Trev will be as good as new in no time.
Please call or email before dropping off any vegetables, so that our farmyard team can make sure we are getting what we need. Vegetables that are high in Vitamin E include spinach, asparagus, broccoli, and dandelion greens.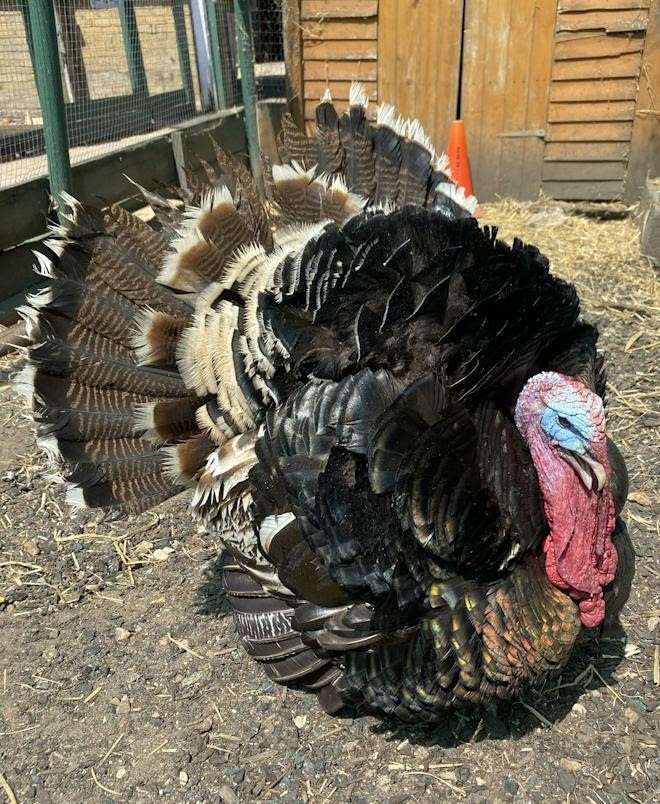 Corporate Volunteering at VCF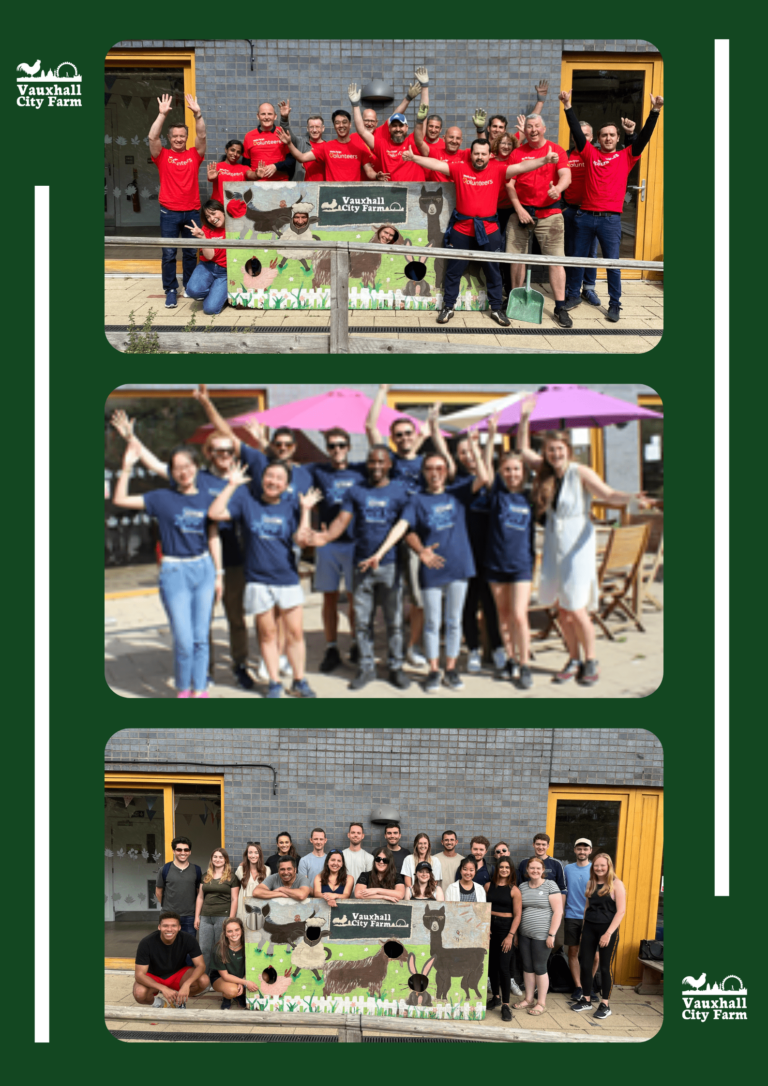 The days may be getting shorter, so at this time of year, we need to make the most of them. If your team is looking for a fun away day, a chance to bond, and an opportunity to give back to the community, then click here to find out more about Corporate Volunteering at Vauxhall City Farm.
Recently, we have had fantastic groups in from Goldman Sachs, Baringa, Freshfields and Walk the Walk, among many others, but as a working farm, there's always more work to do! We offer full or half days, have meeting rooms available to hire and offer catering options to keep you fuelled throughout the day.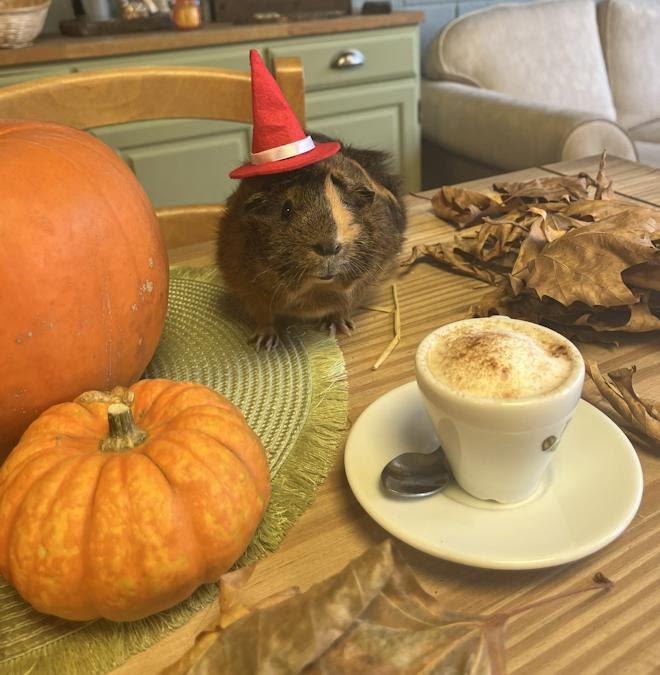 The most important news for us Autumn babes, is that the Old Dairy Café will be selling seasonal Pumpkin Spiced Lattes to warm you up on cooler days.
We've also got new artwork from Rowan Vuglar on the café walls for you to enjoy alongside your PSL, so stop by to check them out, our café is open Tuesday through to Sunday from 10.30am till 4pm, with later opening on Thursday, Friday and Saturday evenings.
If you are a fan of the woollen animals that we sell in our gift shop, then you'll be pleased to hear that our volunteer, Shelia, who handmakes all of the animals, will be in the café on Thursday 10th November between 11am – 1pm showing us all how these marvellous creatures are made from the fleeces of animals here at Vauxhall City Farm.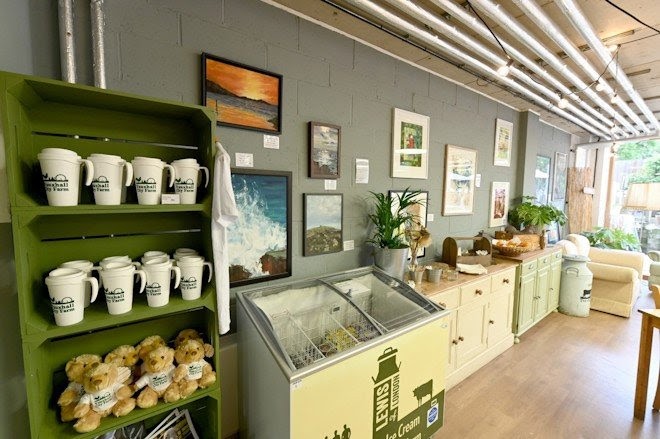 Don't forget we have two purpose-built meetings room adjacent to our café, which are perfect for meetings, parties, and events. Please see our website for full details or contact our office team with any questions: info@vauxhallcityfarm.org.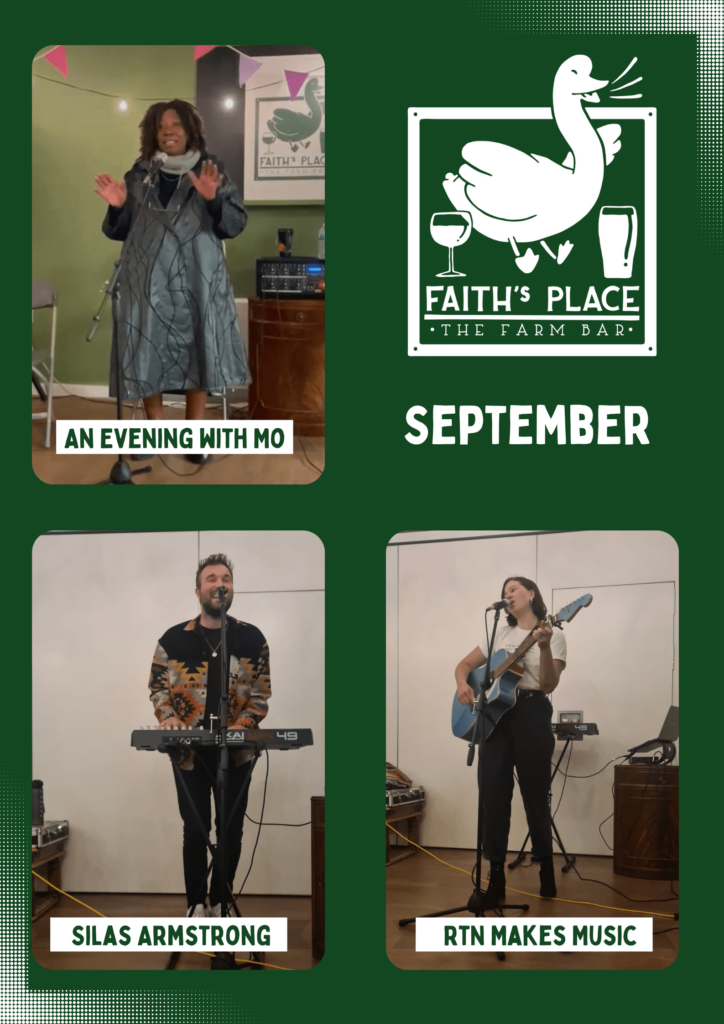 Everyone knows that night-time is when the really scary stuff happens, and our bar is open till late every Thursday, Friday and Saturday night in October, so you can get into the spooky season spirit with a delicious, and reasonably priced, drink in the company of our ducks. Click here to view our drinks menu, with a focus on local breweries and distilleries.
Last month we hosted two successful music nights, the first featuring two local singer/ songwriters, Silas Armstrong and RtN Makes Music, and the second a beautiful performance from local singer and lawyer, Maureen Obi. A huge thank you to all our performers, and to everyone who came down to listen, we had a fantastic time and hope to hear much more music in the bar in the months to come.
This month, we have a special performance from lawyer, actor, playwright and poet, Dave Neita on Thursday 13th October.
Dave has previously worked with NASA, Oxford University, and The Church of England, among others, so we're super excited to have him join us at Faith's Place!
The event will start at 7pm, with Dave taking to the floor at 7.30pm, and entrance is free, though we will be collecting donations on the night.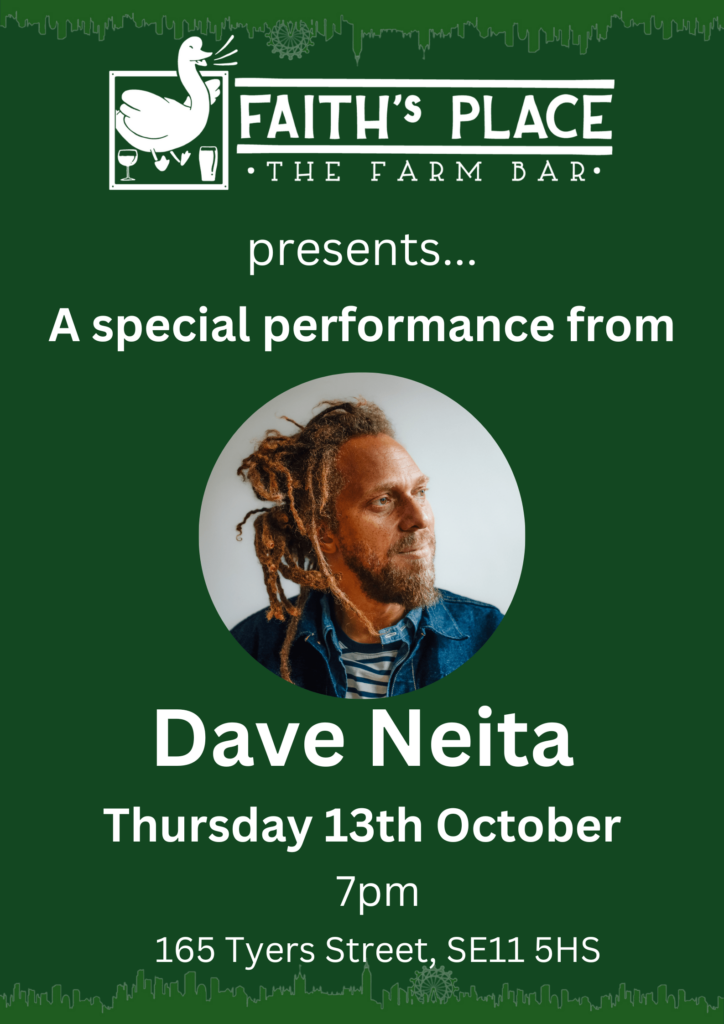 From mid-October, Faith's Place will be moving to an event only opening schedule for the winter months, but don't worry, we'll make sure you stay in the loop with everything that's going on and new opening hours, again, we'll be updating our social media regularly, so please make sure you're following us!
And don't you worry, we're planning something fun for our last full weekend of opening, which coincides nicely with Halloween, so expect something spooky and super coming soon…
If you would like to hold an event in our fully-licensed farm bar, Faith's Place, or are a musician or artist interested in performing, please get in touch with our team: faithsplace@vauxhallcityfarm.org.
Could you be a VCF Garden Ambassador?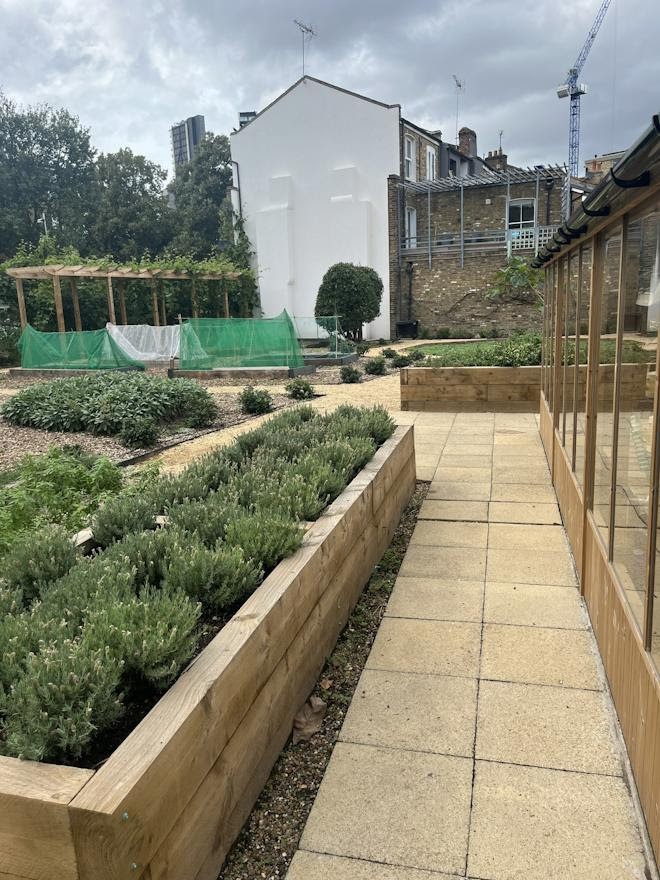 Our Community Garden is almost finished, and we can't wait for you to see it in all its glory. From our beautiful beds to pretty pergolas, gorgeous greenhouse, and outstanding outdoor classroom, this is a garden made to be enjoyed. But before we throw open the gates, we need a team of dedicated garden volunteers to monitor the space, ensure visitor safety and answer any questions they may have.
Gardening experience is not essential as our gardener will show you the ropes, and we're keen for our Ambassadors to inform and interact with our visitors. We're hoping to build up a roster of enough to volunteers to ensure the garden is open to the public whenever it is not being used for educational activities or workshops, which means we need people Tuesday – Sunday, from 10.30am till 4pm.
You can commit to full days, half days, or even a few hours – every little helps! If you are interested in becoming a Garden Ambassador, please contact our volunteering team: volunteering@vauxhallcityfarm.org.
And if you are on a hunt for greenhouse, we may have just the one. Our old greenhouse is up for sale for £100 ono, collection only. 
If you are interested, please call the office, or email: info@vauxhallcityfarm.org.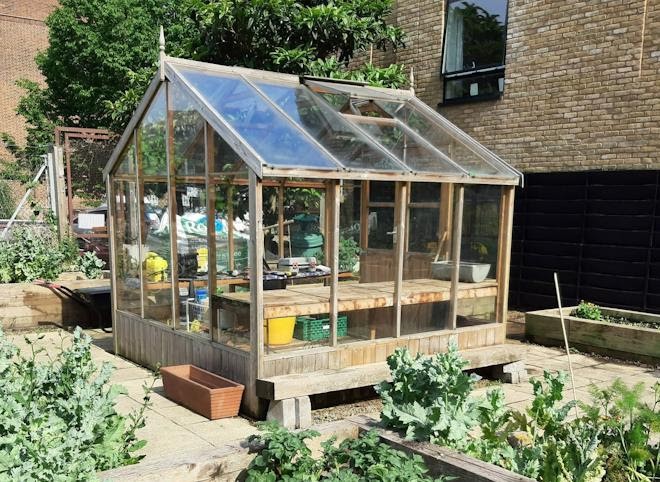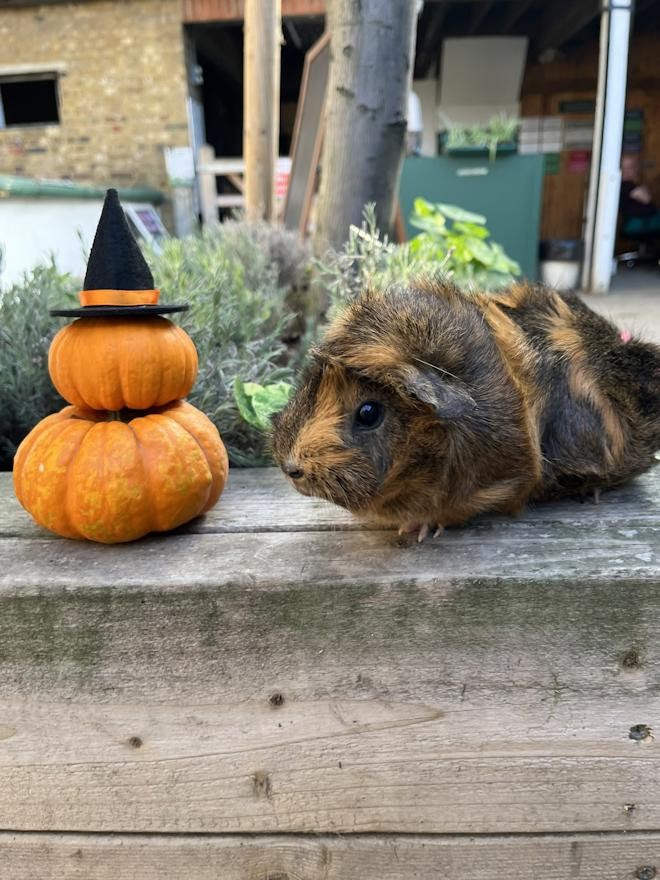 And so, we reach the end of the October newsletter. Don't forget to keep an eye out for spooky happenings around the farm towards the end of the month.
If you haven't watched our short film, or read about The Vauxhall City Farm Appeal, please click here to watch now. We are an independent charity, and we rely so much on your donations to keep us going, so if you are able to spare anything to help us with the massive recent increase in costs, we would be so grateful. Click below to view now:
Follow our social media for news and updates throughout the month, enjoy the changing colours of the trees, and spend time huddled up with your loved ones.
Love and leaves,
Pudding