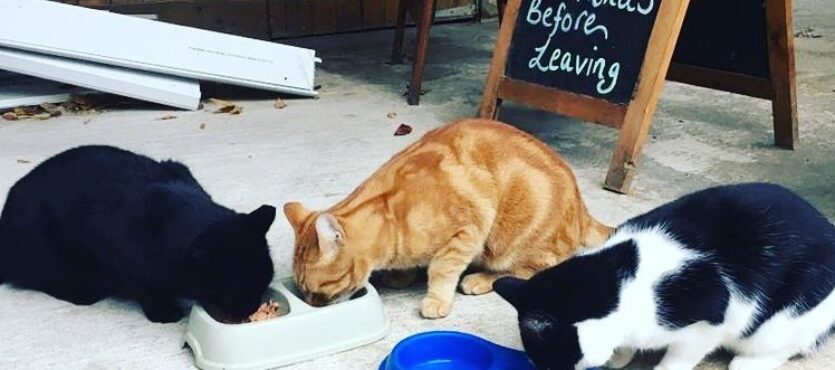 Howard, Alan and Jessie are the semi feral cats the farm got in 2014.
They are in charge of keeping a close eye on the inevitable mouse population any farm has! As they are semi feral, they started off rather timid, but after many years of living on the farm, they have stopped running away from people and will let you say hello to them, if you're very quiet and gentle. They also love exploring the farm and finding out what all the other animals get up to!
---
Sadly mid 2018 we lost Alan. He and Howard were thick as thieves, always getting into trouble. Alan will be missed by staff and visitors.
---
In 2020, due to becoming too friendly, being fed by half a dozen people in the area, and straying too far from the farm and into people's homes, the decision had to be made to rehome Howard and allow him the life of a house cat. You can read all about his story in our blog post: Happily Rehomed: Howard.
---
Our cats were rehomed from Battersea Dogs & Cats Home and Cats Protections. If you are looking for a new pet, please consider giving a home to an animal currently living in a home, rather than buying from a petshop or breeder.
Your support makes a difference!
£10
Buys 2 bales of hay (Our animals need 150 bales every month)
£20
Will cover the farm's electricity cost for one entire day
£50
Will pay for farrier costs & dental treatments for 1 horse, for 1 month
£100
Will provide food & bedding for all animals on the farm for three weeks…
£500
Will pay for farrier costs & dental treatments for 1 horse, for 1 month
Every donation made will help us to reach more people with our services…
You may also be interested in...
Whether you're looking to book a workshop, sign up for one of our development programmes, want to become a volunteer, book a riding lesson or just want to say hello, we'd love to hear from you!
We turn over £50,000 every month to keep the Farm open for all and free to visit. We can't do it all on our own; we need your support to keep the lights on,