Farm Futures: Snoutful Surprises in September at Vauxhall City Farm!
Greetings farm enthusiasts, animal aficionados, and fellow giggle-seekers! It's time for an oinktastic September edition of Farm Futures.
Meet Bonnie: Our Curly-Tailed Connoisseur of Joy!
I'm Bonnie, the muddiest, merriest, and most oink-tastic resident of Vauxhall City Farm. With my endearing curly tail and a heart full of laughter, I'm on a mission to spread joy, snorts, and endless smiles to everyone who crosses our farm gates.
Thus, I'm putting my curly tail to work, crafting the funniest farm tales you've ever heard. So, grab a seat, and let's snort, chuckle, and roll on the floor together!
I'm a curious pig, always on the lookout for new adventures, tasty treats, and friendships with both humans and animals alike.
And, if you ever spot someone gleefully munching on a fresh batch of vibrant greens, that's me! From crispy lettuce leaves to crunchy cucumbers, my love for these emerald gems knows no bounds. And guess what? I'm not alone in this adventure – my loyal partner in all things mischief and munchies is none other than Clyde.
Honestly, we both find mud baths to be quite refreshing. And guess what, I'm the proud record holder for the fastest mud slide on the entire farm!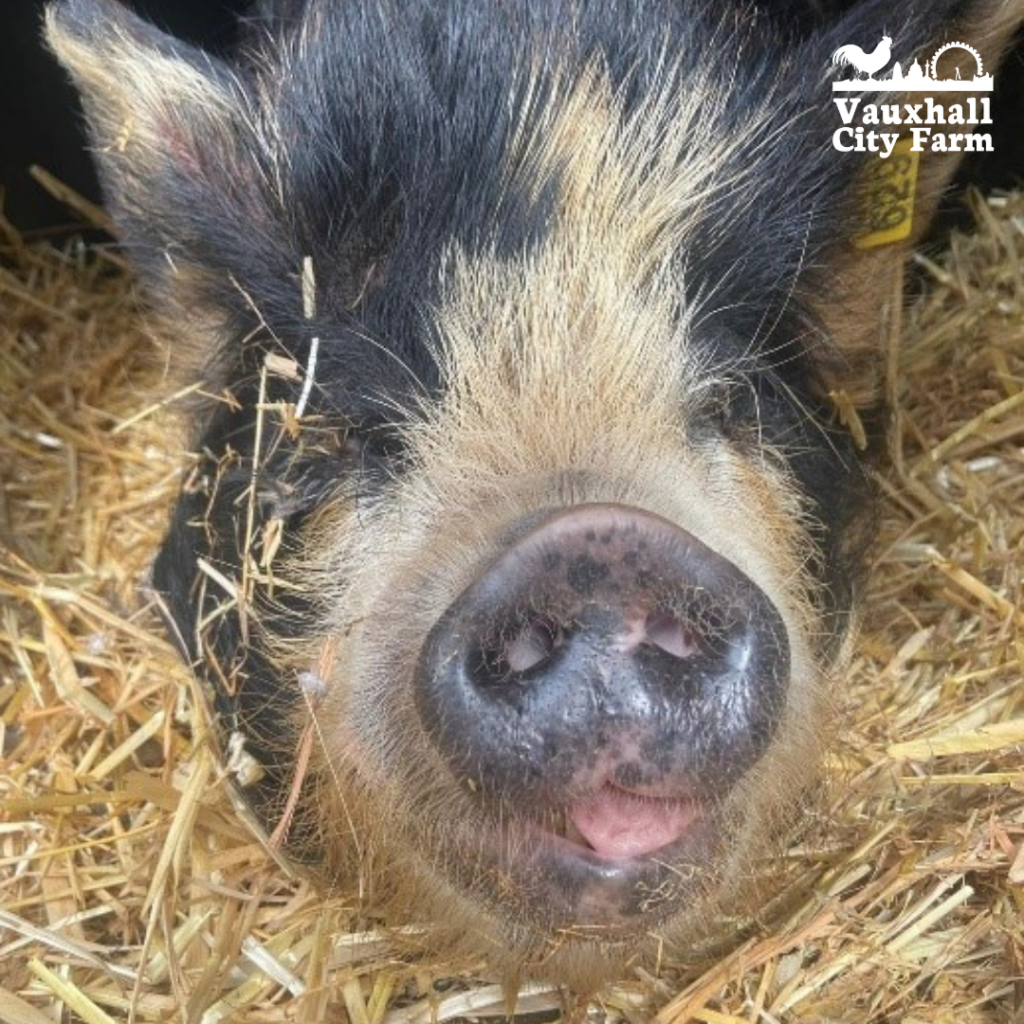 Snorty Shoutouts: Farm Friends in the Spotlight!
A big round of applause for the sheep who taught me how to roll in style and the ducks who quacked up at my jokes! Farm friends, your support keeps my snorts going strong. Keep being fabulous, feathered, and fur-tastic!
Bonnie's Words of Wisdom: Embrace the Oinkside!
Life's too short to be serious all the time, my farm friends. Remember, even on the muddiest days, a good snort can turn things around. So go ahead, embrace your inner pig, and let's make this world a little snortier together!
Witness Bonnie's hilarious takes on farm life, humans, and her questionable love for mud baths. Grab your front-row straw bales because we're diving into a heap of upcoming events on the farm!
Harvesting Goodness Together: Corporate Volunteering at Vauxhall City Farm
Together, we'll sow the seeds of positive change and harvest a bountiful crop of memories that will last a lifetime.
Vauxhall City Farm provide number of volunteering opportunities to corporates in its farmyard. We believe that the beauty of community lies in its diversity and collective spirit. That's why we're thrilled to open our gates to corporate volunteers.
The impact will be beyond numbers as your team will be exploring sustainability, animal care, and the wonders of the natural world firsthand. Apart from this, they will become a part of our story – a story of growth, nurturing, and community impact.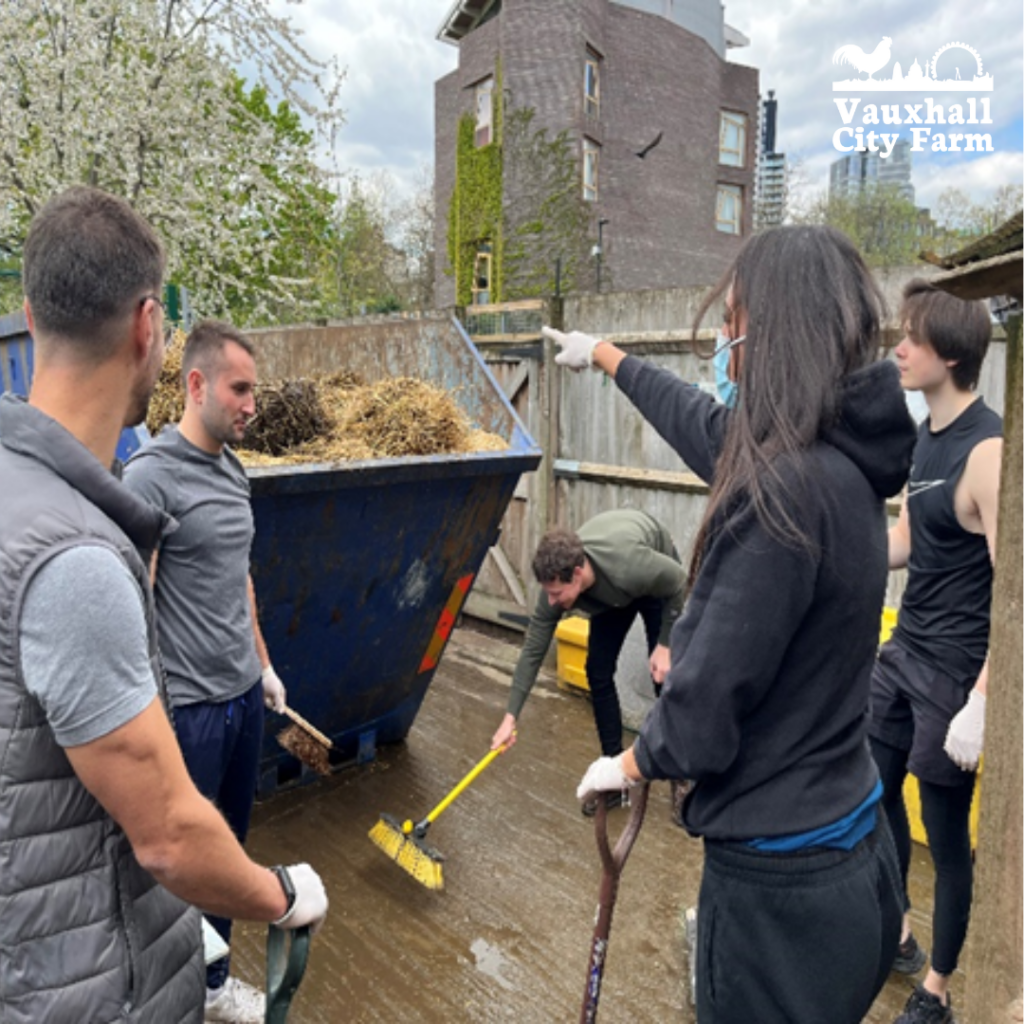 Exciting news, folks! The majestic horses are back from their well-deserved holiday, fully rejuvenated and ready to gallop into action.
Whether you're a seasoned equestrian or a beginner, it's time to embark on a fantastic equestrian adventure!
Get ready to saddle up because our thrilling riding lessons are kicking off again from 12th September.
Unleash your inner equestrian – Book Lessons!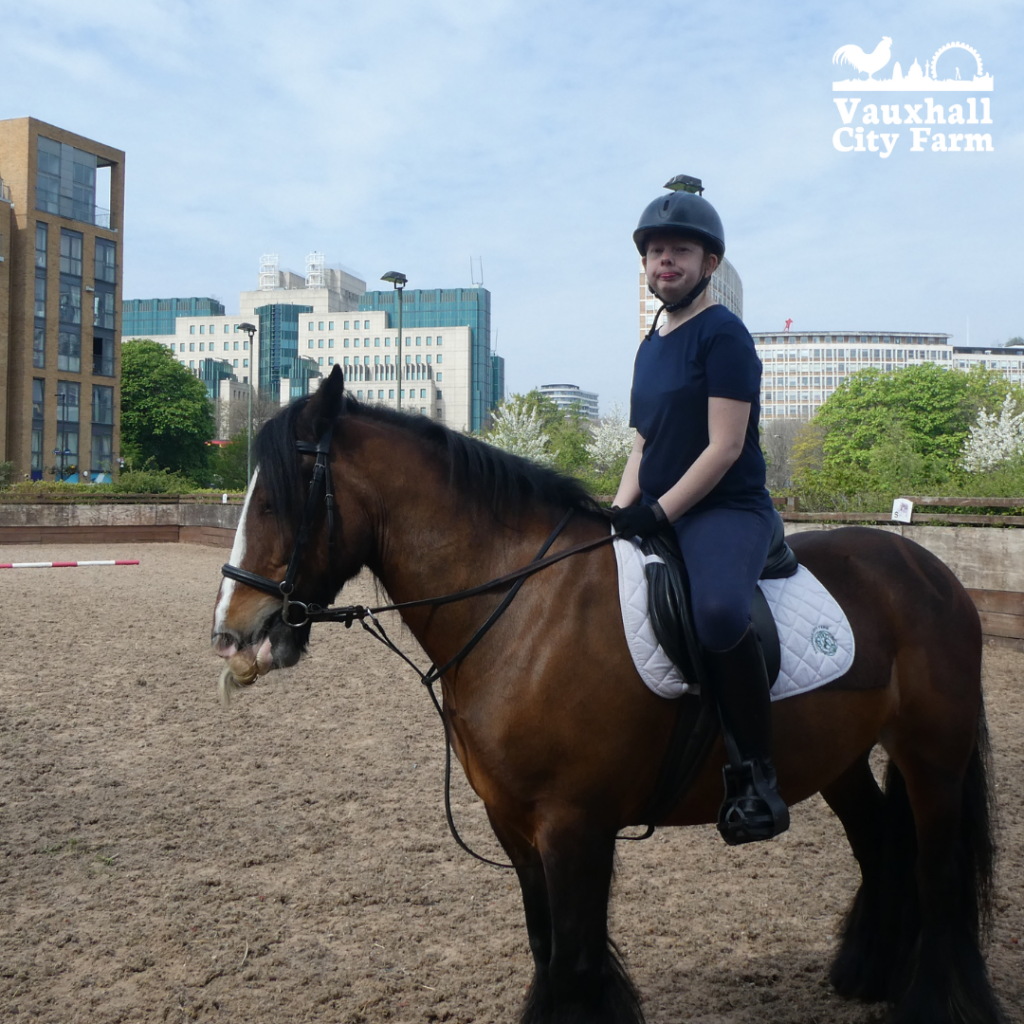 Whether you're a complete beginner or looking to refine your skills, our riding lessons are tailored just for you. Imagine the wind in your hair, the rhythmic beat of hooves, and the incredible bond you'll develop with your equine partner. Our experienced instructors are here to guide you every step of the way, from mounting to mastering those elegant riding techniques.
Book your riding lesson now from our booking system EC Pro and let the horseback magic begin!
Calling all horse lovers and passionate individuals – volunteering!
It's not just about horses; it's about building connections, nurturing skills, and creating memorable experiences. Whether you're a grooming guru, a horse whisperer in training, or simply excited to contribute, we welcome you with open arms. Saddle up for a fulfilling journey of giving back, learning, and, of course, lots of horsing around!
Join us and let's make every hoofbeat count! Please fill in the volunteering form.
Vauxhall City Summer:
We're thrilled to share that our Summer Programme, in partnership with 'Lambeth's Food and Fun,' was a roaring success! Young Lambeth residents joined us for a fantastic time filled with farm adventures, growing veggies, and eye-opening workshops on sustainable living. Together, we explored the journey of food from farm to plate and shared ingenious ideas for a greener future.
Big shoutout to the Lambeth HAF programme for making this unforgettable summer possible. We hope the kids enjoyed it as much as we did!
Our Conservation Club took things up a notch!
Over 100 nature enthusiasts joined us in a series of exciting workshops. From crafting habitats to creatively reusing plastics and even discovering jaw-dropping facts about waste disposal, our goal was to ignite a spark of change in our VCF community. Together, we can make a meaningful impact!
From creating habitats to upcycling our plastics and learning some shocking facts about what happens to our waste, we hope to have inspired our VCF community to make changes in their day to day lives so together we can make a difference.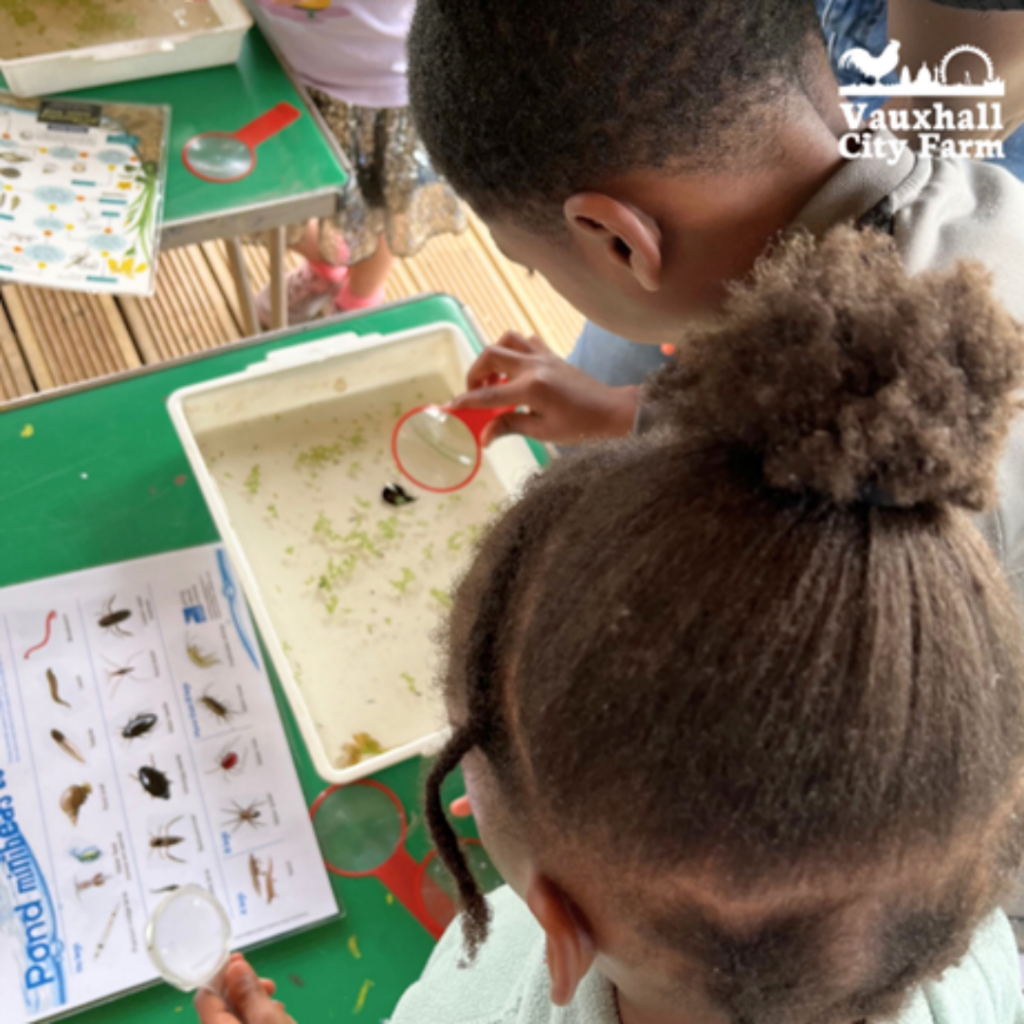 Workshops:
With the new school year upon us we are looking forward to welcoming a whole new group of curious students to explore our Garden and Farm from the big furry mammals right down to our harder to spot minibeasts. We run Sustainability, Land to Lunchbox and Minibeasts workshops on Monday to Friday, please get in touch to sign up your class or group.
We also have our Meet the Animals workshop, a chance to meet some of The Farm's smaller animals, learn about their habitats and diets and have the opportunity to pet them. This workshop is open to groups ages 4+ (adult groups also welcome).
Clubs:
This term will see the return of Young Farmers, our Saturday morning group of young people getting stuck into life on The Farm. Learning about how we look after the site, care for animals and spend time in our plentiful garden exploring ways we can look after our environment.  
After-school Club is also returning; a 6-week project helping to improve our farm whilst giving the young people an opportunity to develop their maths and literacy skills within fun and practical activities. We aim to boost their confidence and equip them with tools to best communicate and work as a team player.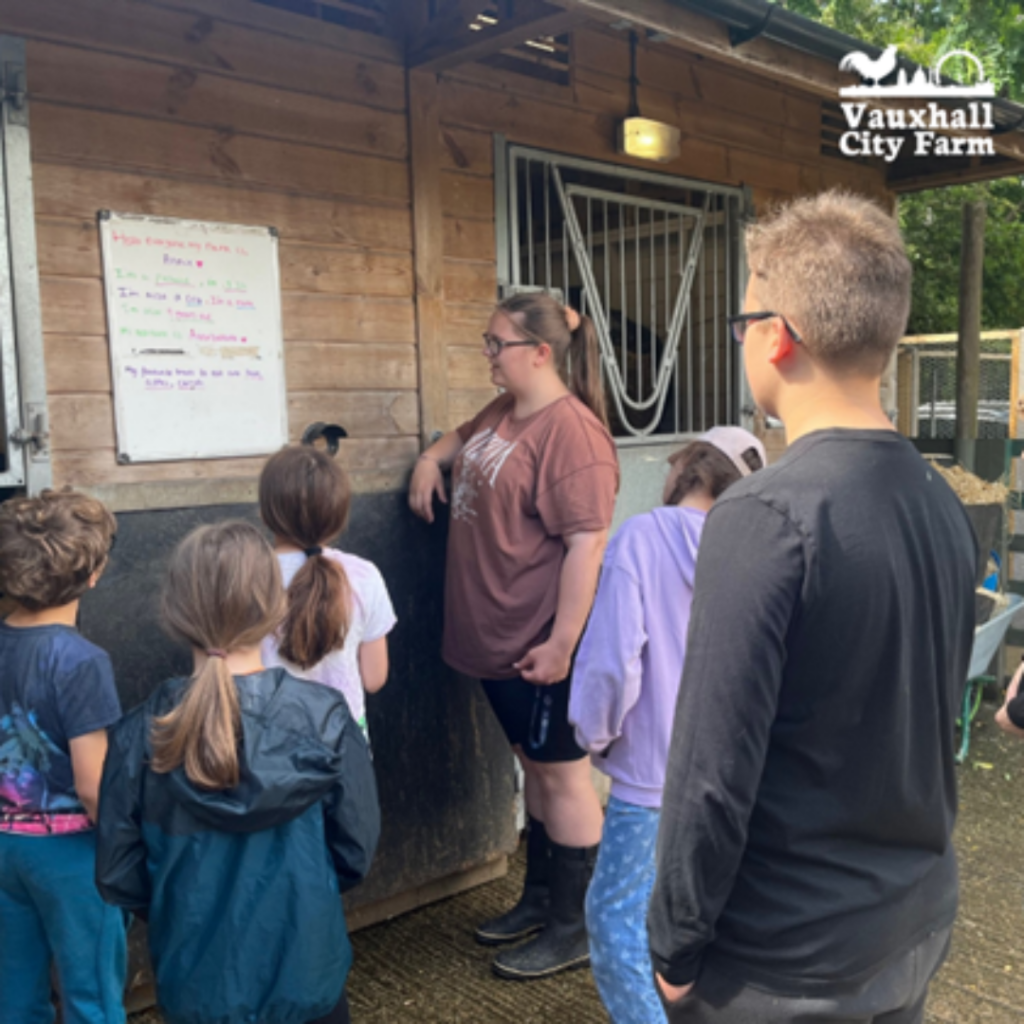 Step into Our Garden of Delights!
As September unfolds, our garden continues to be a bustling hub of natural wonders and culinary delights. Picture this: a patch of earth that, with a touch of love and care, has transformed into a paradise of fresh produce and exciting plans.
A Cucumber Extravaganza: 
From just eight modest cucumber plants, we've already reaped a bountiful harvest of over 100 cucumbers this season. It's like our garden is performing its own magic trick. However, it doesn't stop there. Our garden's treasury includes the likes of runner beans, tomatoes, potatoes, and the golden jewel of gardens – sweetcorn. Ah, sweetcorn, a prized treasure for both humans and critters.
Speaking of critters, it seems our sweetcorn is a hit with the neighbourhood squirrels. They've been indulging in their own sweetcorn feast, leaving us to admire the antics of our furry friends.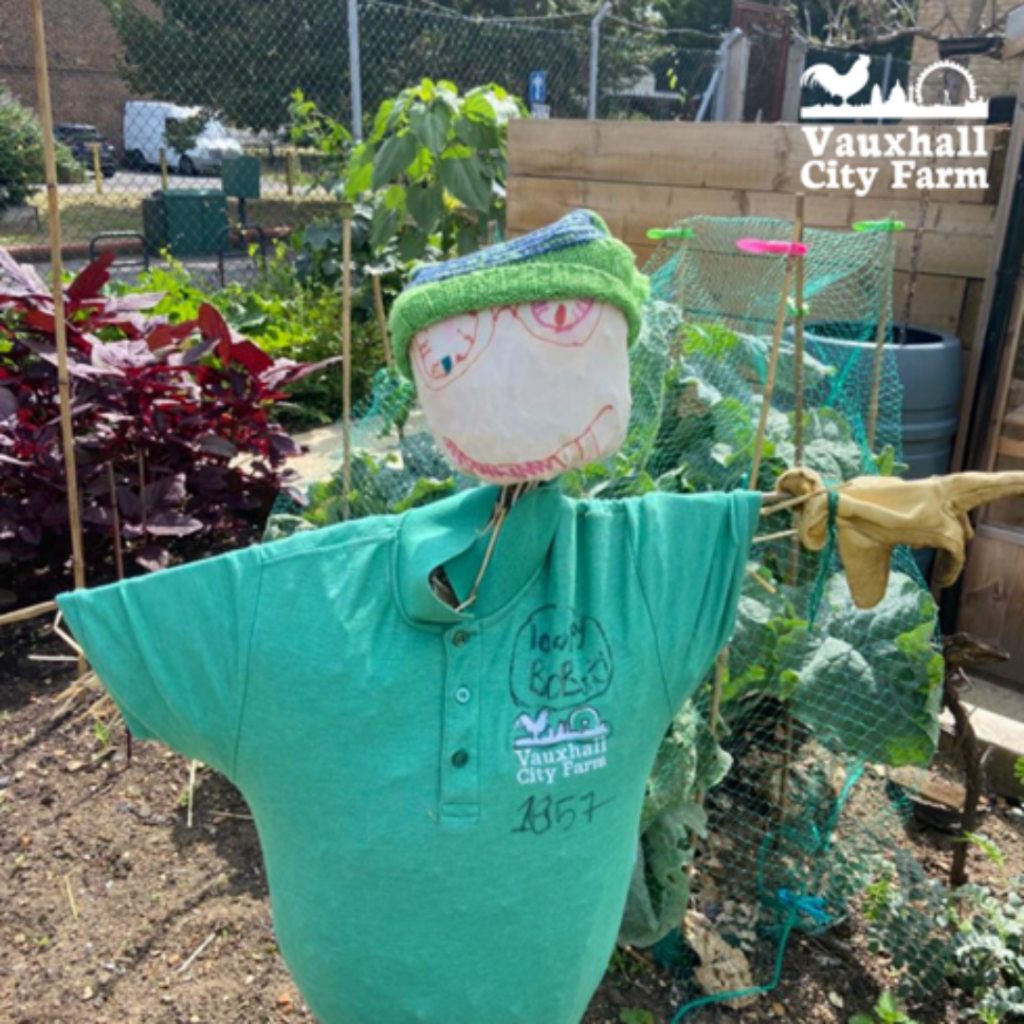 Furthermore, as you stroll through our green haven, your eyes will undoubtedly be drawn to the vibrant, colossal pumpkins. They're already big, bright, and orange – a true spectacle worth coming to see. And if pumpkins weren't enough, there's a symphony of squash varieties in our garden. Winter squash and butternut squash are flourishing, promising a delightful harvest.
Finally, September brings with it the promise of ripe figs and hops, adding an extra layer of excitement to our daily garden adventures.
But that's not all. We have a secret plan that's brewing, quite literally.
Wine Making Magic!
On the 16th of September, we'll be gathering grapes from our beloved vines. These grapes, brimming with the essence of our garden, will embark on a journey to an urban wine company. There, they'll be transformed into our very own wine, aging gracefully until next summer when it will be available for you to buy in our café.
Old Dairy Cafe: Where Flavor Dreams Come True!
We've got refreshing drinks that'll have you sipping with pure delight. But hey, we know not everyone's a fruit fiend, so for those craving a velvety cup of coffee, our lattes are here to wrap you in a warm, aromatic embrace.
So, whether you're in the mood for delightful treats, fresh farm wonders, or a memento to remember this enchanting experience, the Old Dairy Cafe has got it all.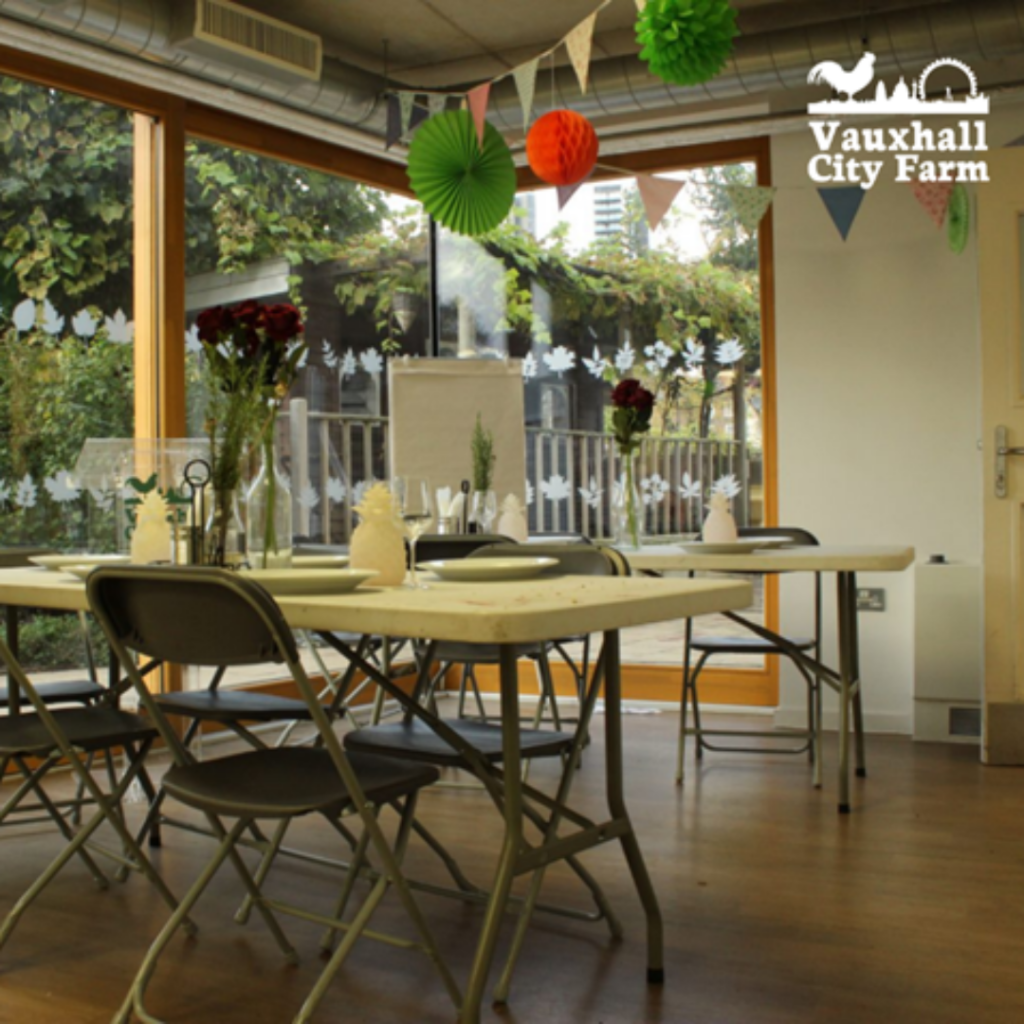 Faith's Place – Your Evening Escape at Vauxhall City Farm!
Uncover the captivating treasure of Faith's Place bar, the Hidden Gem nestled within Vauxhall City Farm. Our unique setting, surrounded by the beauty of nature and the cheerful company, promises an unforgettable experience and an escape from the hustle and bustle of the city.
Join us every Thu, Fri, Sat to enjoy various discounts, offers and entertaining experiences such as
🎤 Live Singers & DJs: Groove to live music in our gardens!
🍷 Savor a delightful selection of drinks
🎶 Sofar Sounds: Save the date – 20th September for enchanting musical vibes. (You can buy tickets from Sofar Sounds Website)
Cheers to unforgettable nights at Faith's Place Bar!
If you're planning to trot along with a crew of 8 or more, make sure you oink-tact our fabulous farm office in advance to book your spot.
When you arrive at the welcome desk, you can buy a bag food for a mere £1. Trust me, the grumbling in our tummies will turn into snorts of joy as you hand over these scrumptious offerings. Additionally, you can also buy fresh eggs from here.
So, make a pig-ture-perfect plan to visit our farm.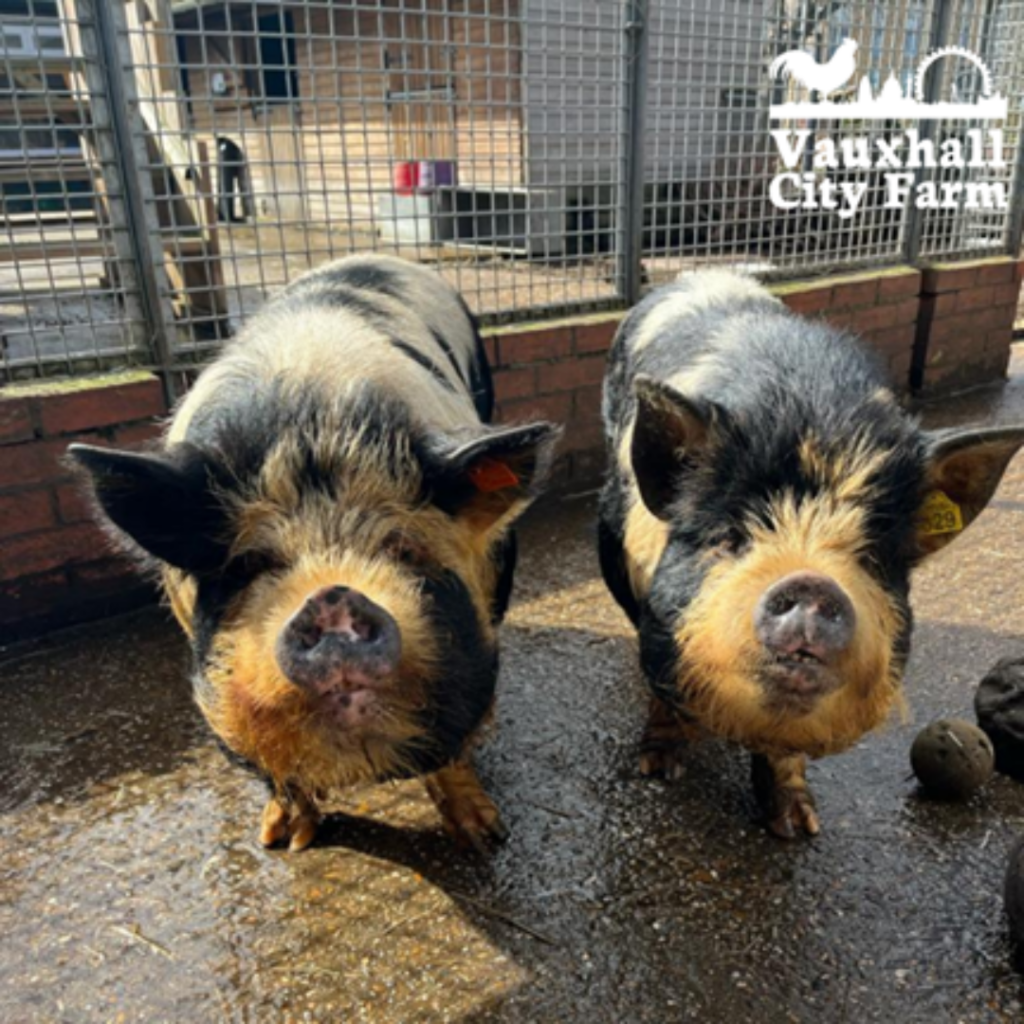 Keep the Snorts Alive: Donate to Support Your Local Pig!
While my oinks are free, a little love goes a long way! Your support helps me continue spreading laughter and joy across the farm. Consider donating a piggy penny or two to keep the snorts alive and well.
And that, dear readers, concludes this uproarious edition of the Vauxhall Farm Chronicles! Remember, life's better when you're snorting with laughter.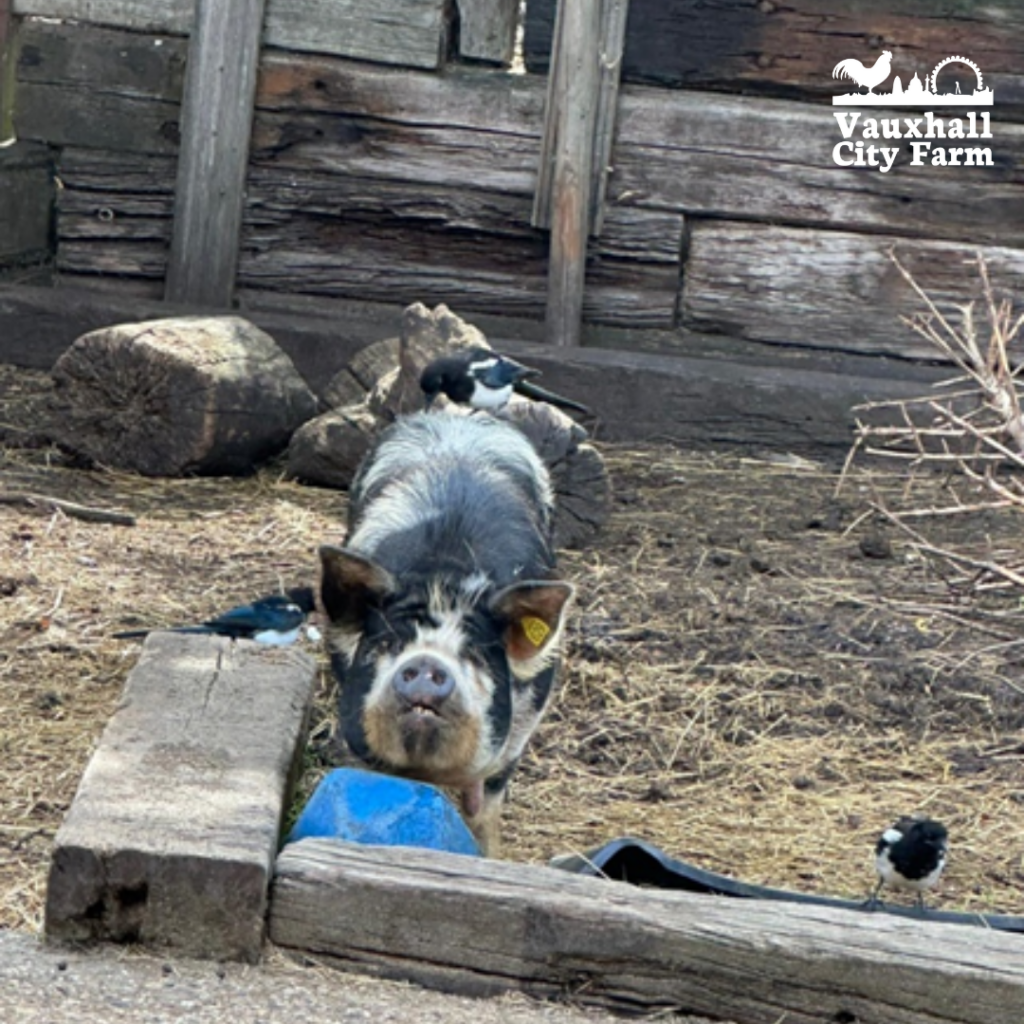 Stay tuned for the next issue! Until then, keep farming and smiling, and remember to embrace your inner pig – just without the mud baths!

If possible please help feed me and my fellow animal friends by making a donation to our ongoing farm appeal.

Snort ya later,

Bonnie, the Pig 🐷
Don't forget we have two purpose-built meetings room adjacent to our café, which are perfect for meetings, parties, and events. Please see our website for full details, give us a call or contact our office team with any questions.