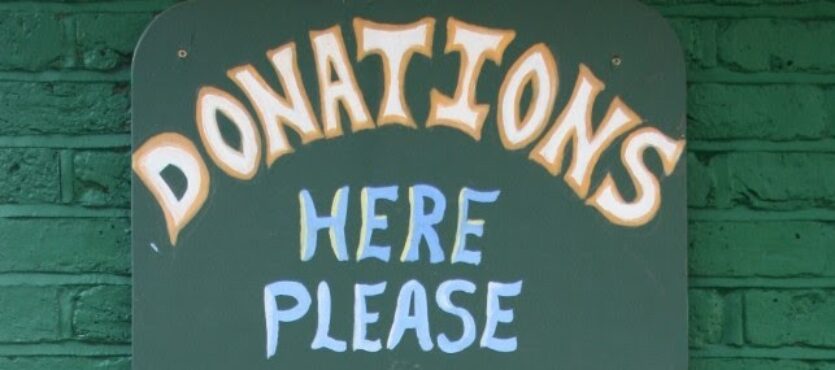 Not everyone can afford to be a donor; we know that so we've come up with a great list of ways in which you can support us without having to give any money direct to the farm. 
Take a look at the following ideas and see how many you can support us with (oh, and please encourage friends, family and colleagues to do the same!)
Do you shop on Amazon? 
If you do please change to Amazon Smile! it's exactly the same as Amazon except that you can nominate Vauxhall City Farm (displayed on Amazon Smile as Vauxhall (City) Farm Ltd) as your chosen charity and Amazon will make a donation to us when you purchase, at no extra cost to you!  
Has your company chosen a Charity of the Year?  
Why not suggest Vauxhall City Farm for your employer/company? This can include a wide range of things, such as holding bake sales at the office for us, attending Corporate Volunteer Days at the farm, organising fundraisers in our name. In 2019 Sean Ellis raised over £25k by running the London Marathon, which was matched pound for pound by his employer, the Berkeley Foundation. You and your company could be next in achieving astonishing results! 
Take a look at our Corporate Support page to find out more about this and other ideas of how you/your employer could support the farm.
Is there somewhere where you can put Collection Pots? 
Could you persuade your employer or friends and family to host one of our Collection Pots?  The average full collection pot holds around £25-£30 and takes around twelve weeks to become full.  Doesn't sound like much but we're hoping to find homes for 200 collection pots.  Based on the average collection, those 200 pots would bring in a total of £20,000 – £24,000 each year; that's enough to pay the salary costs of one of Education Officers and support around 5,000 children each year to develop their skills, knowledge and life chances.  Can you help us hit our target of 200 pots out in London, working for us?
Ever thought about Fundraising for a Charity?
Could you organise an event or activity to raise money for the farm?  It could be at home with family and friends or maybe something in your workplace. This could be anything from a sponsored silence to running a marathon.  You can set up your own fundraising page right here on our site and your donors can help you raise up to 25% more by adding gift aid. Take a look at our A-Z of fundraising for more ideas or contact us, if you want to chat through your own ideas in more detail. 
Are you signed up to Give as you live?
If you love online shopping then register with Give as you live and select Vauxhall City Farm as your chosen charity.  Every time you purchase from a Give as you live affiliated website (and there are thousands to choose from) a donation will be made to the farm at no extra cost to you!
How about Go Raise?
If you love online shopping then register with Go Raise and select Vauxhall City Farm as your chosen charity.  Every time you purchase from a Go Raise affiliated website (and there are thousands to choose from) Go Raise will make a donation to the farm at no extra cost to you!
Do you have a Living Will? 
Leaving us a gift in your Will help us to be more sustainable, keep the farm running and help us to continue to support vulnerable and disadvantaged children, young people and adults with additional needs.  If you're one of the two thirds of UK adults that don't have a Will, we can help.  We've partnered with Make a Will Online, so you can make your will for free (we cover the costs unless you choose to donate towards them).  You don't have to leave us a gift in your will to take advantage of the free Will writing service, but we'd love it if you did.  Find out more.
Are you on Social Media?
Please find us on Facebook, Twitter and Instagram then follow us and like and share our posts.  Doing this costs nothing except a little of your time but it really helps us raise awareness of the farm and get new supporters.
Do you talk to people in real life?
Help us, by talking about us! Yep, simple as that!  Talk about us; tell your friends, family, and colleagues about the farm and what we do; get them interested in us, encourage them to visit and get involved.  All of this will help build our supporter base which can only be a good thing!
Ever thought about Volunteering? 
The gift of your time is a great way of supporting us whether as an individual or as a corporate group.  Our volunteers get involved in a variety of ways including: staffing our gift shop and café; organising and running fundraising events for us; helping our riding team look after the horses and supporting them during lessons for our disabled riders, taking care of our growing spaces, supporting our education team to deliver school visit sessions, doing odd jobs and DIY around the farm and, of course, helping to look after our animals. 
You make the difference!
Anything you can do to support the farm makes a difference to us, the farm, our animals and the young people we support on a daily basis and for that every member of the team here at VCF thanks you!
You may also be interested in...