September is such a glorious time of year: leaves rustling under hoof, the sun still warm on our backs in the paddock, and a coolness creeping into the air, making daily life more bearable after a stifling hot summer. Us horses are especially glad of the drop in temperature as we've been working hard to get into shape since our return to Vauxhall City Farm at the end of July. 
The staff and volunteers have been putting us through our paces and getting us ready for the return of Riding Lessons at VCF, which I can exclusively reveal will be back from next month!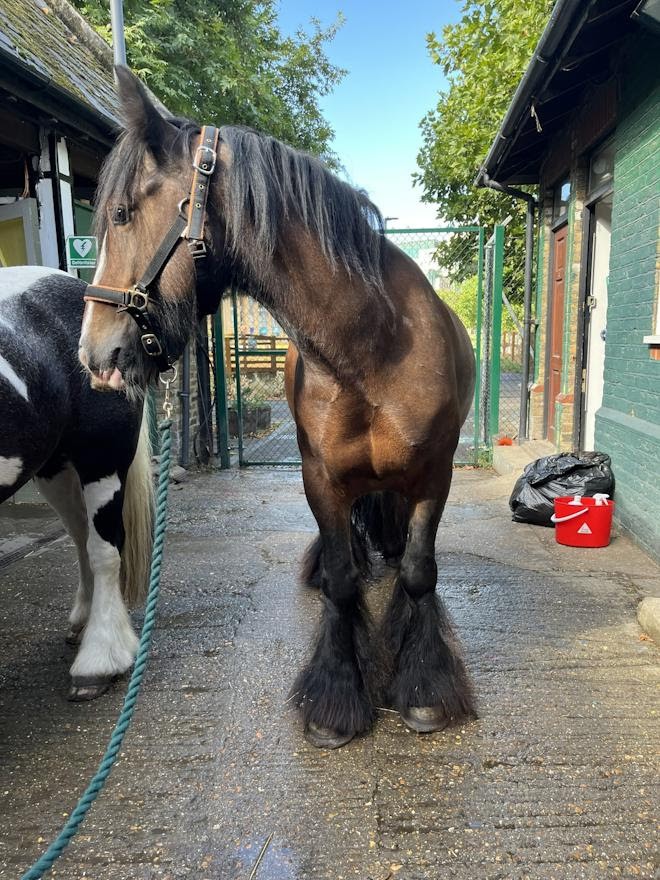 We're not quite ready to share full details, but during the day we will be delivering a Riding for the Disabled (RDA) Programme and offering lessons to children and young people from low income or disadvantaged backgrounds. Commercial lessons will be on offer evenings and weekends. Please keep an eye on our website and social media, where we will let you more information as soon as it is available. Thank you so much for your patience and we look forward to welcoming our riders back soon!
If you would like to help our Riding Team in the stables and during lessons, please see the volunteering page on our website to download the application form, or contact them directly: riding@vauxhallcityfarm.org
The 'Mane' Attractions...
Obviously, we're going to need an awesome set of horses in order to give all these lessons, so allow me to introduce you all to me and my neigh-bours…
Fiona (me!)
My name is Fiona, I am a 14.1hh bay, native pony, and I've come all the way from a farm in Devon where I used to pull carriages. I will be working across novice, intermediate and advanced lessons, and I can't wait to get started and bring happiness to riders of all ages.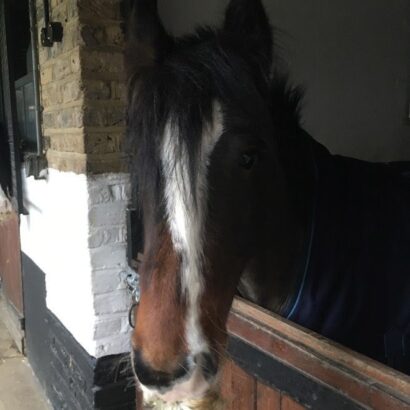 Ronnie
Ronnie, who some of you may remember, is a super safe 15.2hh black cob, who has been at Vauxhall City Farm for four years. He loves jumping and working with more experienced riders, but is equally happy showing beginners the riding ropes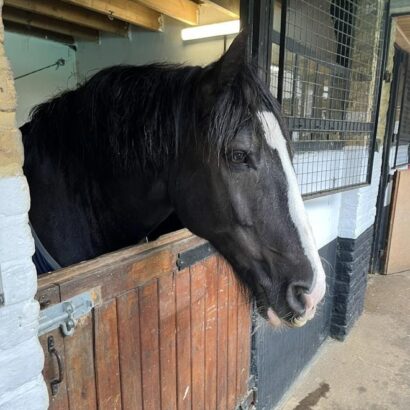 Queenie
Queen Erica, or Queenie as she's known on the yard, is a 15.1hh dapple grey, Spanish mare. She is fluida en español, loves people, and is always interested in what is happening around the stables. Queenie will be working with riders at all levels, helping them gain confidence and work independently in the school.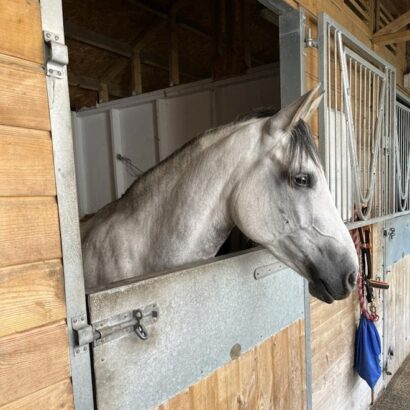 We're expecting a few more horses to join us over the coming weeks, so keep an eye on our social media where they will be introduced to you all in due course.
At the other end of the farm...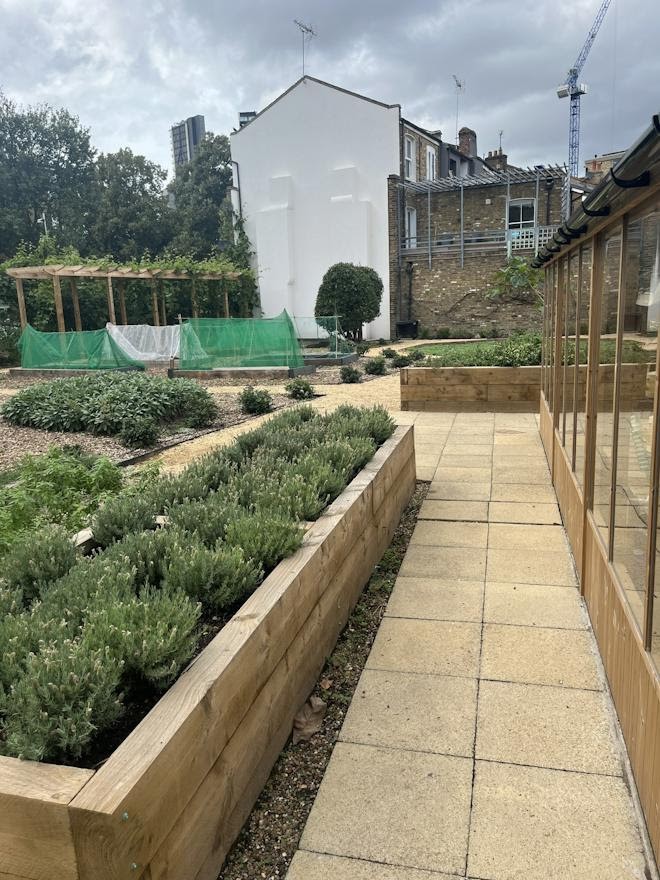 It's not just the Riding School preparing for big things in October, as our Community Garden redevelopment project is almost complete. With support from the Mayor of London and Thames Water, the garden has been re-landscaped and replanted. 
Last month our spacious new greenhouse was installed, and at the end of this month, the final structure, our Outdoor Classroom will be built.
You can follow our progress on our website and social media, and we look forward to sharing our new programme of workshops and events coming up in the garden very soon.
If you are a school or community group and want to find out more about all the workshops and tours that Vauxhall City Farm currently offer, please click here to visit our website, or contact our team directly: education@vauxhallcityfarm.org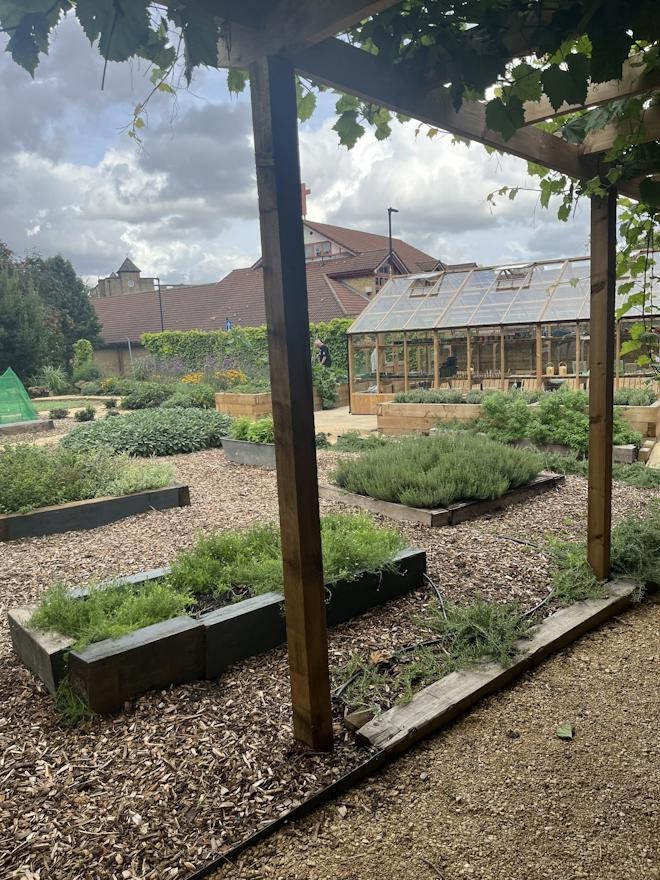 The Vauxhall City Farm Appeal
Have you watched our new short film yet? If not, click here to watch now.
Filmed over the weekend of this years' Lambeth Country Show, the film follows the VCF team as they return to one of our biggest annual events after two years of lockdown. Us horses weren't able to attend this year, but we love hearing all about it from the other animals on the farm, and often get together in Ronnie's stable late at night to watch the film on the riding laptop.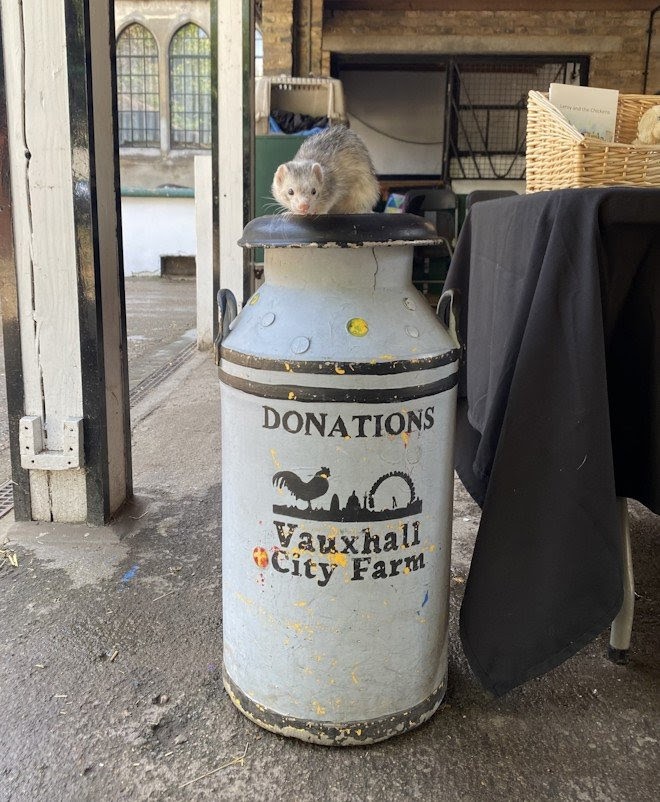 Though the film follows a joyful moment for the farm, it also highlights how vital your support is to us. Without our supporters, visitors, and their donations, we would not be able to provide the service we do.
Your donations, big and small, make all the difference.
If you want to help ensure that Vauxhall City Farm survives for many years to come, and continues returning to the Lambeth Country Show, then please click here to visit our appeal page, watch the film, and find out more about why Vauxhall City Farm needs your donation more than ever.
Thank you, as always, for your continued support.
And all the awards go to…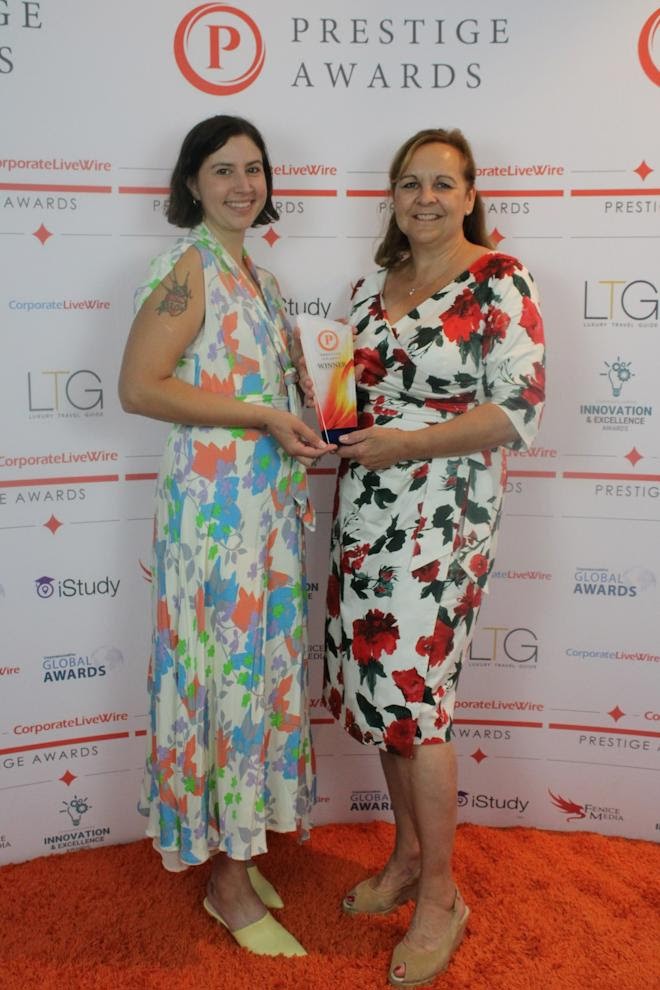 For the second year running, Vauxhall City Farm has won the Corporate Limewire London & South East Prestige Award for 'Farm of the Year' and we sent VCF Trustee, Alison Ewen and Marketing Manager, Rhiannon Carr to go and collect the award at the end of last month.
We are also delighted to announce that we've won an Expert Choice Award 2022. Based on professional reviews and awarded by TripExpert, this award recognises Vauxhall City Farm as one of the very best attractions in London, with only 2% of businesses receiving the accolade.
Finally, we were lucky enough to receive the Annual Special Tinplate Workers' Award of £10,000 back in July, which has helped immensely with the purchase of Queen Erica and the relaunching of our Riding Lessons.
It is always wonderful to receive recognition for the work that we do, so a huge thank you to the awarding bodies, and also to our trustees, staff and volunteers who look after our charity and animals, and our visitors and service users too who make Vauxhall City Farm such an award winning place to be.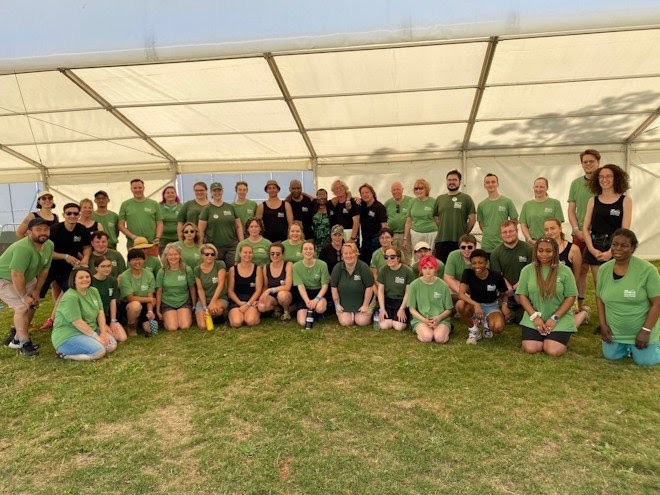 Looking for somewhere to celebrate?
Luckily for you and our team, we have the perfect place to celebrate – our Farm Bar, Faith's Place. Open every Thursday, Friday and Saturday, Faith's Place offers a growing selection of local drinks, guaranteed to quench your thirst, and make any celebration go with a bang.
Coming up in the next month we have…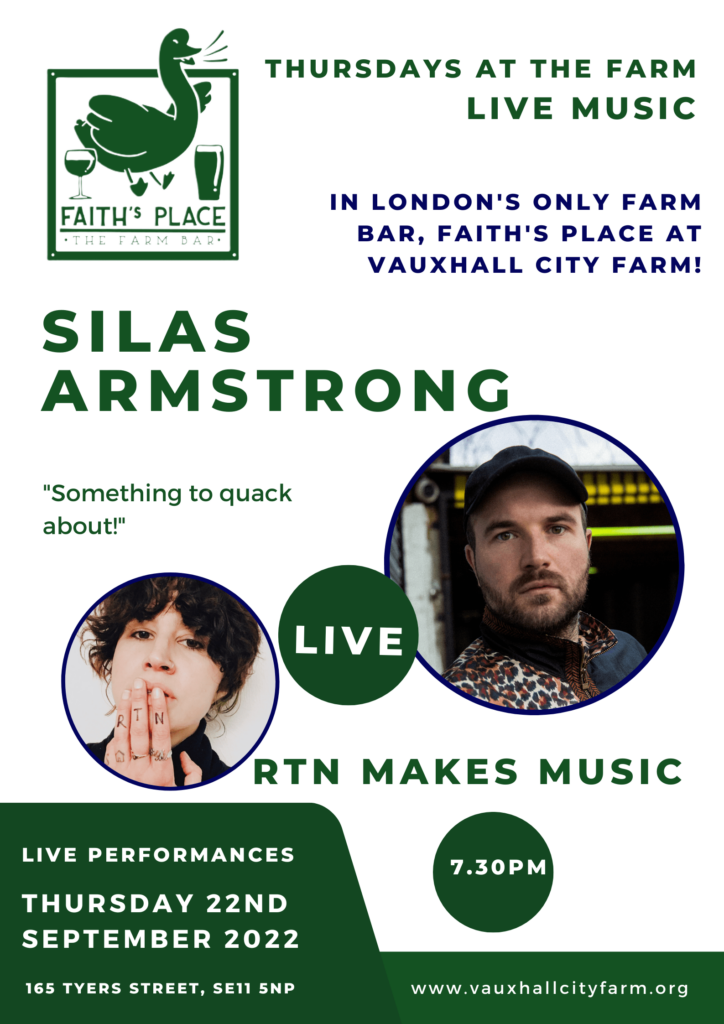 On Thursday 22nd September, Live Music returns to Faith's Place, with performances from two fantastic singer/ songwriters, Silas Armstrong & RtN Makes Music.
Silas Armstrong is a Brixton-based musician, with two E. P's and streams of over 180,000. Currently working on his follow up feature length album, Silas is an artist with clear vision, unique sound, and true musical staying power.
RtN is a writer, performer and musician from South East London. Heavily influenced by country and folk, but with a punk rock approach to playing the guitar, her music explores what it means to be a solitary woman in the vast no-mans land between youth and old age.
The night kicks off at 7.30pm, with solo performances from both artists. Entry is free, though as always, donations are greatly appreciated. All money raised will go directly back to Vauxhall City Farm.
Our last BBQ went down so well, that we're going to have another one!
Join us on Friday 30th September for our End of Summer BBQ. Enjoy tasty burgers, with a vegan option available, cooked by our café legend, Peggy, and served with chips and a delicious drink. Book now by clicking here. The ticket includes burger, chips, and drink.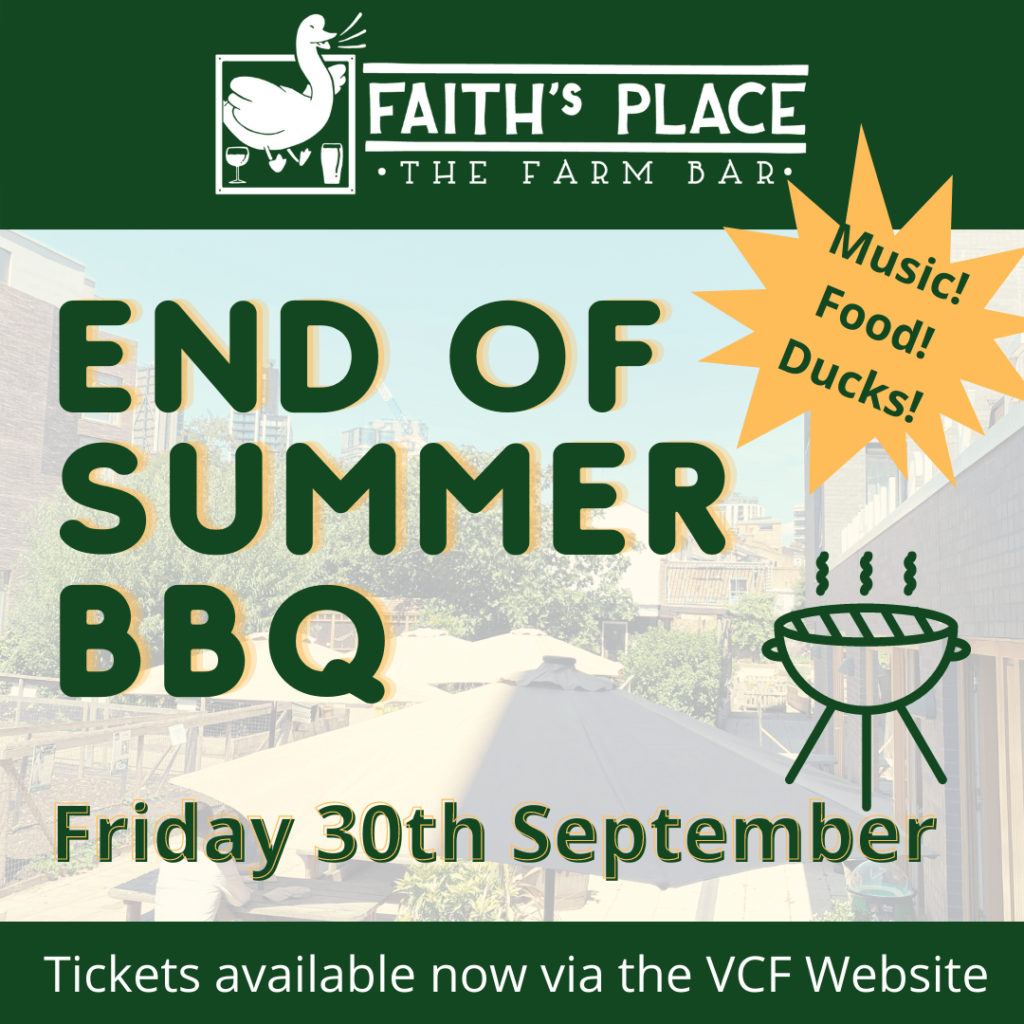 Then on Saturday 1st October, we're kicking off Black History Month with 'An Evening with Mo'. Maureen Obi is a barrister, singer, and friend of the farm, and she will be performing acapella for us in this special event. Please keep an eye on our social media for more details, including how to get tickets, coming very soon…
If you're interested in putting on a night, or performing at Faith's Place, please drop the team an email at faithsplace@vauxhallcityfarm.org.
Work locally? Then get 10% off all drinks every Thursday evening in September.
For teachers struggling with those back-to-school blues, we're giving you 20% off drinks every Friday in Faith's Place this September.
And on Saturday nights, get your gang together and head to Faith's Place to take advantage of our drink bundles with 4 x Brixton Brewery or East London Distillery cans for only £16!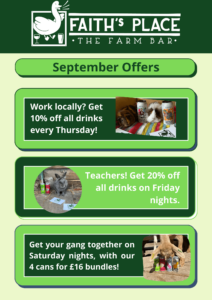 If your workplace is looking for somewhere to hold a team away day or you need extra space for meetings, Vauxhall City Farm has two purpose-built meeting rooms available for hire. Please see our website for full details.
If you are on the look out for fun ways for your company to give back to the local community, then we offer full or half days of Corporate Volunteering and have plenty for your team to help out with across the farm, riding school and community garden. Please see our website for full details.
If you want to treat your team to a few drinks after a day of meetings or volunteering, then don't forget we have our onsite bar, Faith's Place, where you can reserve a space, with catering available on request.

Some sad news from the farm to start with. Last Monday, our lovely donkey, Jinny, passed away in her sleep after a short illness. Jinny came to the farm in November 2021 with pal, Amber, and was a great hit with our visitors, taking part in Meet & Greets, as well as delighting the general public while out and about on our regular Donkey Walks.
Jinny is survived by her friend, Amber, who we hope will be joined a new companion soon. Please keep an eye on our social media for updates.
It was an absolute pleasure sharing a stable block with Jinny, and though we will all miss her very much, we are glad we got to know her so well in the time that we had.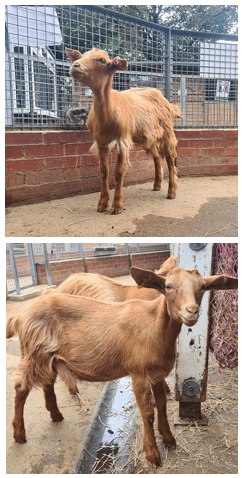 Our young goats have now been fully weaned, which means they will soon be ready to go off into the big wide world. Our girls have already found a forever home, but our two boys, Mickey and Finn, are up for sale.
If you know someone that is on the look out for one (or two) sweet Golden Guernsey boy goat/s, please get in touch with our farmyard team: farmyard@vauxhallcityfarm.org.
Both Mickey & Finn have been brought up here at Vauxhall City Farm, so are extra friendly and used to humans, goats, alpacas and sheep.
If you want to meet this year's pack of goat babies before they head off, book your VIP Meet & Greet voucher here, then contact our office team to book in your timeslot.
All of our adult goats are doing well.
After this year's lambing, some of you may have noticed that Peaches still has quite large udders, our vet has advised us that she has some loose ligaments, leading to the enlarged appearance but assures us that she isn't in any pain or discomfort.
She is being checked regularly, and we will keep you updated on if there are any changes.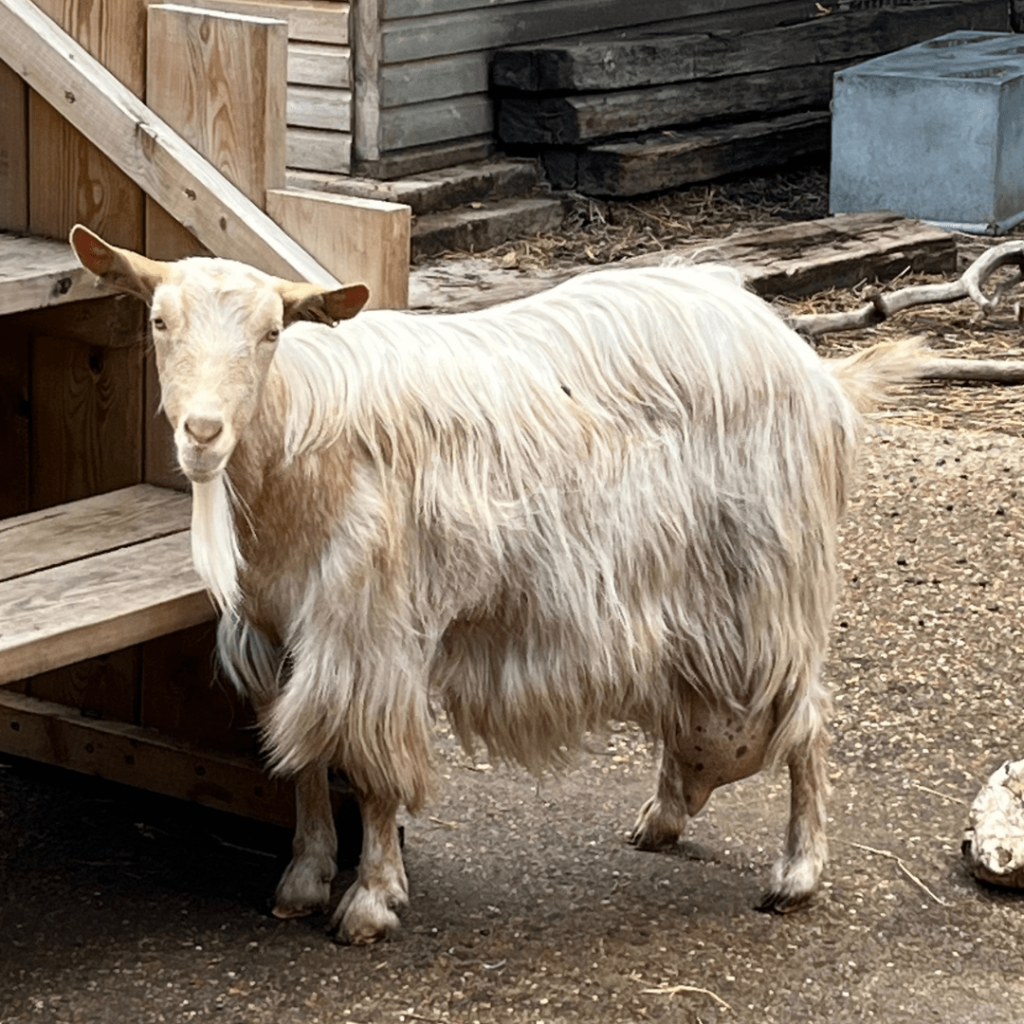 We are now taking bookings for small animal boarding over the October Half Term and Christmas holidays. Space is limited, so get in early to ensure your place! Full details are available on our website, but if you have any questions, please contact our farmyard team: farmyard@vauxhallcityfarm.org.
Birthdays at Vauxhall City Farm
One of the many ways you can support Vauxhall City Farm, is with one of our Animal Adoption packages. Perfect as a gift for yourself or someone else, you'll receive a personalised adoption letter & certificate, feed for our larger animals on your next three visits, and regular updates via this monthly newsletter. To make that gift extra special, you can upgrade to one of our combos, and get a VIP Meet & Greet for two people with the animal you have adopted.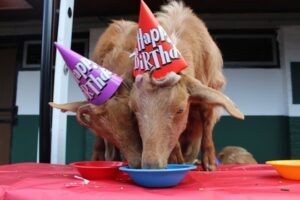 Vauxhall City Farm also run super birthday parties for animal obsessed children – check out our website for full details of our Birthday Party package, and if you have any questions, please contact our team directly: info@vauxhallcityfarm.org.
For older animal lovers, there's our onsite bar, Faith's Place, where you reserve a space, and enjoy a selection of local drinks with our ducks into the evening. Please contact our bar team directly with any questions: faithsplace@vauxhallcityfarm.org.
Time for Fiona to giddy-off.
Right, hopefully that's enough to keep you all busy for the next month! Please keep an eye on our website and social media where we'll keep you up to date with new events, developments and happenings, as well as sharing the odd cute animal picture.
The farm is open for visitors from Tuesday through Sunday, from 10.30am till 4pm, and our bar Faith's Place, is open Thursday, Friday and Saturday from midday till late.
Thank you for reading, and I can't wait to see some of you in Riding Lessons very soon!
Fiona
X