Are you looking for a new space in central London, for your class or workshop?
Yoga? Pilates? Upcycling clothes sewing workshops? Evening classes? Short courses? Knitting classes?
Whatever your heart desires, Vauxhall City Farm could have just the room for you!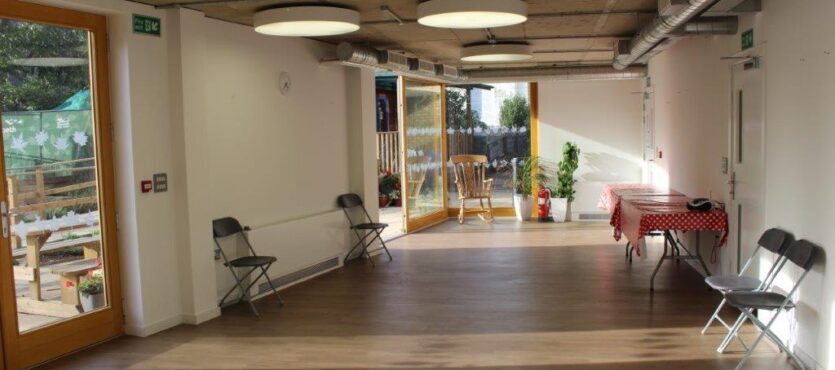 Our Front Room is light and airy, with a view of the duck pond and garden area through large picture windows along one wall. The quirky setting adds interest to any class or workshop.
We have a special offer for anyone wanting to hire the room for regular classes, before or after work.
If you book the room with us for regular classes for 3 months, we will rent it to you at £55 per hour (usual fee: £90 per hour for out of hours bookings) – This means you are saving £35 per hour!
For more information, please visit the full room hire page, for additional items such as flipcharts or projector hire, please have a look at our Room Hire Information & Rates.
Please contact us to discuss the setting up of a regular workshop or class here at Vauxhall City Farm.
Minimum room hire fee equivalent to 3 hours hire does not apply for this offer. You will be able to hire the room for any length of time you desire, even just one hour! 
Your support makes a difference!
£10
Buys 2 bales of hay (Our animals need 150 bales every month)
£20
Will cover the farm's electricity cost for one entire day
£50
Will pay for farrier costs & dental treatments for 1 horse, for 1 month
£100
Will provide food & bedding for all animals on the farm for three weeks…
£500
Will pay for farrier costs & dental treatments for 1 horse, for 1 month
Every donation made will help us to reach more people with our services…
You may also be interested in...
The Farm will re-open on Thursday 3rd December 2020. Read on for details, and info on Christmas and New Year closure.
Whether you're looking to book a workshop, sign up for one of our development programmes, want to become a volunteer, book a riding lesson or just want to say hello, we'd love to hear from you!