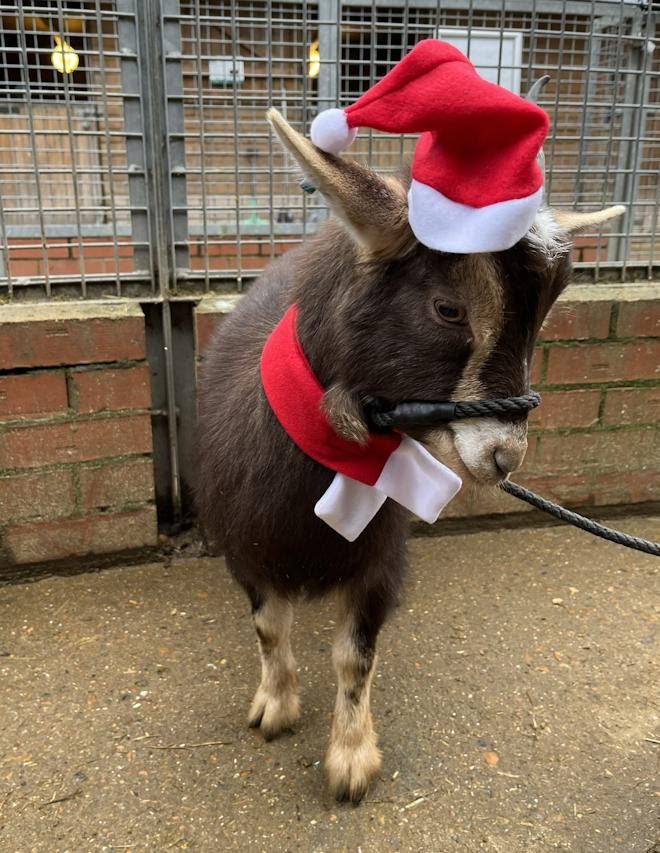 It's the happiest time of year, though us Pygmy Goats are pretty happy year-round, and my first ever Christmas, which is why I'm so excited to have been chosen to write this month's VCF Newsletter! My name is Theresa, and this newsletter will be short and sweet, just like me, and packed full of festive farm goodness to help make your Christmas as merry as possible.
As you can see, we've been getting Christmassy here at Vauxhall City Farm, and we're sure that you're doing the same at home. Perhaps you've noticed there's something missing, a space on your front door, or living room wall, which could really do with a little something…
Christmas at Vauxhall City Farm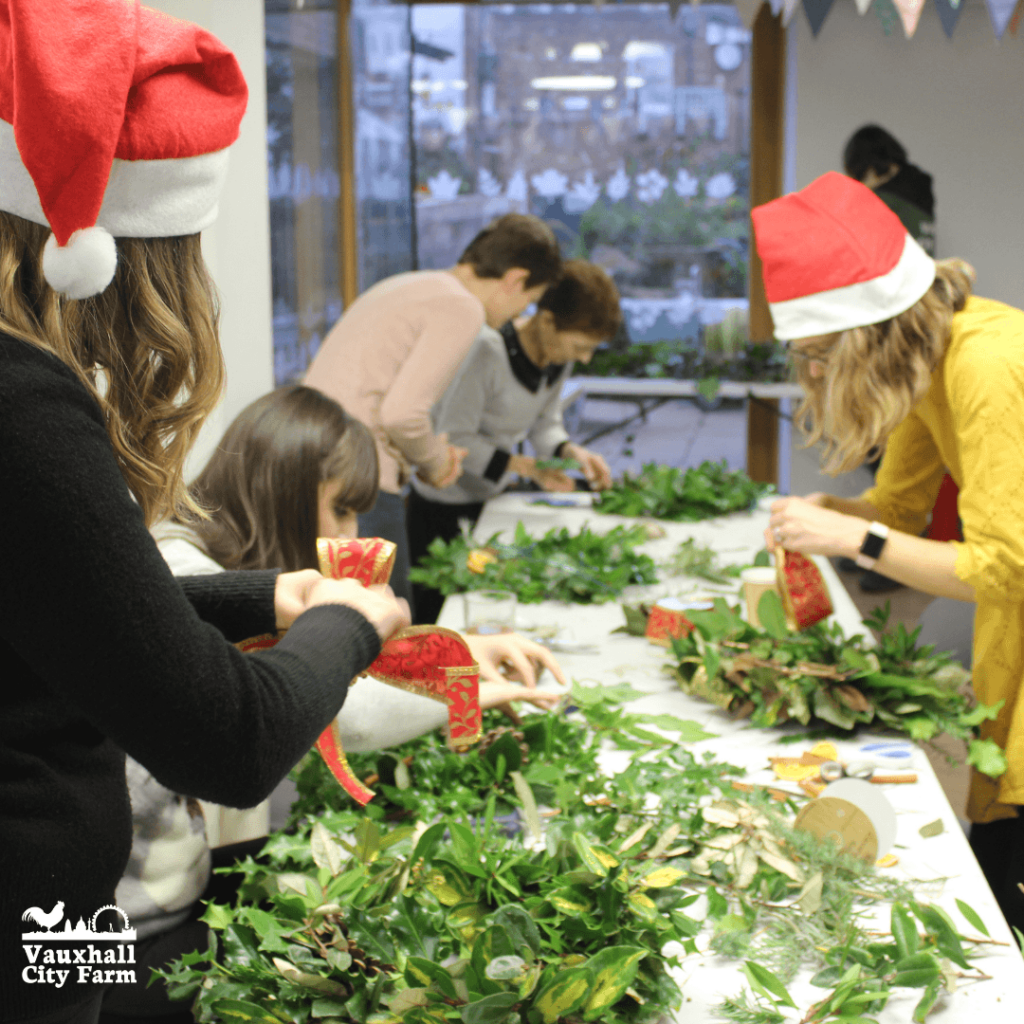 Thankfully, Vauxhall City Farm's Famous Christmas Wreath Making Workshops are kicking off this Friday! Guided by one of our VCF elves, each workshop lasts two and a half hours, and includes all the materials that you'll need, including plants and foliage from the VCF Community Garden, to create a magical, Christmas wreath for your home. We'll also provide a warm, mulled drink, and a mince pie to power you through the session!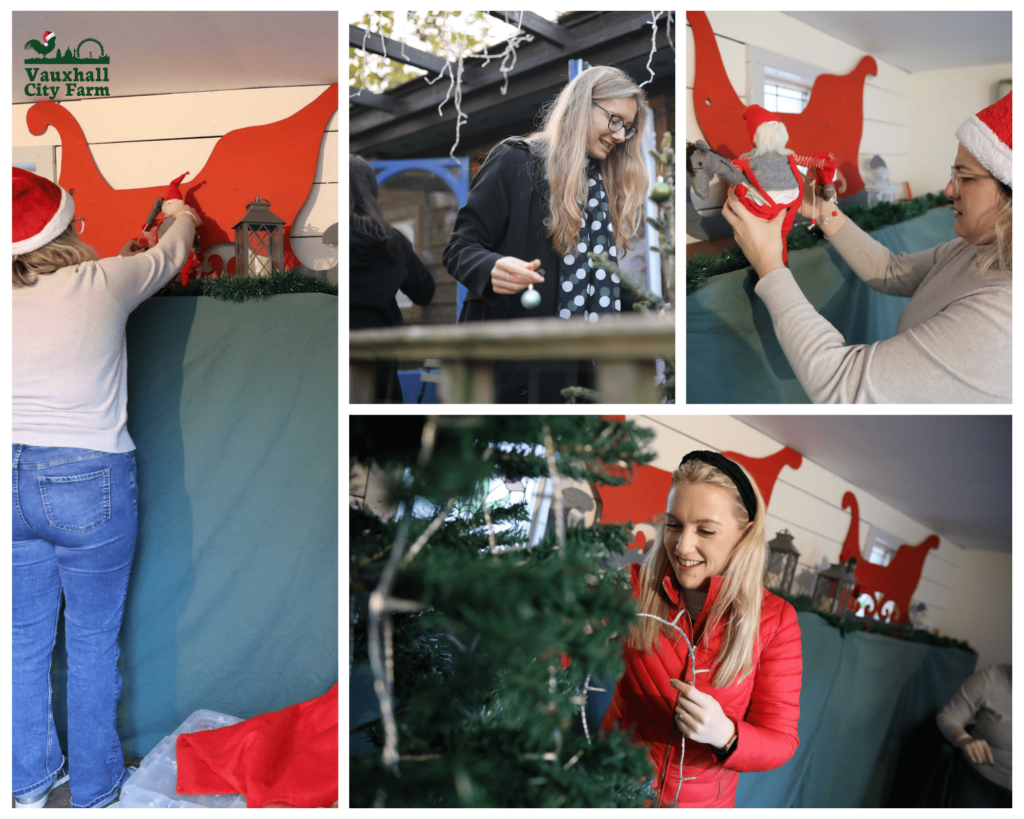 Give the gift of VCF Animal Adoption this year…
We all have that one person who we struggle to buy Christmas gifts for, even us Pygmy Goats! One present you can't go wrong with is an Animal Adoption at Vauxhall City Farm. Not only will you be helping to support us, but you'll also get a digital certificate and adoption letter, a free bag of animal feed on your next three visits to the farm, and the option to include one of our VIP Meet & Greets, so that your giftee can meet their favourite animal.
Click here to see all the animals that are currently available for adoption, including us Pygmy Goats, who promise to be extra friendly to any VIP
Meet and Greets booked in conjunction with a Christmas Adoption!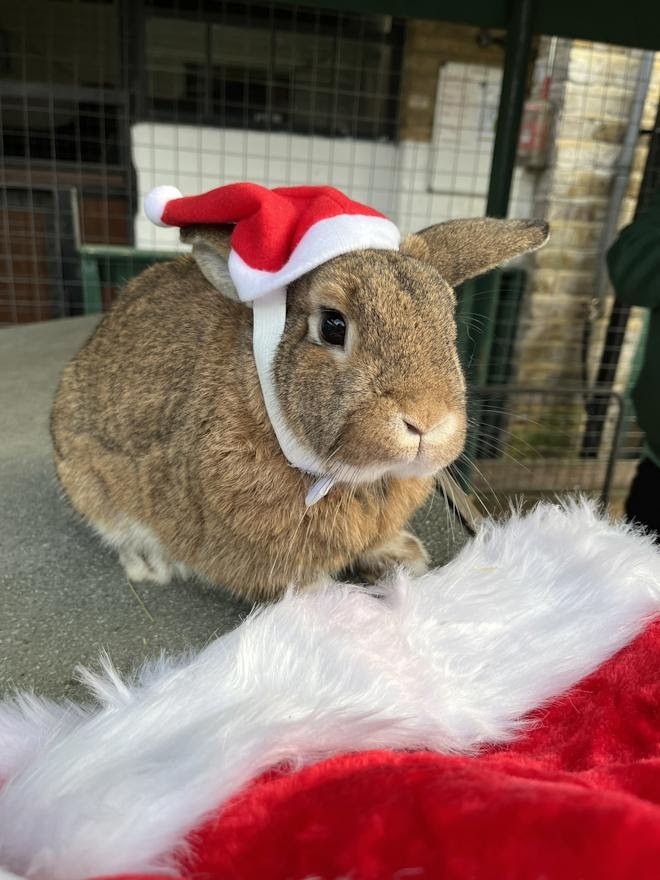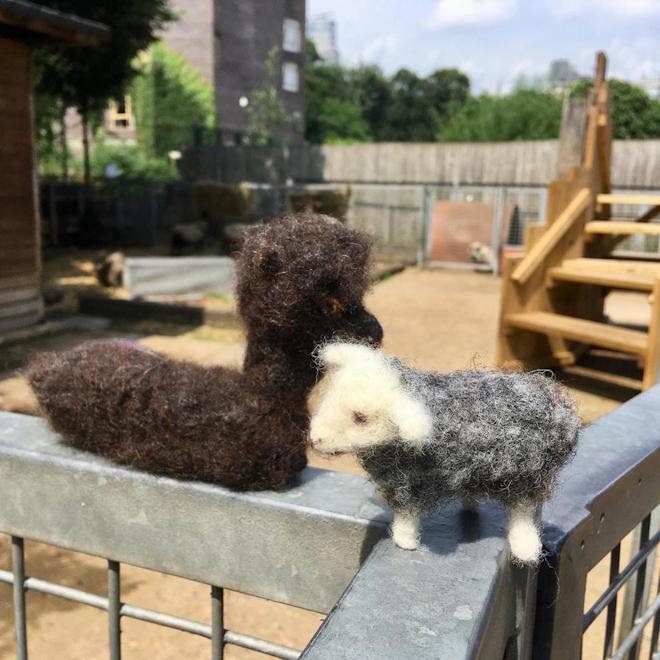 We also sell a selection of Vauxhall City Farm merchandise onsite in our café, as well as our beautiful handmade model animals, created using fleece from the alpacas and sheep right here at Vauxhall City Farm are available now, so we're sure you can find something to please the City Farm lover in your life this Christmas.
And if you'd like to get Vauxhall City Farm a gift…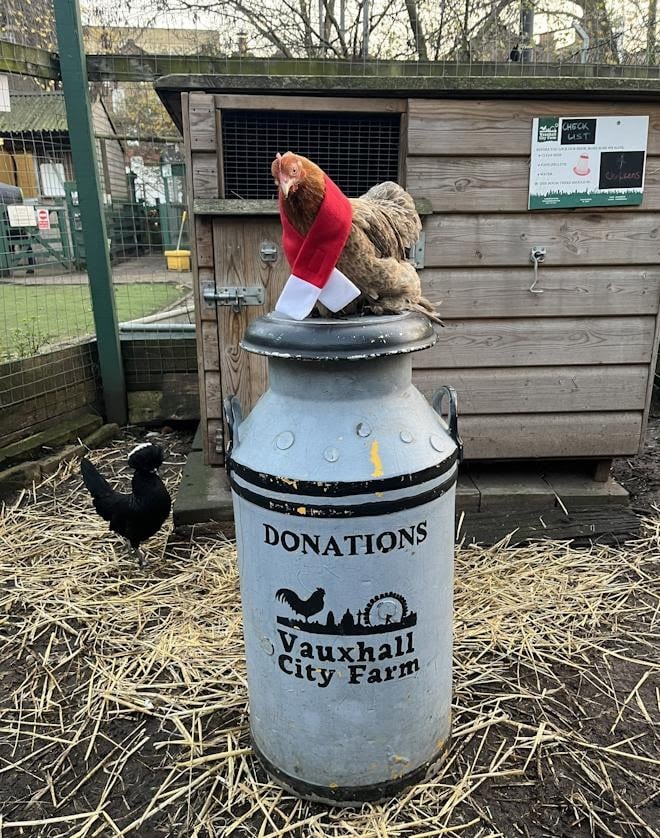 As an Independent Charity, we rely on donations to help us remain open and carry out the educational work that we do. 
If you can support us this Christmas, we will be incredibly grateful, especially as we know times are tough this year. 
Please head over to our GoFundMe page to learn more about The Vauxhall City Farm Appeal, and to donate:
We also have an Amazon Wishlist, which we always love to receive items from. If you do buy us something, please include a gift message so we can give you a shout out on our social media to say THANK YOU!
Celebrate with Vauxhall City Farm this Christmas!
We have one final event planned for this year, and we'd love for you to join us! Local powerhouse, Maureen Obi, is back at Faith's Place, our Farm Bar, on Saturday 10th December for a special festive evening of storytelling and song. Click here to find out more about Mo on our website and buy tickets.
We're incredibly excited to have Maureen back after a packed show in the summer, and it's always a real privilege to hear her sing.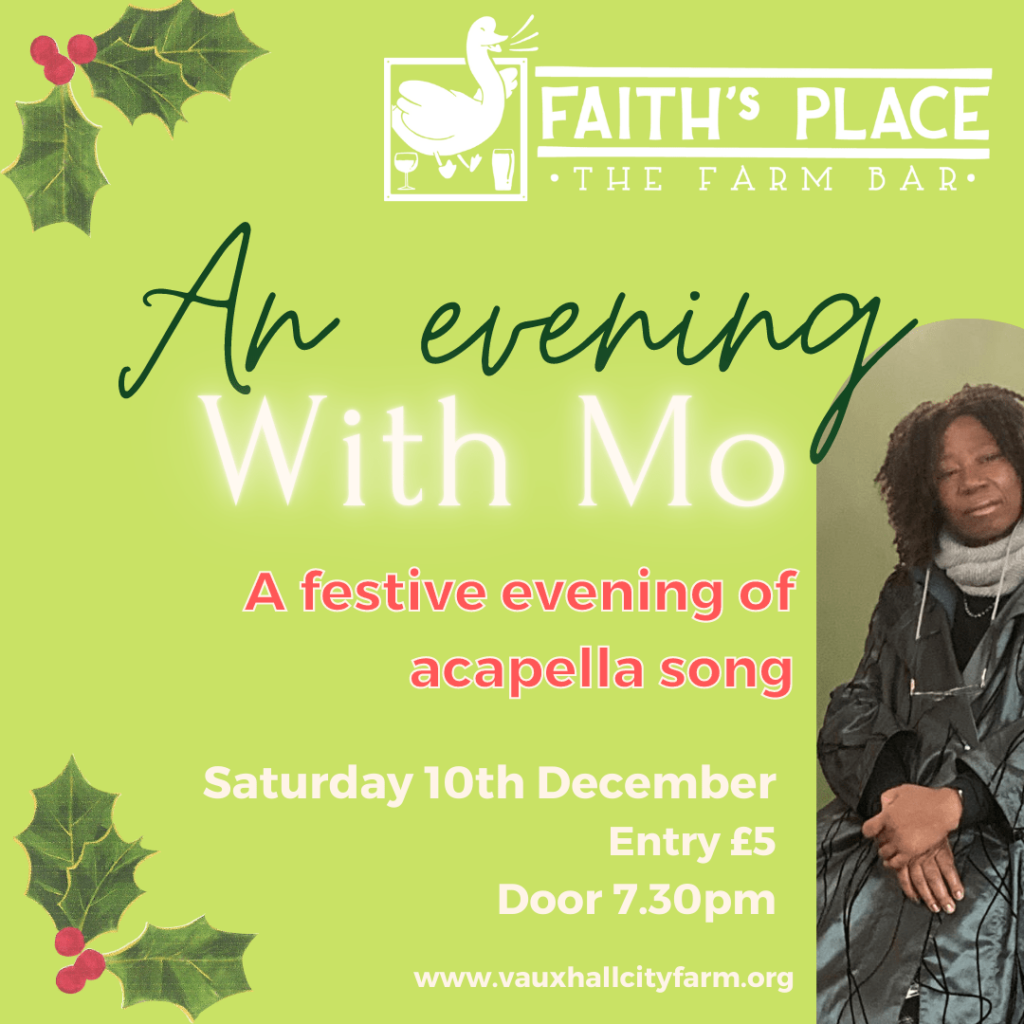 So, please join us in our café/ bar space on Saturday 10th December, for drinks, music, and plenty of Christmas spirit. Click here for tickets. All money raised through tickets sales will support Vauxhall City Farm and our educational programmes throughout the year. If you have any questions or access requirements, please email: info@vauxhallcityfarm.org.
Vauxhall City Farm is open as usual from Tuesday through Sunday, 10.30am to 4pm, but will close for the Christmas Break from Friday 23rd December until Monday 2nd January. Which means the last day you can visit us in 2022 is Thursday 22nd December!
Riding lessons will finish for the year on Tuesday 20th December, with the horses going away for their Christmas holiday on Thursday 22nd December. Lessons will restart on Tuesday 10th January and details of the lesson schedule for 2023 will be shared shortly.
Wishing you a Merry Christmas & a Happy New Year!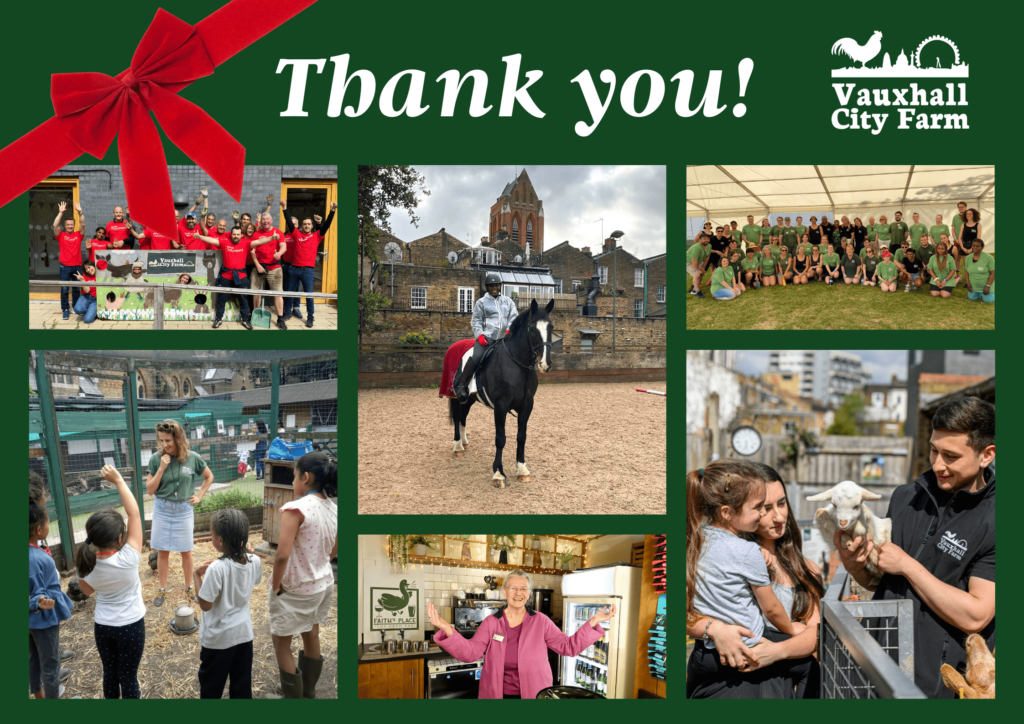 As we approach both the end of this newsletter AND the end of the year, it is my goat honour to say a huge THANK YOU to everyone who has been part of Vauxhall City Farm in 2022 – to each and every one of you who reads this newsletter every month, to our volunteers and visitors, our horse riders, our donors and supporters, our school groups, Young Farmers, work experience and Duke of Edinburgh placements, our Corporate Volunteer Groups and room hires, our animal adopters and VIP Meet & Greeters, to those who joined us for drinks in our new bar, Faith's Place, or drunk coffee in our café, to those who have written about, filmed or photographed VCF on or off site, and, most importantly, everyone who has fed us animals grass nuts this year – you make us who we are, you make us Vauxhall City Farm!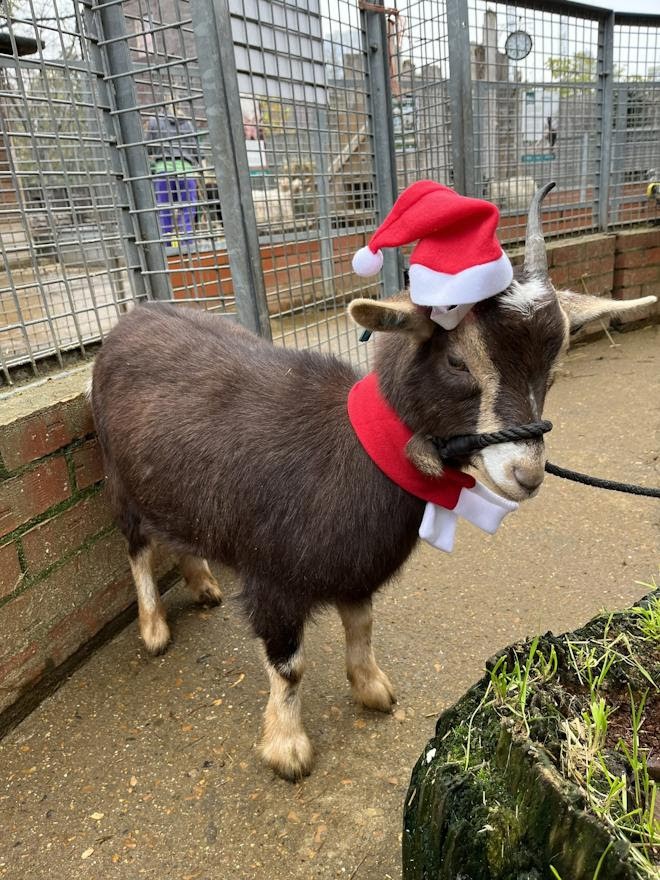 We can't wait to see all of you (and more!) in 2023, and we have lots coming up which we can't wait to share.
Please make sure you are following our social media channels for up-to-date information from the team at the links at the bottom of this email.
It has been an absolute joy getting to write this special Christmas newsletter, and I hope to see you all soon!
All my festive, goaty love,
Theresa
X
Don't forget we have two purpose-built meetings room adjacent to our café, which are perfect for meetings, parties, and events. Please see our website for full details or contact our office team with any questions: info@vauxhallcityfarm.org.