"Qui vivra verra" – Only time will tell…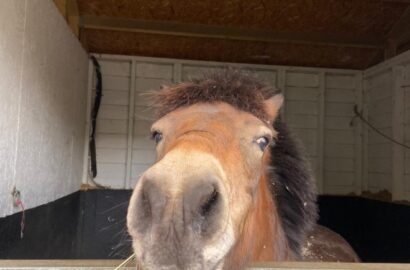 Guten tag, "mes amours",
I have recently travelled from France, where I lived for the last three years, and I'm still getting used to the.. how do you say? "La barrière de la langue." Erm… The language barrier! But my many new friends are working hard to make the transition easier.
It has not been a full month since my arrival at Vauxhall City Farm and I'm really enjoying it so far! Let me tell you about my new home.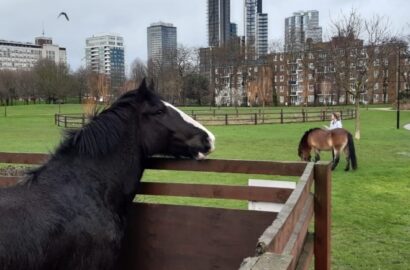 For the first two weeks I was kept away from the other horses. Quarantine they called it.
Really what it meant was that I got all the one on one attention I could possibly ask for, from the staff, while the other horses were jealously watching me enjoy my walks around the Pleasure Gardens.
That's what they call the big grass outside the farm. And it is indeed greener on the other side! "L'herbe est toujours plus belle ailleurs!"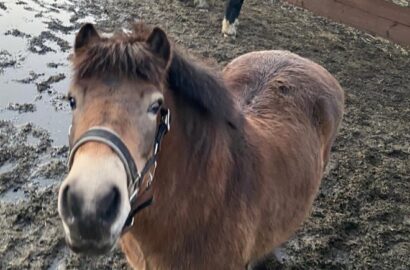 As well as getting to know the staff, I have been meeting the horses. Ronnie and me are becoming fast friends, Sapphire is a delight, and I may have developped a bit of a… school boy crush I think you say in English? Well, let me speak plainly: "Je suis tombé amoureux de Molly!" We've had a few late night "tête-à-têtes" and she is a wonderful lady, whom I hope to spend more time with…
I also like Billy, however I have been told that Billy is looking for a new home. While he is beloved by everyone (staff, clients, and visitors) after 5 years it's time for him to move on from the farm and start his next adventure, in a private home. If you think Billy could be the horse for you or someone you know, then please get in touch with the riding team "tout suite"!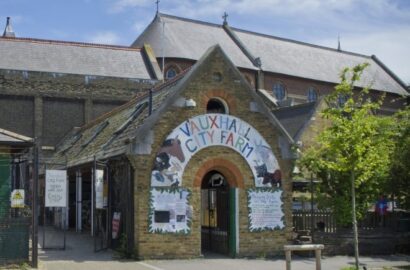 Other than myself, the farm is hoping to have some more additions to the team soon!
We are currently recruiting for a Youth Worker, and will shortly be recruiting for a Fundraising and Development Intern on a part-time basis for 3 to 6 months. This will be ideal for young adults interested in fundraising with strong admin and organisational skills, and a passion for everything that take place at the farm!
The successful candidate will gain a breadth of experience to help kick-start their career.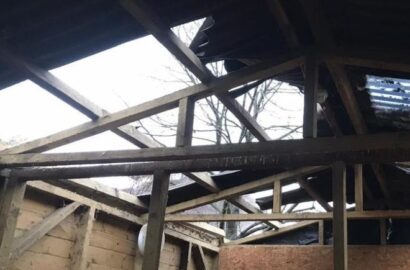 Now, one thing I have learnt since I arrived in England is that it rains A LOT… Storm Ciara, Storm Dennis, and Storm Jorge all wreaked havoc across the country since I got here.
I worry people are soon going to run out of names, if these storms keep coming, and we're going to run out of dry spaces at the farm!
However I've also learnt that in a crisis, the community here really comes together to help out! Everyone at the farm was touched by the support shown to the farm and us animals in helping to fundraise to combat storm damage across the farm.
"Merci beaucoup!" Thank you so much!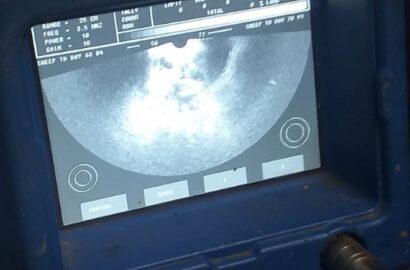 We will be keeping the Raise the Roof Appeal open for donations, due to further expected storms and further damage across the farm, however we are hoping to start repair work on the alpaca stables as soon as possible, because we are expecting!
The ladies on the farm have been scanned and the lambing and kidding time will start mid April and continue into mid May. We will be reporting any births first via our social media channels, so please follow us on Facebook, Twitter, or Instagram to get the latest news!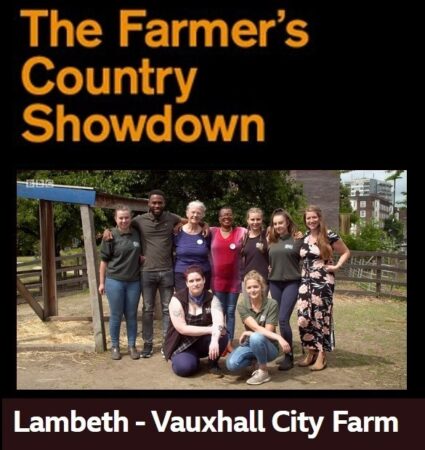 Something else exciting is that the BBC's Farmer's Country Showdown – featuring Vauxhall City Farm, the animals, the team, and the services we deliver – is still available to watch on BBC iPlayer.
If you have not had a chance to watch it so far, or would like to watch it again, before it is removed, now you can. I know I will be, so I can learn all about my new home!
Watch the Sign-interpreted version of the Farmer's Country Showdown on BBC iPlayer before the 23rd March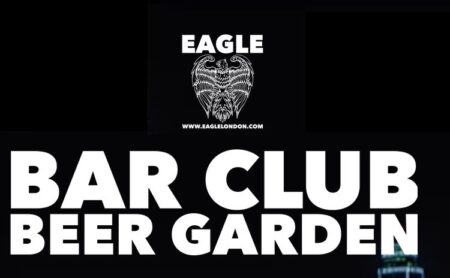 And in other fantastic news, the Eagle London have outdone themselves in this month's bucket shaking, collecting £461.63 for the farm at their February events!
Regular support like this really does make all the difference to our charity! Check out our support us pages for details & to get invovled!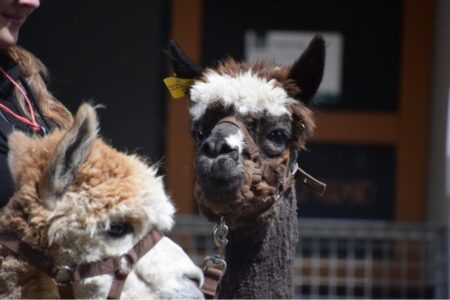 Another lovely thing that I have experienced since I've been at Vauxhall City Farm is that a lot of people visit to draw or take photographs of the farm and especially us animals.
One such person was featured on the Art At the Farm Blog on our website this month, and I highly recomment you check out Steph's work and learn why he comes to the farm.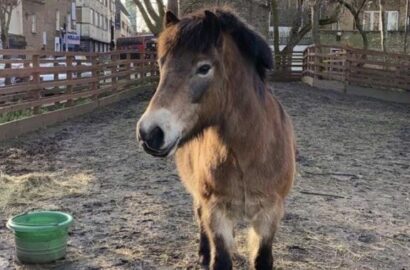 That's enough talking from me!
After all, I have a lot of catching up to do, with the level of schooling and fitness that the other horses here at the farm have.
Though the riding staff have been very complimentary of my ability, willingness and skill. Apparently I've been exceeding their expectations (which makes me feel a little smug!) and they are hoping to have me join lessons within the month, if all goes well.
But to make this happen, there is work to be done, so I must go!
Goodbye, "mes amours"
Jupiter