My darlings!
Welcome to the March newsletter with me, Peaches the Goat.
This week we celebrated International Women's Day 2022, so I'm thrilled to be bringing you this special IWD edition, where I'll be celebrating some of the fabulous ladies who help make Vauxhall City Farm so special.
Now, I'm sure you're all experts on us animals at the farm, but you might not be quite so familiar with the human faces that make VCF possible.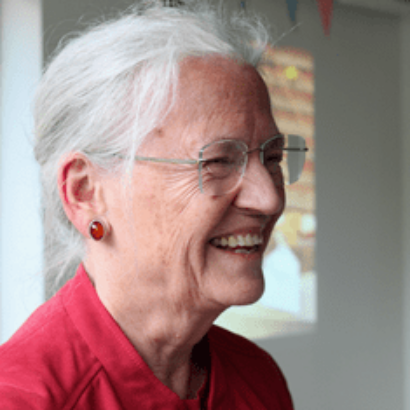 One name you *should* know is Faith Boardman. Faith has been our Chair(wo)man since 2007, and this year she marks 50 years in Public Service. A long-time Lambeth champion, without Faith's commitment and knowledge, the Vauxhall City Farm that you know and love would not exist. You can read more about Faith on our website, and we have some exciting Faith-tastic news that we'll be sharing soon, so keep and eye on our website and social media.
You've goat to be kidding!

My sisters and I are counting the days till Spring, and not just for the warmer weather that April promises to bring. In fact, Pippa, Bambi, and myself are thrilled to announce that…we're expecting! We're so excited to welcome our kids into the world, and we hope you'll come visit them once they arrive. Right now, we're taking things easy and adding extra molasses to our feed to make sure we're getting optimum nutrition to all four of our stomach compartments.
While we prepare for the arrival of our own kids, the farm has plenty on offer for yours!
Our weekend Young Farmer program is in full swing, and you can book now for March and April. We also run a variety of Educational Workshops which can be tailored to suit your group requirements, and are currently putting the finishing touches to our Easter Holiday program, so look out for an announcement soon.
Handling all your educational bookings is another of our wonderful VCF women, Hannah Lebon. Hannah joined us almost a year ago through the Jack Petchey internship programme, and she makes sure that all our young visitors leave the farm filled to the brim with knowledge. She also makes a mean vegetable kebab, so us goats are particular fans of Hannah.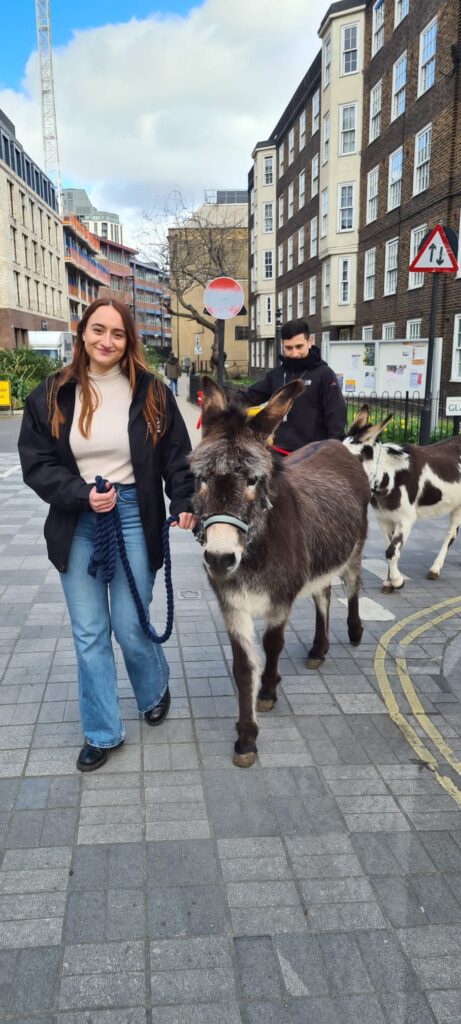 Over the next few weeks, you may notice some changes in our Old Dairy Café as we get ready for something really exciting.
From 24th March, the café will be opening every Thursday, Friday, and Saturday evening from 6pm – 10pm. We've lots of exciting plans, which we'll be sharing with you over the coming weeks on our social media, so make sure you're following if you want to be kept up to date with all the latest news. Links are at the bottom of this newsletter.
For obvious, kid-growing, reasons, I won't be able to join you, but I hope you'll all come and wet the babies' heads once they arrive.
In with the new (alpacas)
Our old paddock pals, Ben & Jerry, have been trying to make us jealous with gorgeous pictures from their retirement field, but we're loving all the extra grass nuts we're getting without them. However, we may have to get used to sharing treats again, as we're soon to welcome three new alpacas to Vauxhall City Farm and we need your help to name them!
We want sweet-themed name suggestions for our gorgeous new sweethearts, who'll be joining us on Monday 14th March.
We're giving you a bit of time to get your name ideas in, so the competition closes on Sunday 20th March, with names being picked at random on Monday 21st March. More details, and how to enter, can be found here.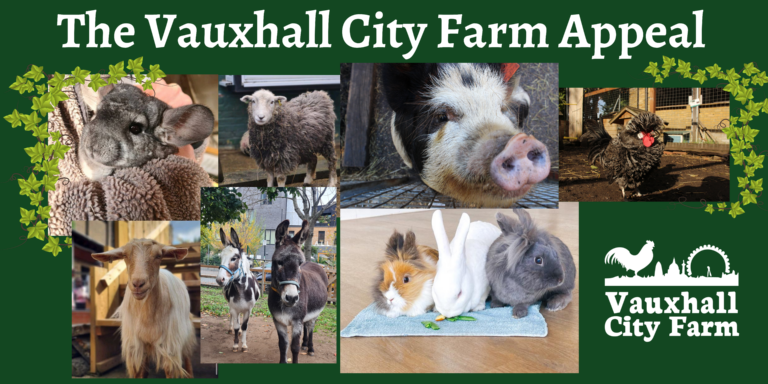 Vauxhall City Farm would be nothing without its visitors and their support, and we're turning to you once more to ask for help. Like many charities, the pandemic has had a devastating effect on our finances, and with huge price increases incoming, we're struggling to meet our costs. VCF is an independent charity, responsible for raising all its own funds, and us animals don't come cheap! We've launched The Vauxhall City Farm Appeal, and if you can help in any way, we'd really appreciate it.
Can you help us welcome visitors to Vauxhall City Farm?
We need volunteers to help us out on our Welcome Desk! Are you a bright, friendly person who loves making people feel at home? We're looking for volunteers to help by greeting visitors to the farm, filling them in on any farm info they might need to know during their visit, and taking donations and payments for any sale items available on the desk.
Full training will be provided, but if it sounds like something you might be interested in, please see our website for further information, or drop us an email.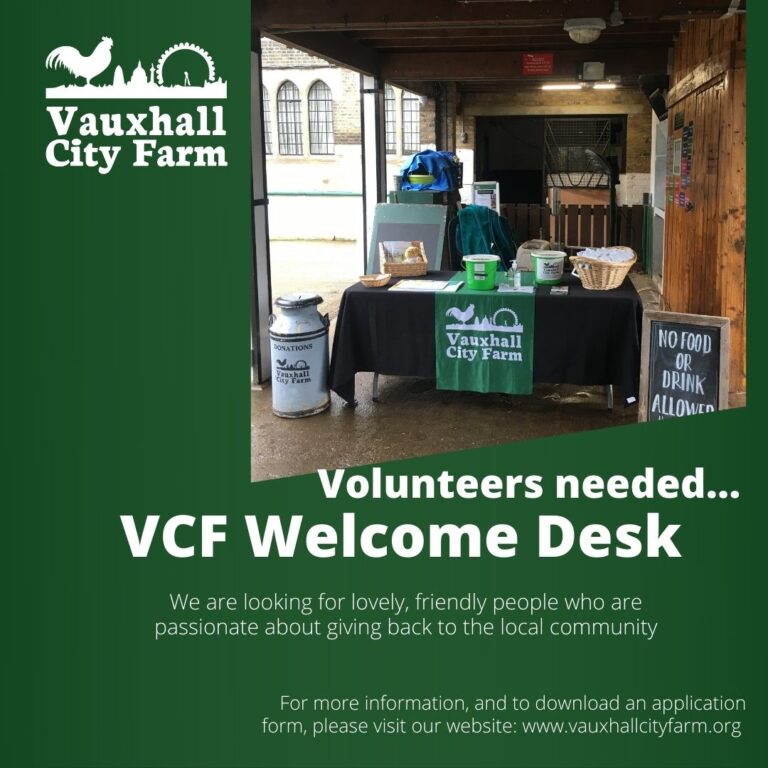 A few final things before I sign off: if you would like to come and meet me and my sisters, or some of the other animals on the farm, then why not book one of our VIP Meet & Greets? If you are interested in coming to work with our fabulous team, please take a look at our vacancies. If you don't already, we'd love you to follow us on Instagram, Facebook and Twitter, where you can be kept up to date with all the latest VCF news.

We hope to see you at the farm soon!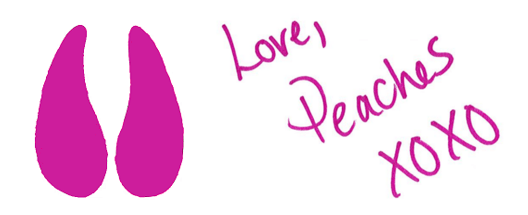 Follow us on Twitter, Facebook, Instagram, and subscribe to our YouTube channel
Looking to get involved? Why not volunteer with us or consider giving a donation?
Don't forget to follow us on social media.