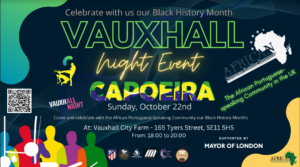 On Sunday, October 22, 2023, join us in celebrating Black History Month with the African Portuguese Speaking Community. At Vauxhall City Farm, we'll be hosting a Capoeira Event and a few more pleasant surprises that will give you an unforgettable experience.
This is a free event.
Date: 22nd October 2023, Sunday
Timings: 6pm – 8pm
Location: Vauxhall City Farm
Do not miss it. Together we are better.