Hello Duckies!
This Newsletter comes to you straight from the VCF pond, where me and my duck friends are residing once more.
Bird flu restrictions lifted earlier this month, which means we got to walk through the farm and back to our watery home. Not only that, but while we were away our friends at CLS Holdings have been in and spruced the place up for us, so quacks off to them for all their hard work!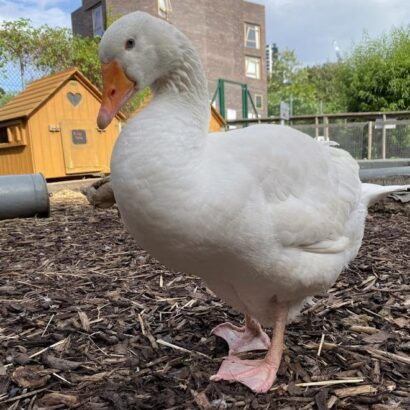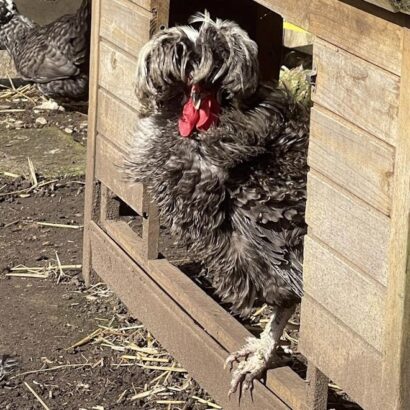 And it's not just us waterfowl who benefit from the bird flu restrictions lifting!
Fresh eggs (including mine) are back on sale via our Welcome Desk, and if you've ever wanted to cuddle a chicken, now's your chance, as VIP Meet & Greets with Justin and co. are back on. Buy your voucher by clicking here, and then call or email the office to book in your experience.
Faith's Place is officially open!

Last Thursday saw the launch party for Faith's Place, a brand new bar at Vauxhall City Farm, and everyone had a quacking time. Officially opened by our Chairman, the eponymous Faith Boardman, Faith's Place offers a drinking experience like no other. With a beautiful outside terrace, and access to our newly landscaped Community Gardens, enjoy a piece of the countryside in the heart of the city with a relaxing glass of wine or craft beer.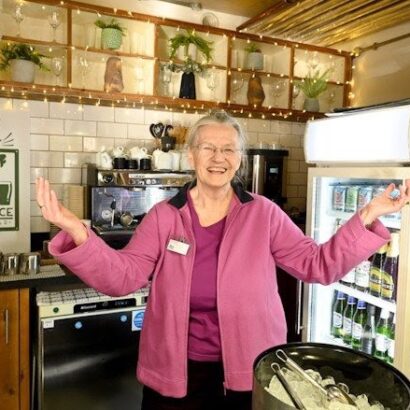 The launch party went with a bang, and we were pleased to welcome so many friends and supporters from the local boroughs and beyond.
Faith's Place will be open Thursday, Friday and Saturday from 6pm – 11pm, and us ducks will be staying up later than usual to make sure you get a bit of livestock with your liquor. If that's not enough to entice you, then our team have got a host of exciting events and offers are sure to make it hard to stay away.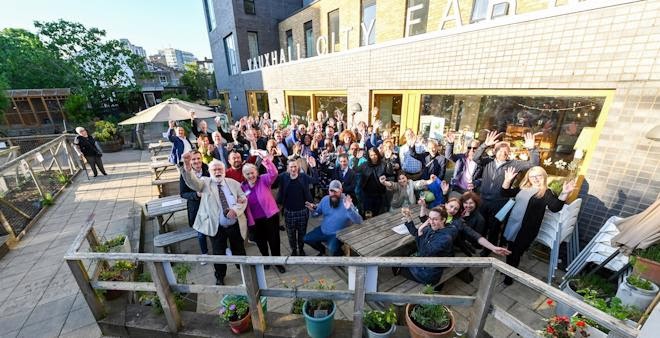 The Sir Peter O'Sullevan Stable
Thursday also saw the unveiling of a plaque marking the Sir Peter O'Sullevan Stable at Vauxhall City Farm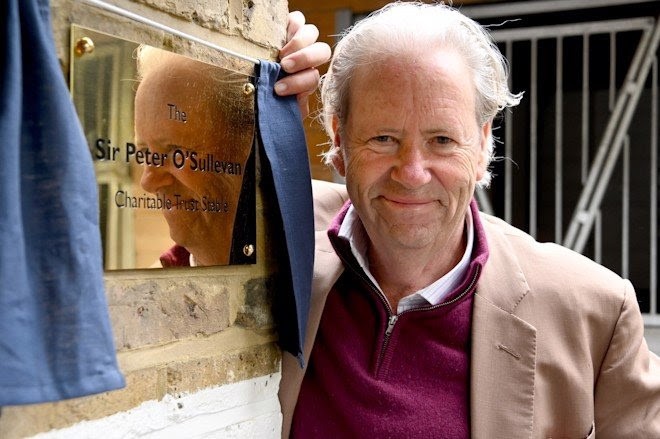 We're thrilled to have been awarded funding from the Sir Peter O'Sullevan Charitable Trust towards our riding project, and incredibly proud to unveil this plaque in his honour.
One of the Peter O'Sullevan trustees, Geoffrey Hughes, was onsite to unveil the plaque alongside our own trustee, Alison Ewen. Geoffrey was then kind enough to join the team afterward for a celebratory drink at Faith's Place.
Now that the landscape gardeners have finished in our Community Garden, we need all hands on deck to make sure those plant beds stay ship shape. We're pleased to welcome our new Gardener, Sara Milne who'll be keeping an eye on things and making sure both garden and gardeners are taken care of. If you'd like to give Sara a hand, there are a couple of ways you can get involved:
If your company is looking for a fun away day and a chance to give back to the community, why not come along for a day of Corporate Volunteering? Click here for more information.
Or if you're an individual keen to get your fingers green on a regular basis, you can apply via our Volunteer Programme by clicking here.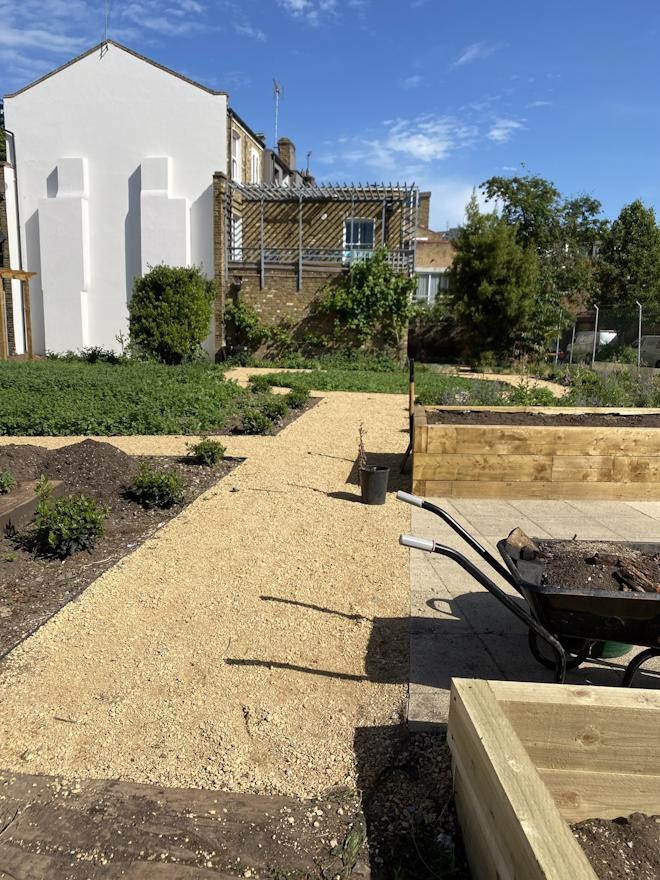 Vauxhall City Farm returns to Lambeth Country Show!
After a two-year break, Vauxhall City Farm is back at Lambeth Country Show! We're packing up the farm and setting up in Brockwell Park for the weekend of 16th & 17th July, and we need volunteers to help make it happen!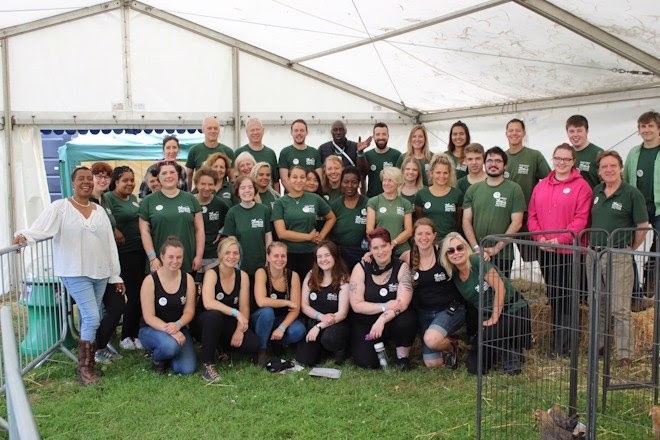 Not only will we need people on both the Friday and Monday to pack up and down, but we need plenty of people throughout the weekend to help run all the activities that will be taking place. We're looking for both individual and corporate volunteers, so if you're interested, please contact volunteering@vauxhallcityfarm.org to register your interest.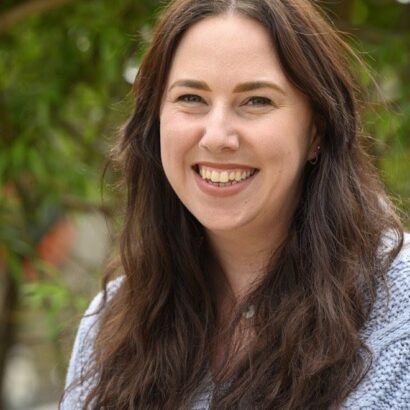 Sophie Connolly joins us as Education & Partnership Manager and will be your go to for all things Education, including workshops, school groups and tours.
She will be leading on bookings for our Sustainability: How to Save the Planet workshops, so if your school or group is interested in learning about the environment, and how they can make better ecological choices and become more environmentally friendly, then click here for more information.
If you need to contact Sophie, please email: education@vauxhallcityfarm.org
Giusy Aprile joins as the new PA to our CEO and Administrator.
Giusy is a keen traveller, who has previously worked in several NGOs, with a particular focus on disabilities and vulnerable groups. She'll be handling our onsite bookings, so if you have a query about Room Hire, Birthday Parties or Corporate Volunteering, get in touch with Giusy today: info@vauxhallcityfarm.org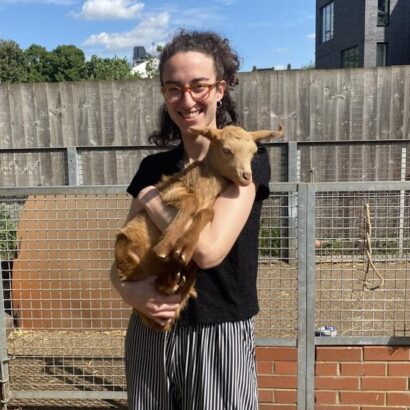 Those who have visited recently, or seen our social media, will know that we have also welcomed five goat kids to the farm this year. Allow me to formerly introduce: Mickey, Elsa, Ana, Belle, and Finn. You can visit the kids, and the rest of the animals here at Vauxhall City Farm, every Tuesday – Sunday from 10.30am to 4pm.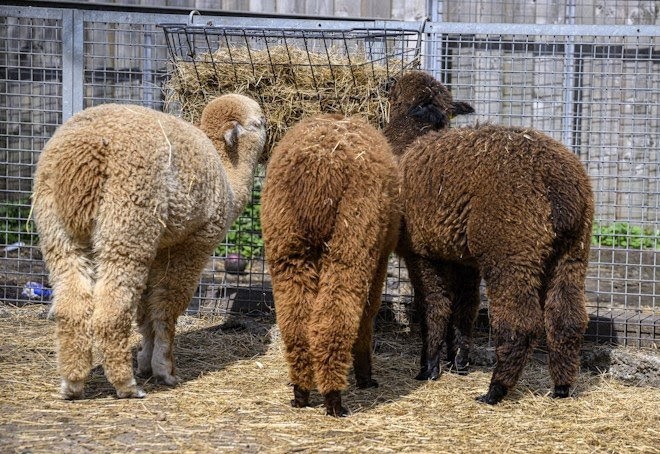 It hasn't escaped our notice that the alpacas are three of the most popular animals on the farm, so we know you'll be delighted to hear that Cookie, Rolo and Toffee are ready for Meet & Greets! Experiences will be available on a limited basis at first while they get used to hobnobbing with their public, and as they are still a little nervous, there is an age limit of 10+.
If you can't wait to associate with our alpacas, buy your voucher here, then call or email the office to book in your experience. Vouchers are valid for one year, so don't worry if you can't get the first time you request!
If that's not alpaca enough for you, then we also offer Alpaca Adoptions, which are a great way to support the farm, either as a gift or a treat for yourself. Click here for more information.
The Vauxhall City Farm Appeal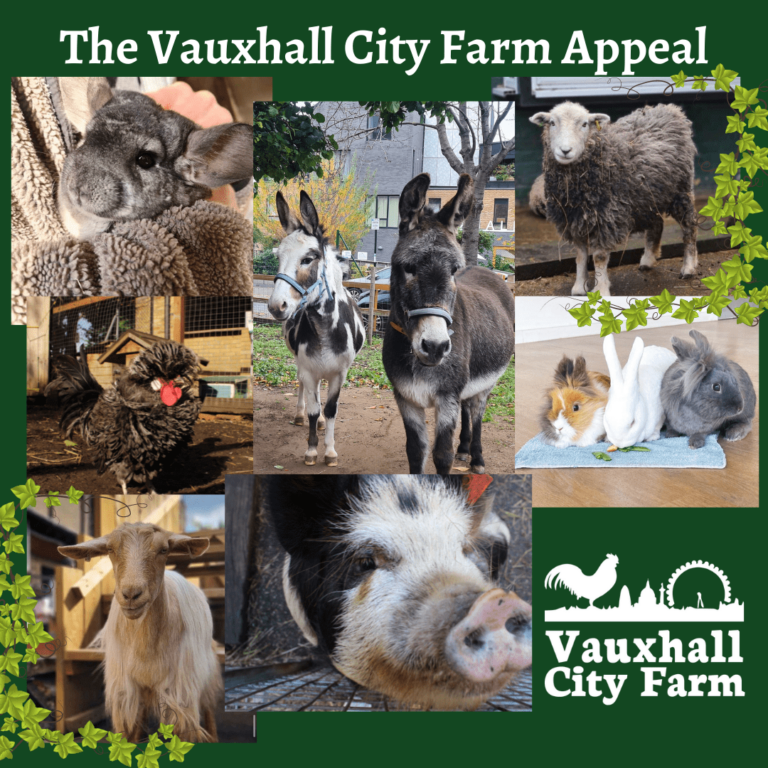 Thank you to everyone who has donated to our new appeal so far! We would not be where we are today without the generosity of our visitors and supporters. If you are able to donate, please click here to visit our Go Fund Me page.
The farm costs £60,000 a month to run, and with our growing brood of animals, and the price of electricity and gas rising, this is only going to increase.
All the animals at VCF are our tool for educating children and young people, and equipping them with the skills needed for work and life.
The farm itself is a vital green space in one of London's most built up areas. We want to encourage not just children, but the whole local community, to visit the farm and learn about nature, animals, and the food growing process. We want people to experience the outdoors and being active outside, and to enjoy the physical and mental wellbeing that brings.
On Sunday 23rd April, George Ewen ran a marathon for VCF! Not only did he run all of 26 miles, but he also smashed his fundraising target and raised £2340.08! We cannot thank him enough for all his hard work and generosity.
If you're interested in fundraising for VCF, we'd love to hear from you! Please email info@vauxhallcityfarm.org and let us know what you're planning.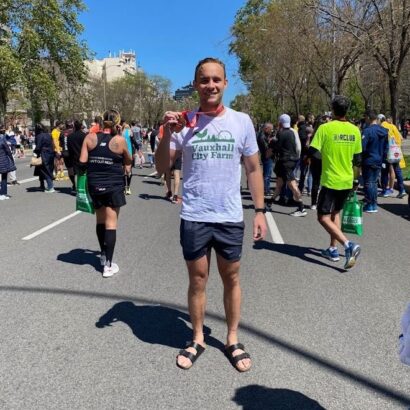 Which brings me to the end of the May Newsletter!
Make sure you're following us on Social Media at the links below, to keep up to date with all the goings on at Vauxhall City Farm.
We hope to see you down by the pond soon, either during the day or on Thursday, Friday or Saturday evenings from 6pm.
Don't forget we have two Rooms available for Hire, offer fun Corporate Challenges which can be tailored to your group requirements, and have Birthday Party packages for your child's special day. We also have a delicious catering menu, which is available on request. If you have any questions about these or anything else, do not hesitate to contact us: info@vauxhallcityfarm.org.
We hope you have a quacking rest of the month, and the newsletter will be back with you in June.
Waffle
X