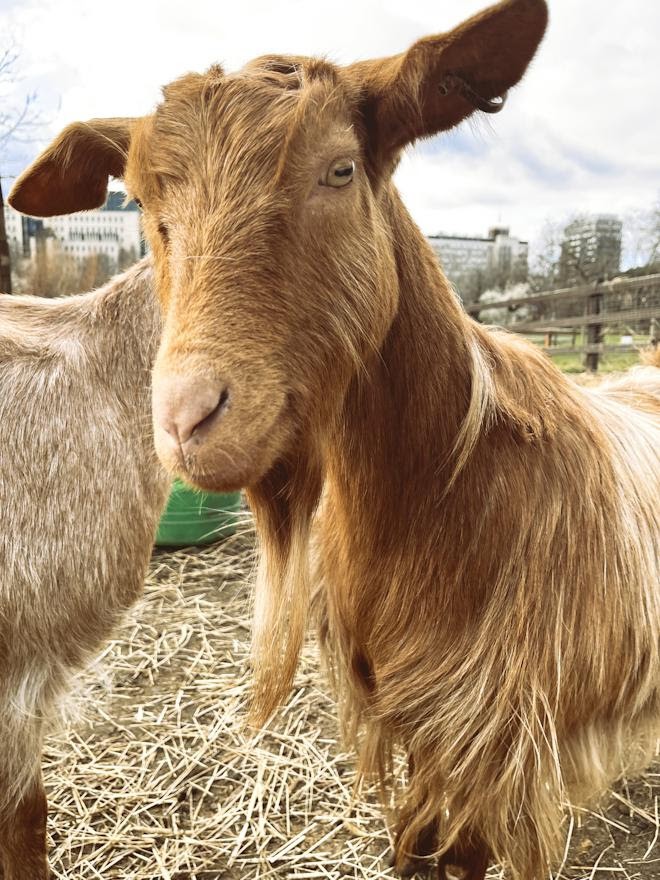 It's cold in the paddock as I write this, but when I look across the farm, I see the daffodils breaking through the frozen soil beneath my hooves and uncurling their hopeful, yellow flowers, which can only mean one thing: spring is on the way. This is good news for Vauxhall City Farm, as warmer weather means more visitors, and plenty of grass nuts for me and my girly goat gang.
Warmer weather also means more mobile farms when we animals get to travel and see new faces and places and get even more grass nuts! Soon we'll be enjoying light mornings and long, easy evenings, but before we get there, here is everything happening at Vauxhall City Farm this March.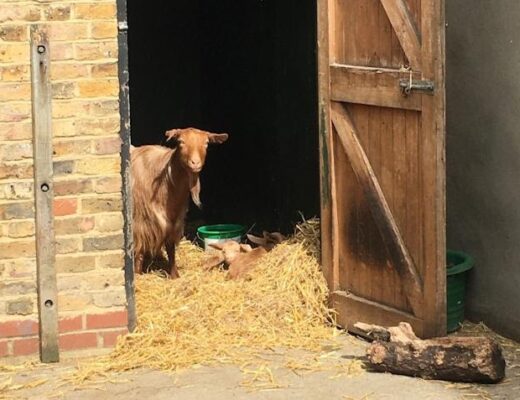 As a mum, there's one date I always mark on the calendar in our stable, and that's Mothers' Day. This years' is fast approaching on Sunday 19th March, and if you've yet to buy a gift for the person you're celebrating, then Vauxhall City Farm can help. From fabulous merchandise in our gift shop, to VIP Meet & Greet and Farmer for a Day experiences, to our Animal Adoptions, we're sure you can find the right gift at VCF.
Every purchase supports our work and helps fund our educational programmes throughout the year. Don't forget that the Old Dairy Café is fully licensed, so you can enjoy a glass of fizz, a craft beer, or a warming coffee alongside one of our tasty cakes or pastries during your visit.
For more information on Animal Experiences, please click here.
For details on our Animal Adoption packages, including our digital bundles which come with a VIP Meet & Greet experience, please click here.
The pitter-patter of tiny hooves
It won't just be our visitors celebrating this Mothers' Day, as Bambi, Poppy, Petal, and I are pleased to announce that we're expecting! Back in December, the four of us took a trip to Mudchute Farm to spend some time with their billy goats and rams, and a good time was had by all. Our kids and lambs are due to join us in mid to late April, so keep an eye on our website and social media for more news on their imminent arrival.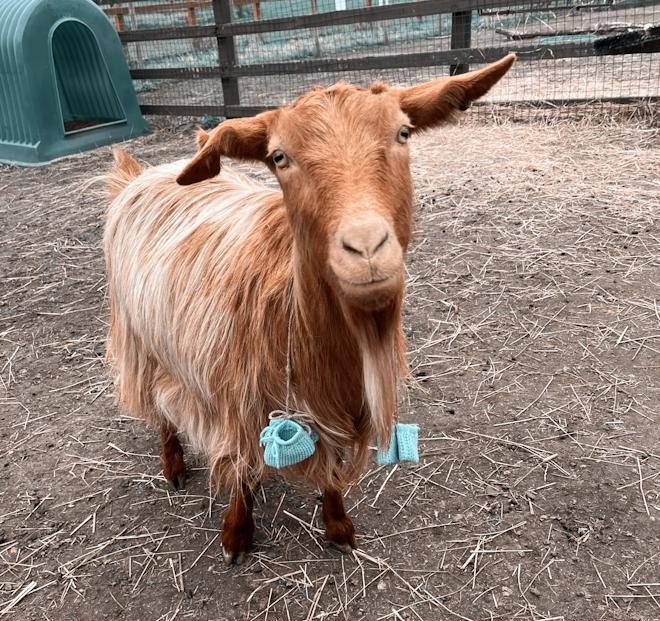 The clip-clop of massive hooves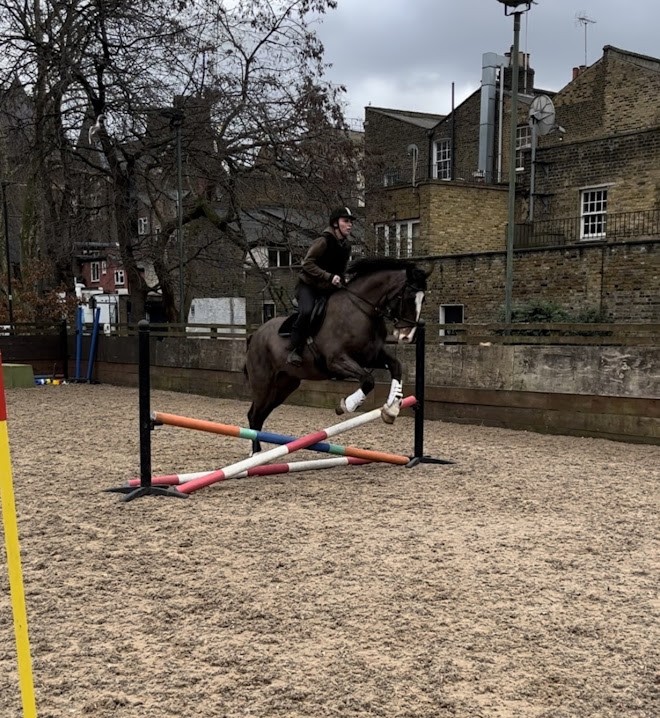 Our latest six-week block of riding lessons is off to a galloping start, with all weekend beginner lessons now booked until Sunday 2nd April. We still have availability for advanced adult riders on Saturday afternoons and weekday evenings. For our full schedule, and details on how to book, please click here to visit our website.
All riders must complete a Rider Registration form before we can book them onto a lesson. Please click here to download the Rider Registration form.
Our next six-week block of lessons runs from Monday 3rd April until Sunday 14th May 2023, and will open for booking on Monday 20th March 2023. Please keep an eye on our social media for any updates on lesson schedules or availability.
We're hiring! If you are interested in joining the VCF Riding School, we're currently recruiting an experienced groom to look after our horses and assist with riding lessons. If this sounds like it could be you, please click here to visit our website and download the job pack. If you have any questions, please contact our riding team directly: riding@vauxhallcityfarm.org.
Everybody needs GOAT neighbours!
Over the last few weeks, we've been lucky enough to have Corporate Volunteers from Berkeley Homes on site, who've really helped us out, especially over the busy half term week. From greeting visitors on our front desk, running our popular Cuddle Corner, taking care of the never ending sweeping, and making sure us goats get those grass nuts, it's made a huge difference to VCF to have them on site, so a massive thank you to our Berkeley neighbours!
If your team are looking for ways to give back to the community and improve staff well-being, then please get in touch to find out more about Corporate Volunteering at Vauxhall City Farm. Please click here to visit our website, or click here to be taken directly to our enquiry form.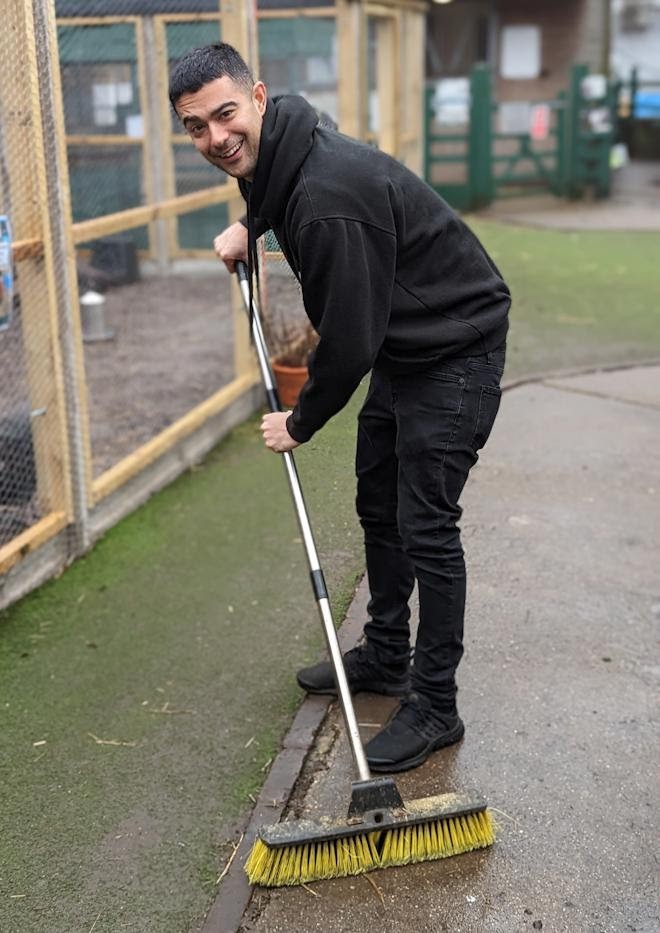 If you are interested in volunteering on a more regular basis, please click here to visit our website and find out more about individual volunteering at Vauxhall City Farm.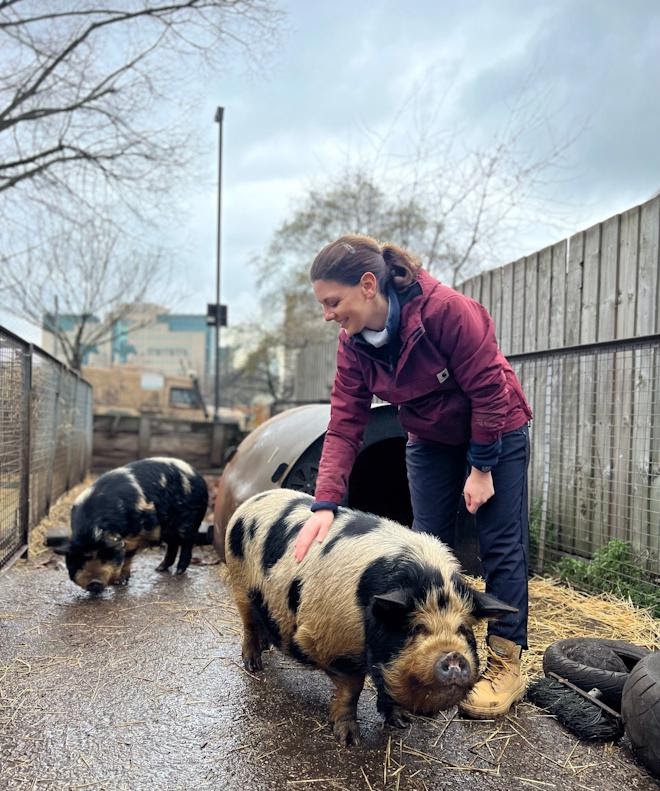 We have two purpose-built meeting rooms onsite, so if you need a space for your meeting or away day, Vauxhall City Farm can help! We can provide refreshments throughout the day, including nourishing lunches prepared by our Old Dairy Café, and have flip charts and a projector available to hire. And if you fancy a reward for all your hard work, then we're fully licensed and can provide a selection of alcoholic beverages to toast the end of the day with.
Click here for more information on Room Hire at Vauxhall City Farm.
School groups? We GOAT you covered!
We will soon have some big news from our Education Team, but until then, schools and community groups can find out more about our Workshops and Self-Guided Tours by clicking here, or by contacting the team directly: education@vauxhallcityfarm.org
If you're interested in joining our Education team and helping us to deliver and build upon our educational programmes, then there's still time to apply for our Education Officer Intern vacancy! We are looking to hire as quickly as possible, so if you are interested, please submit your application ASAP. Please click here to find out more and download the job pack.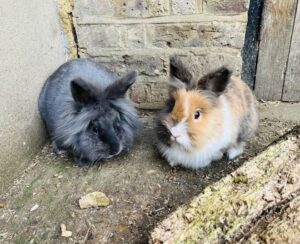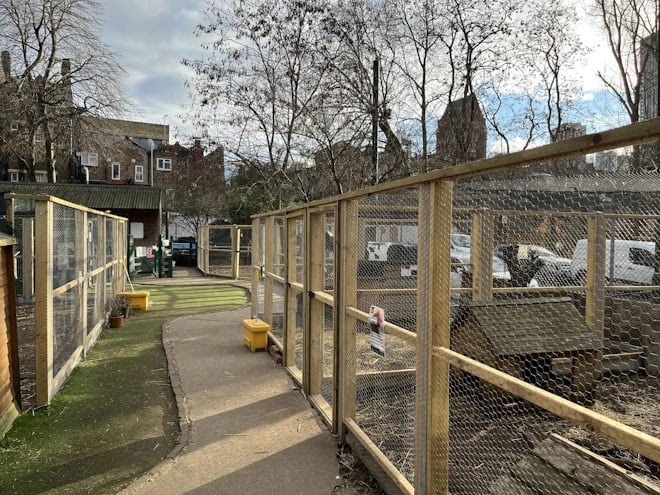 As mentioned in last months newsletter, we're currently upgrading Vauxhall City Farm, and there will be some disruption from building works over the coming weeks. You will already be able to see the progress made on our small animal enclosures, with secure, new homes built for our turkeys and chickens, and the two final pens to be completed this month.
Work will soon begin on the new Entrance Gate by the Duck Pond and Old Dairy Café. Please note that this will mean that this gate is inaccessible for a period of time later this month. During this time visitors will need to use the 'front' gate to enter and exit the farm. We will make sure that all dates and changes that may affect your visit are communicated via our website or social media, so please keep an eye out for further news.
Thank you for your patience while these works are carried out, and we promise it will all be worth it in the end!
Our running costs have increased exponentially over the last few months, and unfortunately, we will be increasing some of our prices next month to help with those costs. The new prices will go into effect on Wednesday 1st April, which means you have just under a month to book at our current prices. If you've been putting off arranging that Children's Party, Corporate Volunteer day or Room Hire, now's the time to do it! Contact our team today or click the links below for more information:
For more information on Birthday Parties at Vauxhall City Farm, click here.
For more information on Corporate Volunteering and Room Hire click here.
With that, Pippa's goatta go!
Now I must leave you, as I have lots to prepare before our tiny, new arrivals next month!
You can find out more about Vauxhall City Farm and all of the services we offer on our website, click here to pay our site a visit.
If you aren't already, please follow us on social media at the links below, so we can keep you up to date on everything happening at Vauxhall City Farm during the month.
The Farmyard and Old Dairy Cafe are open Tuesday to Sunday, from 10.30am until 4pm (last entry at 3.45pm).
For more details on our Riding School, please click here.
Don't forget we have two purpose-built meetings room adjacent to our café, which are perfect for meetings, parties, and events. Please see our website for full details or contact our office team with any questions: info@vauxhallcityfarm.org.