When Simon says 'On Your Step', Vauxhall City Farm says 'Thank you!'
---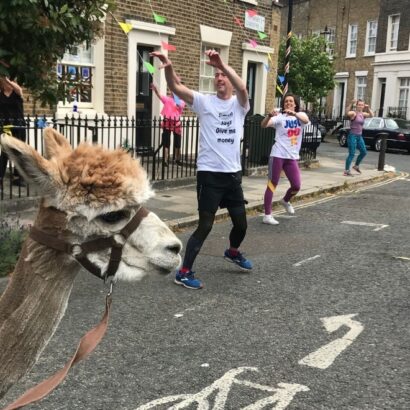 Under the motto 'Crazy Times Call For Kind Actions'  Simon and his housemate Katie brought their South London community together during the lockdown with communal work out sessions twice a week, culminating in a 12 hour doorstep-athon.
The socially distanced marathon aerobics session raised almost £10,000 for charity, as well as making the news as close to home as the Sunday Telegraph and as far away as CNN Brazil!
You can visit the On The Step Instagram account to watch some of the best moments of the day – and in 12 hours, they were almost too many to count! And who knows, you may even spot a familiar face or two. Or three.
Ben, Tom, and Jerry turned up at the event to show their support of the 'steppers' and to say thank you for the amazing efforts these Kennington locals went to, to raise money for Vauxhall City Farm.
Never doubt that a small group of thoughtful, committed citizens can change the world; indeed, it's the only thing that ever has.

Donate to On The Stephttps://t.co/h09S6Qwl9f pic.twitter.com/xKGOANGpyS

— Vauxhall City Farm (@VauxhallFarm) May 23, 2020
Below are some of our favourite photographs of the day, kindly sent to us by Simon himself.