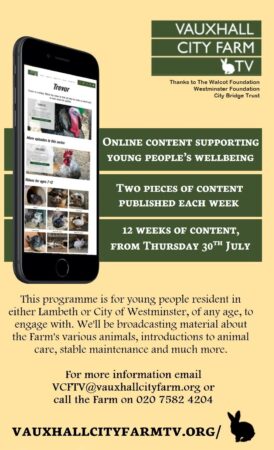 We believe nature has the power to enhance the health and wellbeing of children, families, and communities. We provide a way for people to reconnect in an enjoyable way with food, farming, and the environment.
Covid-19 has had a devastating impact on many people across the country, local communities, and on Vauxhall City Farm.
Although (as of 28 July) we have finally been able to open our doors again to members of the public, we are still unable to offer our popular educational workshops and courses on the farm.
On the farm you can get up close to chickens, ducks, rabbits, guinea pigs, chinchillas, rodents, and turkeys. In our stables and paddocks you'll see ponies, alpacas, goats, sheep, and everyone's favourite – Jenny the pig.
We have created Vauxhall City Farm TV in response to Covid-19 to help connect children and young people with the farm, when they are unable to come and visit, or to come and visit as often as they might like to.
Through Vauxhall City Farm TV you'll be able to meet many of our animals, learn how to care for them, and understand what goes into running the farm on a daily basis.
Your support makes a difference!
£10
Buys 2 bales of hay (Our animals need 150 bales every month)
£20
£50
£100
£500
Every donation made will help us to reach more people with our services…
You may also be interested in...
Submit an enquiry through this form and we will get back to you as soon as possible...