Performing Animals Licence: 19/015 || Name of Licence Applicant: Monica Tyler 
---
Mobile Farms
Mobile farms are a brilliant way to bring our wonderful animals to your site. Whether you're a school, private organisation or charity, we are more than happy to provide support to have Vauxhall City Farm wherever you are.
Please note that we cannot currently bring birds to mobile farms due to a national bird flu outbreak.
Download our mobile farm flyer here, complete a booking form or read on below!
Small Animal Mobile Farm
£475+VAT for 2 hours (min), £55 for each additional hour.
We will bring:  chickens, rabbits and guinea pigs.
Staff and Volunteers will be on hand to let you meet and pet the animals.
Large Animal Mobile Farm
£1000+VAT for 2 hours (min), £55 for each additional hour.
We will bring our small animals, as well our goats and sheep. Staff and Volunteers will be on hand to let you meet the animals.
We will provide…
A range of friendly animals
All animal-related equipment
Removal of all animal waste
Trained and friendly staff
Appropriate risk assessment(s)
£5 million public liability insurance
All we need from you is…
Hand-washing facilities adjacent to our pitch (mobile sinks can be provided for an additional cost of £50)
An outdoor water supply (outside tap nearby or hose)
First Aiders & Fire Marshalls for your event
Adults to supervise any children
On-site parking for our transport
Confirmation of no other livestock present
Shelter for the animals from sun and rain
Please contact us to discuss a booking or, if you're ready to book, download the form here.
Events with tailored elements
Whatever event you're running, Vauxhall City Farm can be a great addition. We offer more than just a petting zoo, we can provide a tailored experience focusing on education for all ages.
Each event is unique so please contact us to discuss your requirements.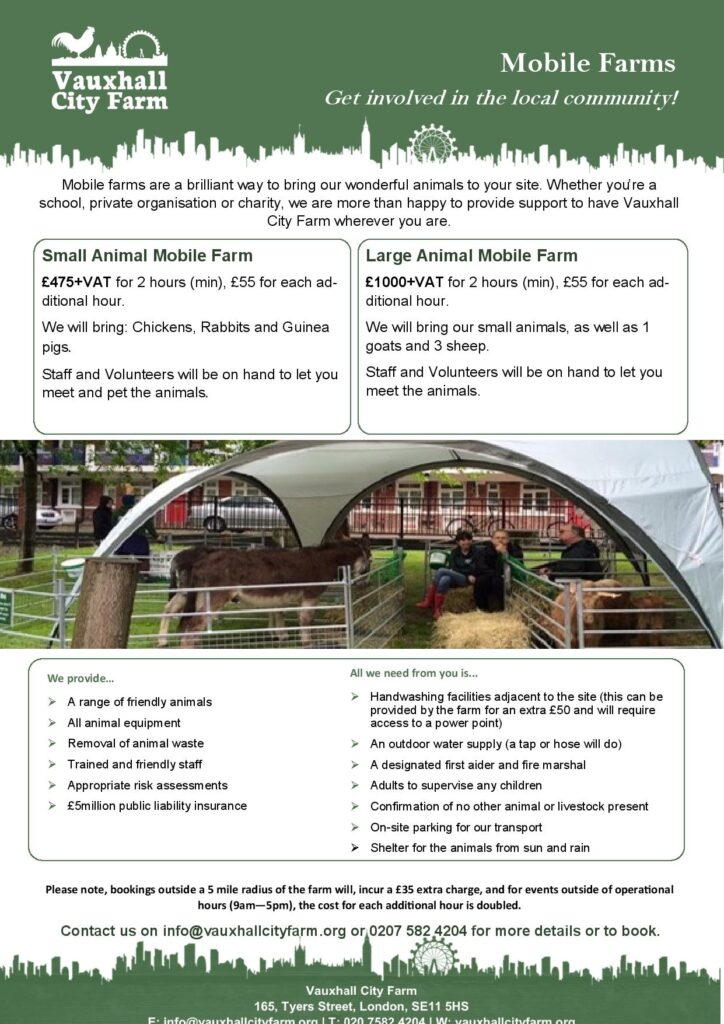 Your support makes a difference!
£10
Buys 2 bales of hay (Our animals need 150 bales every month)
£20
£50
£100
£500
Every donation made will help us to reach more people with our services…
You may also be interested in...
Faith's Place is a unique drinking experience on Thursday, Friday and Saturday evenings at Vauxhall City Farm.
Find out what Vauxhall City Farm has on offer for workplaces and their employees, including our onsite Café and volunteering opportunities.
With extensive experience of on-site & on-set filming, Vauxhall City Farm offers a great location and some highly-trained actors (animals) for projects of all shapes and sizes.