Vauxhall City Farm is the most centrally located farm in London. The farmyard, gardens & cafe are open access spaces and entry is donation based. Groups wanting to visit need to book in advance. We are open Tuesday – Sunday, 10.30am – 3.30pm.
Our vision is a city where people from all communities are empowered to experience nature to enhance their health, well-being, and life chances.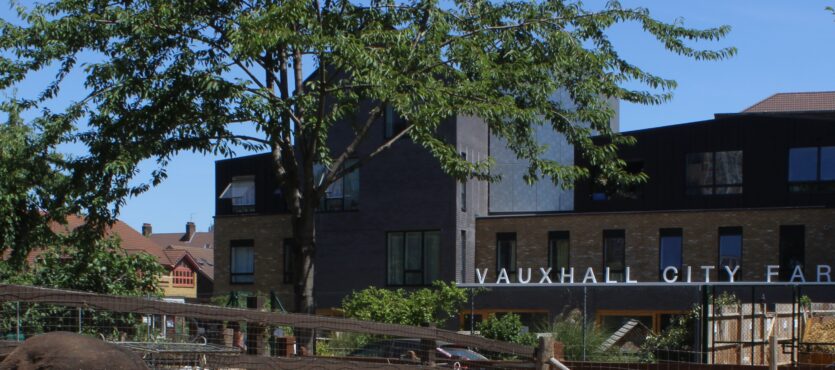 Our mission, therefore, is to use the setting of an urban farm to provide educational, recreational, and therapeutic activities that:
Support disadvantaged and disabled people to boost their confidence and aspirations
Promote emotional, mental, social and physical well-being
Develop environmental awareness and action
Strengthen community cohesion
Create enjoyment for members of the public.
Respect: We value and nurture the contribution of all those we work with, from our farm animals and the environment, to our staff, volunteers, partners and beneficiaries.
Collaboration: We believe consultation, co-production, partnership and teamwork are essential ingredients for sustainable change.
Transformation: We strive to inspire change that will achieve powerful social, environmental and well-being outcomes for communities and people.
Creativity: We take an innovative and resourceful approach to our work which means we are always learning and pushing ourselves to do better.
Inclusivity: We value diversity in everything we do and work hard to ensure different viewpoints are given an equal voice through our projects.
Professionalism: We are a responsible and efficient organisation, with a working culture rooted in sound management, business practice and governance.
Interested in finding out more?
Read about the History of the Farm and Become a Supporter
Your support makes a difference!
£10
Buys 2 bales of hay (Our animals need 150 bales every month)
£20
Will cover the farm's electricity cost for one entire day
£50
Will pay for farrier costs & dental treatments for 1 horse, for 1 month
£100
Will provide food & bedding for all animals on the farm for three weeks…
£500
Will pay for farrier costs & dental treatments for 1 horse, for 1 month
Every donation made will help us to reach more people with our services…
You may also be interested in...
Please click through to access Vauxhall City Farm's Safeguarding Children & Vulnerable Adults Policy