The wisdom of a cat… (June 2020)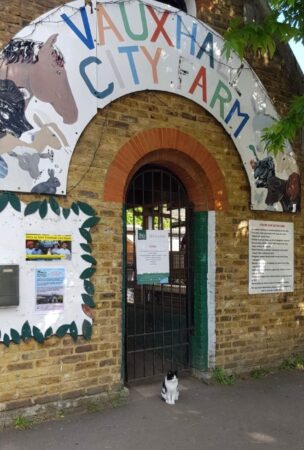 Hello humans,
Jessie here, your friendly neighbourhood security feline, dropping by to find out how everyone is doing.  I hope you are all well!
The government has relaxed lockdown measures across the UK, however a new Statutory Instrument (SI) prevents the reopening of many visitor attractions, and sadly this includes Vauxhall City Farm.
This means another month without visitors, without on-site donations, and without income generated through our bookable services.
Our appeal remains as vital as ever, for as long as our on-site activity is curtailed by the virus.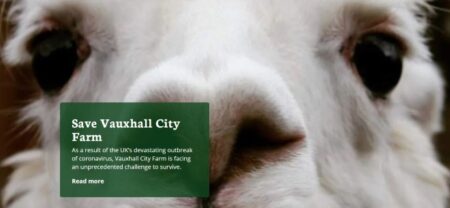 Many of you have already given generously – we'd love it if you could keep on spreading the word, as our success now relies heavily on reaching new audiences.
For those of you who are no longer spending on your commute, or on that flat white from your favourite coffee shop, perhaps you could set up a regular donation to the Farm?
Find out how you can do this, any many other things, on our website.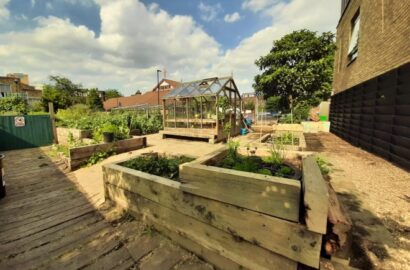 As ever, we are keeping optimistic, and that's best done by keeping busy!
Deep cleans are taking place across the whole farm; the community garden volunteer team is planting up a storm; and social distancing measures are being installed, ready for the reopening of the farm in (hopefully) July, if the next review finds the situation in the UK to be safe enough to do so.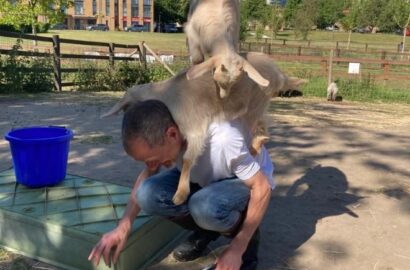 None of this would be possible without our wonderful volunteers.
We are always grateful to the effort, commitment, and care that our volunteers put into the farm and thereby the community. It doesn't take Volunteers' Week for us to say thank you, however why miss a great opportunity to say it louder and more enthusiastically, for all to hear?
THANK YOU VOLUNTEERS
Whether you are currently helping with the animals, the gardens, or the general site; or are patiently waiting for the horses to return; or are self-isolating and keeping up with the farm online; we are grateful to each and every one of our volunteers. Past, present, and future.
As President of the RDA (Riding for the Disabled Association), Princess Anne also extended her thanks for volunteers, with the below letter that we wanted to share with all.
If you would like to join our team of volunteers you can find detailed information on our website.
If you've got a knack for fundraising, are interested in learning how, or happen to be a fundraiser on furlough, get in touch with Natty.
We are also super excited about entering the next phase of our plans for the Community Garden, and need all hands on deck, especially in the coming week. If you are available next Tuesday (9th), Wednesday (10th), and/or Thursday (12th), please contact Hannah.
If you can't make it next week, please don't worry. Get in touch if you want to sign up to volunteer in the near future.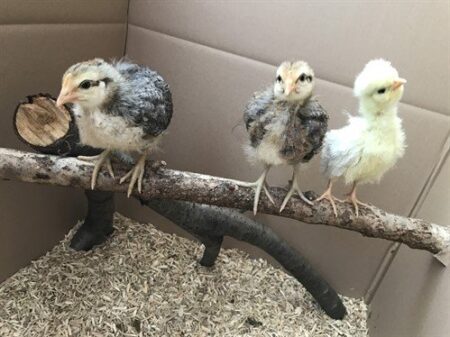 We've all heard of quarantine puppies, but what about quarantine chickens? Head over to our Spotlight Blog to find out what happened when Mia and Amy decided to bring the farm to their house, by rehoming newly hatched chicks.
'For this family, the lockdown really brought home not only the importance of having pets and how therapeutic they can be, but also the possibilities for learning, when raising and caring for animals.'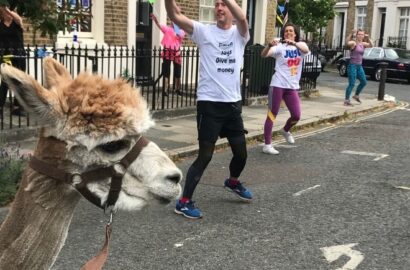 Speaking of bringing the farm to your house…
Tom, Ben, and Jerry were proud to have supported Simon Garner's 12 Hour Step-A-Thon at the end of last month.
Simon and his housemate Katie brought their South London community together during the lockdown with bi-weekly doorstep exercise sessions, culminating in a socially distanced 12 hour marathon that raised almost £10,000 for charity.
Read the full story on our website, which was reported on, in the Sunday Telegraph (below)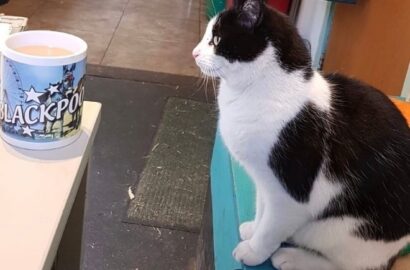 I've imparted all the news I had, I've finished my rounds to make sure the farm is safe, and there are no mice to be seen anywhere.
Job well done, I think!
Having demonstrated what a fur-midable feline I am, I believe it is now time for a sit down, and a purr-fect cup of tea!
Purr-haps I'll be able to get back in touch soon, with news on the farm's re-opening.
Until then, stay safe and look after each other!
Love,
Jessie the Cat