There are many things you expect to see on your morning commute. Announcement boards telling you that all trains are delayed. Queues wrapping around the block for coffee. Crowds of people blocking the tube exit while they finish their cigarettes.
What you surely don't expect to see, is an animal that is numerically rarer than the giant panda.
City farms are one of London's best kept secret. They are little pockets of nature, hidden away down an unexpected side street, under the arches of railway lines or built amongst the remnants of World War 2 bomb sites.
Not only do city farms contain a chance to meet animals you wouldn't expect on your daily commute, but some, including Vauxhall City Farm, are home to many native rare livestock breeds.

One of them is the Golden Guernsey Goat:
Originating, unsurprisingly, from Guernsey, one of the Channel Islands near the French coast, the Golden Guernsey Goat is on the Rare Breed Survival Trust's Watchlist with an estimated 500 – 1000 breeding females. This number however is believed by many to paint a more optimistic picture than is accurate. The last census run by the Golden Guernsey breed society counted a total number of 679 goats, 563 of which were females, less than 500 of which were still of breeding age in 2009.
Though it is safe to say that the breed has faced and survived worse.
The Golden Guernsey was close to extinction back in 1940, when the German army occupied the island of Guernsey during the Second World War.
The Royal Navy blockaded the Channel Islands, leading to drastic food shortages for the German army and any islanders that had not been evacuated previous to the occupation, during the five years the islands were occupied by German soldiers.
German soldiers turned to eating the livestock of the island and it is believed that the Golden Guernsey goat would have gone extinct during this time, had it not been for one islander, Miriam Milbourne, who had been keeping these goats since the late 1930s and decided to hide a small number of her flock from the soldiers.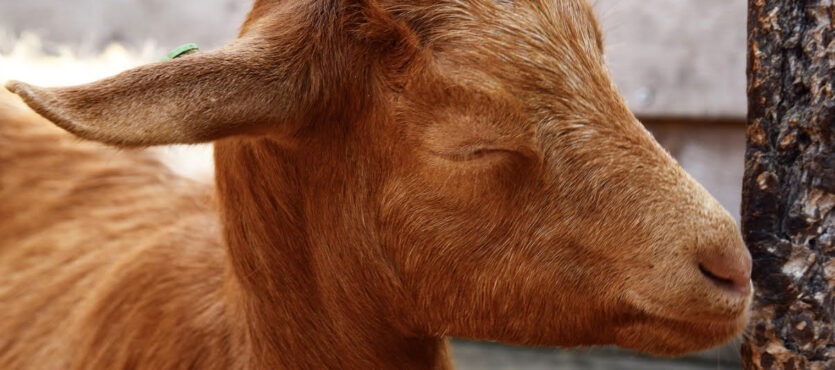 Miriam didn't just ensure the survival of the Golden Guernsey goat during the war, but also started up a breeding programme at the end of the occupation in 1945. She managed to increase her small group to a herd of roughly 30 animals, some of which were then imported to England in 1967, from where the breed spread out across the country.
While the breed has come a long way from hiding away in caves, it still has a long way to go to get itself removed from the Rare Breed Watchlist.
City farms, such as Vauxhall City Farm, are trying to do their part not only in breeding these animals to increase their overall numbers, but also in educating the public about rare native breeds and their importance to the agricultural industry of Britain.
Golden Guernsey's are raised for milk, but have become rare due to not yielding as much milk as some of the larger dairy breeds. Due to their size they are also not kept for meat, making them superfluous in a profit driven industry.
However their smaller size makes them an ideal goat for small holders, as they require less grazing to produce enough milk for a whole family all year round, and their docile temperament makes them an ideal family pet.
As anyone who has ever visited Vauxhall City Farm will know, Golden Guernsey goats are incredibly affectionate. Fred & Barney, the farm's two males, are always the first to greet visitors to the farm, with the females not far behind.
Vauxhall City Farm is proud to announce that Pebbles, a registered breeding female, gave birth to a healthy baby girl at the beginning of March 2019, and Belle, a registered kid from Spring 2018 will be ready to breed this coming winter, with kids expected in Spring 2020.
We hope you will join Vauxhall City Farm in celebrating the Guernsey arrivals and support them in their endeavours to do their small part to help these goats move off the rare breeds list of native animals.