As part of Lambeth Made's 'Create Your Future' Summer Programme we are delighted to announce Vauxhall City Farm's 'Future in Farming'.
The Lambeth Made 'Create Your Future' Summer Programme is designed to provide young people aged 16-19 (up to 25 with additional needs) living in Lambeth with a positive experience of learning a new skill, meeting new people and developing a positive mindset to enable you to move forward into employment, training or gaining a qualification.
Vauxhall City Farm's 'Future in Farming' employability programme will equip you with valuable skills in animal care along with an accredited Animal First Aid qualification. You will be able to work hands on with our animals on the Farm and learn how to care for them and give you a taste of what a career working with animals can entail.
You will also learn valuable skills for the workplace and increase your confidence and motivation.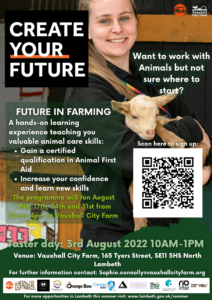 The programme will take place at Vauxhall City Farm, 165 Tyers Street, SE11 5HS on the following dates from 10am-4pm:
August 10th, 17th, 24th and 31st.
A Taster Day will be held in advance on the programme on August 3rd from 10am-1pm, you must attend the Taster Day to secure your place on the course.
If you would like to apply for a place, please fill in the Google Form below:
https://forms.gle/HEnmTDBcRogs6N8P8
Any questions please email our Education and Partnerships Manager, sophie.connolly@vauxhallcityfarm.org.