During our Land to Lunchbox workshop you will discover where our food comes from and how different food types make their journey from the earth, seas and trees, to be part of our balanced diet.
Have you ever looked at your meal and thought about all the countries which are represented on your plate? The topic of food production is covered throughout the curriculum, and where better to learn about it than at the farm, where we have food growing on our site most of the year!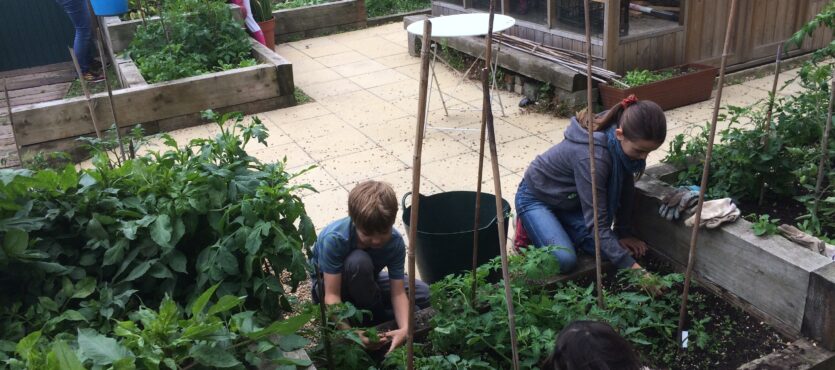 With younger children we will establish the connection between common food items and where they come from and with older children we will have a look at our food choices and how our choices affect our bodies, the food chain and the environment around us.
Why not try your green fingers with one of our practical activities. From planting out seeds, to having a go as a farmer, tending to the fruit and vegetables growing throughout the allotment and greenhouse spaces, you will see how the process of food growing begins. Or perhaps you will be a baker, creating flatbreads from flour produced by the land we live on. Activities can vary based on the age and ability of the group and in which food growing season you visit us and we will discuss availability before your visit.
Contact us to book this workshop now!
---
Learn about our other workshops, other things we do for Schools & Groups or find out what else we offer!
Your support makes a difference!
£10
Buys 2 bales of hay (Our animals need 150 bales every month)
£20
Will cover the farm's electricity cost for one entire day
£50
Will pay for farrier costs & dental treatments for 1 horse, for 1 month
£100
Will provide food & bedding for all animals on the farm for three weeks…
£500
Will pay for farrier costs & dental treatments for 1 horse, for 1 month
Every donation made will help us to reach more people with our services…
You may also be interested in...
The Farm will re-open on Thursday 3rd December 2020. Read on for details, and info on Christmas and New Year closure.
Whether you're looking to book a workshop, sign up for one of our development programmes, want to become a volunteer, book a riding lesson or just want to say hello, we'd love to hear from you!