Cuddle Corner is a great way for us to let farm visitors meet some of our smaller animals up close and personal, in a way that they are not able to, when the animals are in their enclosures.
We set up a series of straw bales, with staff and volunteers, with the farm's smaller animals on their laps or sitting next to them. Visitors can go and sit and interact with the animals in a ten minute session, ask questions about them, and reap the benefits of spending time with animals.
It was so relaxing and such a nice break from the city, where we don't often get the occasion to cuddle with cute pets! All the animals look well-cared for and the volunteers are very friendly, helpful and completely mad in love with the animals they care for. — Lena, Facebook review
We run Cuddle Corner every Saturday while the weather is warm, and during the holidays. Please check our What's On page to find out if Cuddle Corner will be on offer during the upcoming holidays.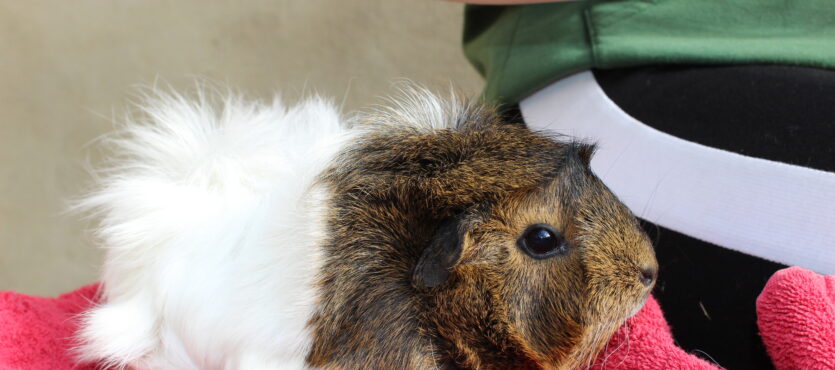 Please be aware that Cuddle Corner may close for lunch (normally between 1pm and 2pm), and may not run if it is too cold or raining.
Your support makes a difference!
£10
Buys 2 bales of hay (Our animals need 150 bales every month)
£20
Will cover the farm's electricity cost for one entire day
£50
Will pay for farrier costs & dental treatments for 1 horse, for 1 month
£100
Will provide food & bedding for all animals on the farm for three weeks…
£500
Will pay for farrier costs & dental treatments for 1 horse, for 1 month
Every donation made will help us to reach more people with our services…
You may also be interested in...
The Farm will re-open on Thursday 3rd December 2020. Read on for details, and info on Christmas and New Year closure.
Whether you're looking to book a workshop, sign up for one of our development programmes, want to become a volunteer, book a riding lesson or just want to say hello, we'd love to hear from you!