Blackstone Charitable Foundation awards Vauxhall City Farm with $25,000 as a part of Blackstone's BX Gives Back Challenge
Vauxhall City Farm received $25,000 from the Blackstone Charitable Foundation as a part of Blackstone's BX Gives Back Challenge. The challenge, hosted by Blackstone Charitable Foundation, invited Blackstone employees to submit proposals to award grants to the charities of their choice.
With this grant, Vauxhall City Farm will empower disadvantaged young people to unlock their potential through personal development programs, educational workshop programs, and equine therapy.
The Blackstone Charitable Foundation received over 173 applications from 251 employees in every business group across almost every global office. Ultimately the group was narrowed down to 10 finalists. On November 21st, Blackstone President and Chief Operating Officer, Jon Gray and Blackstone Charitable Foundation Executive Director Amy Stursberg announced this year's BX Gives Back Challenge winners, including Vauxhall City Farm.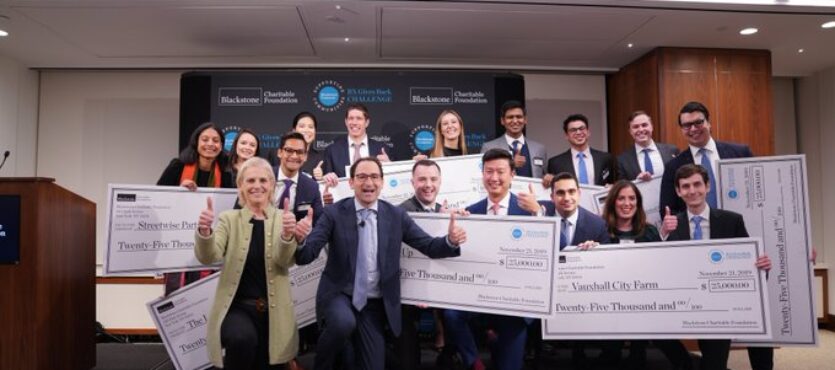 Photo Credit: Blackstone
In total the Blackstone Charitable Foundation granted $625,000 to ten charitable organizations around the world. The full list of the winning organizations is below:
$100,000 awards:
• Chara Seow and Paige Muggeridge in Real Estate (Sydney) | Good360
• Daniel Goldberg in Real Estate (NY) | Getting Out & Staying Out (GOSO)
• Stephanie McGowan in Real Estate (NY) | Part of the Solution (POTS)
• Vinay Subramanian and Sarthak Daga in Private Equity (Mumbai) | Magic Bus
• Will Bonds in Blackstone Energy Partners (NY) | Court Appointed Special Advocates (CASA)
$25,000 awards:
• Maya Pochiraju with Blackstone Innovations (NY) | Streetwise
• Faiz Osman with Blackstone Alternative Asset Management (NY) | The LGBT Center
• Stefan Bulic in Blackstone Alternative Asset Management (NY) | Qualitas of Life
• Chris Park in GSO and Connor DeLaney in Private Wealth Solutions (NY) | SuitUp
• Maxim Stolyarov, Jad El Ajaltouni and Sara Crowe in Private Equity (London) | Vauxhall City Farm
About Blackstone Charitable Foundation
The Blackstone Charitable Foundation was founded at the time of Blackstone's initial public offering in 2007 with substantial commitments from the Firm's employees. Influenced by the enterprising heritage of the firm and its founders, The Blackstone Charitable Foundation is directing its resources and applying the intellectual capital of the firm to foster entrepreneurship. Through its investment expertise across several asset classes and geographies, Blackstone has a unique perspective on the global economy and a heightened understanding of how entrepreneurial activity is often the crucial catalyst in the growth of successful businesses, industries and communities.