Kay, a native of West Point, Virginia, spent most of her career in an advertising agency, before starting her own recruiting business a few years ago, which freed up some of her time, to do more drawing and painting.
 "After earning a BA in Art History and Studio Art from Hollins College, I began my career as a graphic designer. In 1990, I joined The Martin Agency as a studio artist, and a year later, made the unusual leap from creative to account management."
After ten years working on a variety of accounts, Kay – "a terminal Anglophile" she says – realized a long-held dream of relocating to London, when a private patron commissioned her to paint the native trees of Britain in fruit and in flower. It was during this time in England that she began to draw rabbits (another obsession) at a city farm, as a break from botanicals. A client who purchased some rabbit drawings in pencil asked if Kay might draw her aging Dalmatian. And so a new focus of dog portraits began.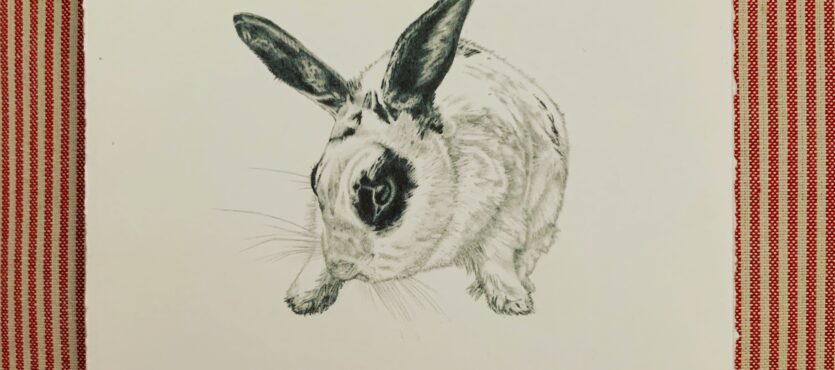 Kay's process is to observe and extensively photograph the animal. The pose is key, carefully selected to convey personality and unique traits. A dog portrait takes between 25 and 35 hours to complete. Rabbits pictured here take around half that time. Her work in pencil is small, finely rendered and meticulous, reflecting the style and detail of her botanical illustrations.
In 2001 Kay lived in Kennington, which is when she discovered Vauxhall City Farm. "I am obsessed with rabbits." Kay tells us. "Vauxhall City Farm's rabbits charmed me."
"From 2001 to 2003, I took tons of photos of rabbits on the farm and have used those recently to create new drawings."
Kay uses pencils on Arches hot-pressed paper and more of her work can be found on her Instagram: @kaylawsondrawings