Vauxhall City Farm and HAC Therapies are excited to host a Painted Horse Muscle and Movement Demonstration!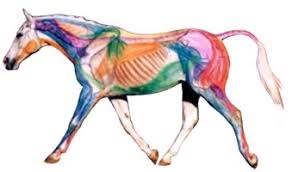 This is aimed at anyone 16 years + who is interested in learning more about horse anatomy, muscles and movement.
You will also get the opportunity to participate in creating your own painted horse!
Helen Creasy from HAC Therapies – for horse, human and hound – will be our host. Helen is a Chartered Physiotherapist, Holistic Equine Massage Practitioner and Canine Massage Merishia Therapist. She currently treats our ponies at Vauxhall City Farm and offers a variety of treatments and specialist techniques e.g. myofascial release; Swedish, sports, remedial and healing massage; soft tissue/vertebral/joint mobilisation, kinesio-taping and facilitated stretches.
Sunday 28th April 2019, 11am – 1pm
Tickets are £20 per person, maximum 15 spaces are available.
Please contact us if the event is sold out, and you would like to be added to a waiting list for future demonstrations.
Please arrive at the farm for 10.45am to allow for a prompt start at 11am in the outdoor riding arena.
Please direct technical questions to Helen directly.