On Friday 3rd June, local author and illustrator, Michelle Stewart, will be reading from her children's book, Leroy & the Chickens, as part of Jubilee Week at Vauxhall City Farm.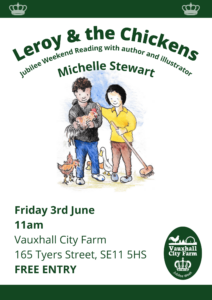 Featuring some of our feathered and fluffy residents, Leroy & the Chickens is a charming tale of a boy finding joy through the animals of Vauxhall City Farm and is suitable for children up to 6 years old.
The reading will start at 11am in our Front Room, next to The Old Dairy Café and finish at 12.30pm. This is a relaxed, drop in event, and Michelle will read through the book more than once, so don't worry if you miss the beginning!
The book will be available to buy on the day, and Michelle will be on hand with her pen to sign your copies.
Entry to the event is FREE, with no need to book in advance.
If you have any questions about the event, please drop us a line: info@vauxhallcityfarm.org.
Leroy & the Chickens is available to buy in our café/ gift shop and our Welcome Desk at the entrance to the farm.
Jubilee Reading of Leroy & the Chickens, with Michelle Stewart – Friday 3rd June 2022 at 11am – 12.30pm.