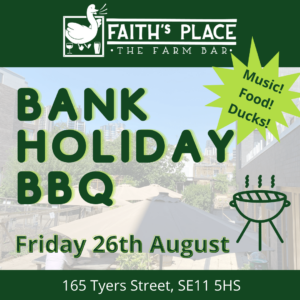 We couldn't let summer pass us by without hosting a BBQ in our very own Farm Bar, Faith's Place!
Join us on Friday 26th August to get the long weekend started with burgers, booze and music till 11pm.
Buy your ticket now to avoid disappointment – each ticket includes one burger* and fries, plus a drink**
The BBQ will run between 6pm – 9pm, with last orders for drinks at 10pm, and doors at 11pm.
Questions? Please call our office on 0207 582 4204, or email: faithsplace@vauxhallcityfarm.org
(*meat or vegan burgers available, add cheese at no extra cost)
(**choose between a can of soft drink OR a small glass of wine OR a can of Brixton Brewery beer OR a can from our East London Liquor range)
To redeem your ticket:
Your order confirmation email can be used as proof of purchase, and exchanged for one burger, fries and drink per person at the Faith's Place Bank Holiday BBQ, on Friday 26th August 2022 between 6pm and 9pm only. Your ticket cannot be redeemed at any other time.