We will be holding a festive weekend of Christmas fun on Saturday the 1st and Sunday the 2nd of December.
All activities will take place in our cafe space from 11am to 3.30pm on both Saturday & Sunday (1st & 2nd December)
Come and meet Santa! (£3)
This is your chance to meet Santa, ask him questions about his reindeer, give him your Christmas letters and get a small farm themed gift! What's not to love!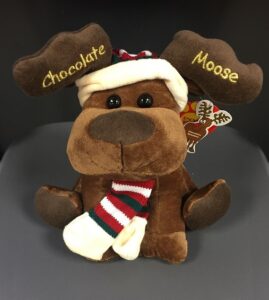 Name the Reindeer (£0.50)
This little reindeer is looking for a new home, but most importantly, a name! Give him a name and maybe, at the end of the weekend, you will be the lucky person who gets to have the chocolate Moose for Christmas!
Mystery Stocking (Child, £5 for 5 presents)
Do you enjoy surprises? Who doesn't! Especially at Christmas, when you are all sitting around the tree, opening presents. If you purchase a Mystery Stocking this weekend, you will receive 5 farm themed presents, which will be a surprise for everyone, come Christmas Day!
Mystery Present (Adult, £10 for 3 presents)
Surprises aren't just for children! Do you have friends who you find it impossible to buy presents for? Yeah, so do we! Why not get them a Mystery Present from the farm? This takes all the stress out of gift shopping because they won't know what it is, and neither will you, and everyone will be surprised and delighted come Christmas Day!
Christmas Crafts (£1 per activity)
We will be running a wide range of Christmas themed craft activities for all ages, ranging from painting and decorating simple wooden ornaments and colour in Christmas cards for the little ones, to craft with a bit of assembly required, such as Robin baubles, Santa & Reindeer jump ups and a variety of put together tree ornaments, ranging from owls all the way to sausage dogs. Because nothing says Christmas like a sausage dog, right?
Donation Car Boot Sale (Donation based)
We will also be holding a little car boot sale, where every item will be donation based. So come and check it out, as you never know what you might find!