We love our animals and it would be very easy to dismiss VCF as simply being 'a cute place to visit' and 'all about the animals'' Behind the public face, the reality is that our animals, whilst much loved, are essentially a vehicle for education and change; the animals feature in many of our programmes and are key to helping our staff and volunteers engage with and deliver positive impacts for both individual beneficiaries and groups from our wider community.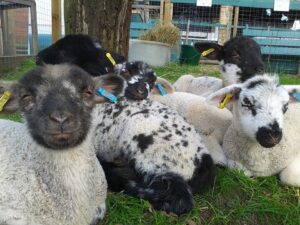 We are very skilled at ensuring our animals are looked after and stay healthy. However, just as with people, sometimes we can't prevent them from getting ill or having accidents.
Find out more about our veterinary costs and how you can help!
It roughly costs us £350 a month to look after our animal's health.
This is made up out of routine health care such as paying the farrier to ensure our equine's feet are cared for, as well as preventative measures such as annual vaccination.
Below is a breakdown of the cost of some of the things we pay for, to look after our animals and ensure that they are healthy and happy.
---
A donation of £100 a year covers vaccinations for most of our goats, sheep and alpacas!
All our livestock is vaccinated annually, with double vaccinations for new born animals. A bottle of vaccination costs around £25 and we go through roughly 4 of these a year. More, if we buy in new animals, whose vaccination status isn't up to date.  
A donation of £200 a year ensures our small animals are healthy and looking stylish!
All our small furries are health checked on a regular basis, and we preform simple welfare things such as clipping their nails, ensuring their teeth are healthy, looking after their coats and flea treating them, if necessary. A course of flea treatment for one animal costs around £20, new nail clippers cost are between £5 and £10, and brushes for all different type of fur are between £5 and £20. They are all small costs, but they sure add up, when you are looking after half a dozen rabbits and a dozen guinea pigs, as well as ferrets and chinchillas.
A donation of £300 a year ensures our poultry and waterfowl are less likely to need to brave the trip to the vet!
Our poultry and waterfowl don't get ill very often, but when they do, they can be some of the most complicated animals to get veterinary care for, as not many small animal veterinary practices know how to deal with large birds and not many farm veterinary practices will do call outs, for a chicken. So we work the hardest to ensure that we do everything we can, to prevent our birds from getting ill! This includes treating them for mites and other parasites once or twice a year, depending on weather. We also worm them 2-3 times a year, with specially medicated food, at twice the cost of their usual food. And throughout the winter, we give them special treats such as cracked corn, which helps keep their body temperatures up, and apple cider vinegar, which keeps their digestive systems healthy!
A donation of £1000 a year goes a long way in helping us cover our equine foot & dental care!
Our horses work hard to deliver riding lessons, and it is incredibly important that they are in top condition, to do so. This means that the farrier comes to the farm once every 2-3 months (or more often, if necessary) to look after their feet, providing routine care. This is as important as good walking boots are, on a long hike, except imagine if you were wearing uncomfortable shoes and had to carry someone on your back!
---
These are just some of our routine costs, which of course do not budget for any unexpected illnesses or accidents, which often include emergency call outs and surgeries; which are never cheap!
The only way we are able to look after our animals is through income generated at the farm and your generous donations, but imagine the additional things we could do for visitors and service users, if we didn't have to pay almost £4500 a year on animal welfare bills!